The ruling Liberal Democratic Party has decided to support the creation of a legal mechanism to allow only Emperor Akihito to abdicate, rather than legislation that would enable him and all future monarchs to relinquish the throne.
The decision, reached Monday during the LDP's fourth meeting on the matter, contradicts the view of the main opposition Democratic Party, which is seeking establishment of a permanent legal mechanism for abdication.
The LDP, its junior coalition partner, Komeito, and the Democratic Party will soon begin deliberations on the abdication of the 83-year-old Emperor Akihito, following his video message in August that signaled his desire to step down due to his advanced age.
Only senior or other select LDP members have attended the meetings on the issue. Some LDP members, including Shigeru Ishiba, a former LDP secretary-general, have criticized the decision-making process as overly exclusive as the party has not held any related meetings open to all of its lawmakers.
The LDP's decision is in line with the government's intention to enact one-off legislation to enable Emperor Akihito's abdication. Komeito was expected to make clear on Tuesday its preference for a one-time-only abdication mechanism.
Currently, only posthumous succession is effectively allowed as the 1947 Imperial House Law that sets out rules for Imperial affairs lacks a provision regarding abdication.
天皇陛下の退位について自民党は、特例法によって「一代限りの対応とすることが望ましい」とする見解をまとめました。 自民党・茂木政調会長:「現時点において、天皇の退位は今上陛下一代に限った対応とすることが望ましいと考えられる。
Apr 26
The United States, Japan and other countries surrounding North Korea are on high alert over the nation's provocative actions, including the possibility it would conduct its sixth nuclear test, as Tuesday marked the 85th anniversary of the foundation of its Korean People's Army.
(the-japan-news.com)
Apr 26
A furnace exploded Tuesday morning at an iron factory in Asahikawa, Hokkaido, killing the manager and leaving five people injured, police and firefighters said.
(Japan Today)
Apr 26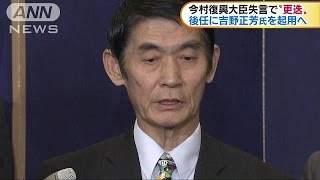 Japan's Prime Minister Shinzo Abe has decided to appoint Masayoshi Yoshino, a former State Minister of the Environment, as the new minister in charge of rebuilding areas hit by the 2011 earthquake and tsunami.
(NHK)
Apr 26
Japan's catches of smaller Pacific bluefin tuna this season are very close to topping the annual limit set under an international accord for resources conservation.
(the-japan-news.com)
Apr 26
Japan Post Holdings says it expects to book a net loss of about 360 million dollars for the business year that ended in March.
(NHK)
Apr 26
Canadian pop singer Justin Bieber, 23, will perform at Tokyo's Ajinomoto Stadium on Sept 23 and 24. It will be Bieber's fourth concert tour in Japan and his first visit since last August.
(Japan Today)
Apr 26
Despite the initial excitement among major financial institutions, the Bank of Japan's push for exchange-traded funds tracking companies that actively raise employee pay or invest in new equipment has run aground.
(Nikkei)
Apr 26
Japan's growing labor shortage threatens the nation's ubiquitous convenience stores, whose business model relies on an army of part-timers packing bento lunch boxes, manning cash registers and delivering goods 24/7.
(Japan Today)
Apr 25
The labor ministry referred advertising agency Dentsu Inc. and three officials from its offices in Nagoya, Osaka and Kyoto to prosecutors on Tuesday on suspicion of violating the Labor Standards Law by making employees work overtime beyond legal limits.
(Japan Times)
Apr 25
It has been revealed that information related to Japan's national security was included in the confidential documents disclosed by former US National Security Agency contractor Edward Snowden.
(NHK)
---