Japan's education ministry released draft revisions of the country's curriculum guidelines for elementary and junior high schools on Tuesday, including adoption of English as a regular subject for elementary school fifth- and sixth-graders.
Under the curriculum revision plans, a teaching method designed to encourage students to independently find problems and solutions through debate and presentation will be introduced in all subjects, following the "active learning" concept proposed by the ministry's Central Council for Education.
To respond to globalization, the revised curriculum will move up the schedule in elementary schools to start English education, according to the draft.
In the third and fourth grade, students will learn how to speak and listen to English so as to get used to it.
Students in the fifth and sixth grades, who are currently participating in class activities using English, will have to study the language as a regular subject, including reading and writing it, and take 70 lessons a year.
英語教育は小学3年生から開始する方針です。
Nov 20
Police in Okinawa, southwestern Japan, have arrested a US Marine in connection with a fatal traffic accident.
(NHK)
Nov 19
A man died Saturday after falling off a cliff while competing in a trail running race in Saitama Prefecture, police said.
(Japan Times)
Nov 18
Yokozuna Grand Champion Harumafuji has reportedly told police that he hit a lower-ranked wrestler with his bare hands, not with a beer bottle as was reported.
(NHK)
Nov 18
An apology by a Japanese railroad operator for a train's early departure has attracted the attention of foreign media.
(NHK)
Nov 17
Following the discovery of nine corpses in a residence in Zama City last month, Tokyo Metropolitan Police have reason to believe that a man in custody, who has admitted to taking the lives of the victims, plotted one additional killing, reports TBS News
(tokyoreporter.com)
Nov 17
Japan's Fair Trade Commission is investigating the local unit of the US vacation rental platform Airbnb on suspicion of violating the anti-monopoly law.
(NHK)
Nov 17
Japan's health ministry has drastically relaxed its planned regulations on indoor smoking at restaurants after a plan to tolerate smoking only at small eateries and bars met with opposition from the ruling Liberal Democratic Party, government sources said Thursday.
(Kyodo)
Nov 17
Osaka Governor Ichiro Matsui sought support for the western Japan prefecture's bid to host the 2025 World Exposition at a general meeting of the Bureau International des Expositions in Paris on Wednesday.
(Jiji)
Nov 17
A 3-meter-tall countdown clock for the 2020 Tokyo Olympics was unveiled Thursday in the Japanese capital's Ginza district.
(Kyodo)
Nov 17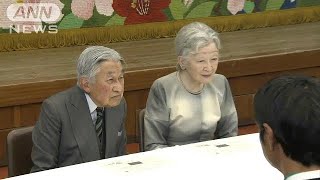 Japan's Emperor Akihito and Empress Michiko have begun a three-day trip to remote islands in southwestern Japan.
(NHK)
---