Tax-free store operator Laox, which once enjoyed record earnings from the phenomenon known as bakugai, or "explosive buying" by visitors to Japan, is struggling to keep up with consumers' shifting spending habits.
Though travelers to Japan from China and elsewhere have not decreased, their buying trends have changed, with a greater focus on experience-based consumption rather than the purchase of goods. Consequently, Laox is among many Japanese retailers racking their brains to find new business opportunities.
The company fared poorly in 2016, with its sales shrinking more than 30% from the prior year. It also plunged to a net loss of 1.5 billion yen ($13 million) from an 8 billion yen profit in 2015, logging its first red ink in three years. President Luo Yiwen conceded the figures were "disappointing" after the company released results on Tuesday.
Luo has "no doubt' that inbound tourism is still a growth field. But he pointed out that visitors to Japan who "were buying high-value durable goods before ... are now buying low-priced consumables." Laox's per-customer sales decreased on the year in all 12 months of 2016. In response, the company this year significantly downsized its tax-free AsoBitCity location in Tokyo's Akihabara electronics district.
Luo sees experiential spending as key to a sales turnaround and the Japanese retailer has created a department overseen by directors to cultivate new business.
The touchstone for this effort is Chiba Port Square, which Laox acquired with Chinese real-estate giant Greenland Holdings last year. The multipurpose commercial complex is slated to offer not only shopping but also gourmet dining and entertainment. The company hopes this new type of commercial establishment will appeal to domestic consumers as well as visitors.
But details of the services to be available at the mall have yet to be hammered out. Buildings for commercial activities are still mostly vacant and the startup of operations -- originally scheduled for 2016 -- is unclear.
Nov 20
Police in Okinawa, southwestern Japan, have arrested a US Marine in connection with a fatal traffic accident.
(NHK)
Nov 20
Japanese railway companies plan to use data from seabed seismometers to quickly stop Shinkansen bullet trains when a major earthquake hits.
(NHK)
Nov 20
Prison inmates who don't speak Japanese now have access to better interpretation services, thanks to a new system introduced earlier this month.
(NHK)
Nov 20
Hyogo Prefectural Police on Friday arrested a sex worker for allegedly stealing a wristwatch valued at 10 million yen from a male customer two years ago, reports the Sankei Shimbun
(tokyoreporter.com)
Nov 19
Police in Tokyo on Saturday arrested an unemployed 42-year-old man of no fixed address on suspicion of killing a 61-year-old homeless man on a riverbank in Katsushika Ward.
(Japan Today)
Nov 19
A man died Saturday after falling off a cliff while competing in a trail running race in Saitama Prefecture, police said.
(Japan Times)
Nov 19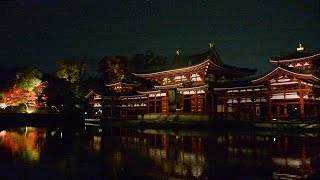 The Phoenix Hall of Byodoin temple, a UNESCO World Heritage site in Uji, Kyoto Prefecture, glows at night during a trial illumination on Friday.
(the-japan-news.com)
Nov 19
Despite their magical reputation, shooting stars are just pieces of space debris from millimeters to a few centimeters thick that fly into Earth's atmosphere and brightly burn up into nothing.
(rocketnews24.com)
Nov 19
Chiba Prefectural Police have arrested a 33-year-old man for allegedly selling cash above face value using marketplace app Mercari and collecting interest exceeding the legal interest rate, reports TV Asahi
(tokyoreporter.com)
Nov 18
Japan's national broadcaster NHK has unveiled this year's lineup for its annual New Year's Eve music show "Kohaku Uta Gassen" (Red and White Song Battle), featuring 10 new groups and singers.
(Japan Today)
---