Japan's economy is cruising along, at least by its own recent standards, with real growth clocking in at 1 percent in 2016. It may have reached top speed.
Real gross domestic product expanded for a fourth consecutive quarter at the end of 2016, the best run in more than three years. A number of indicators are flashing green as global demand strengthens and last year's fiscal stimulus kicks in. Exports rose in December for the first time in more than a year, and in the fourth quarter industrial production gained the most in nearly three years.
"Japan is in the best position it's been in in four years," said Izumi Devalier, head of Japan economics at Bank of America Merrill Lynch, who expects a 1.5 percent expansion in real GDP this year--nearly twice the potential growth rate of 0.8 percent. Her forecast ranks the second-highest among those compiled by Bloomberg, behind JPMorgan's 1.6 percent. The median is for 1 percent growth.
The problem, though, is that near-term growth depends on external demand and fiscal stimulus, economists say, meaning the upside and growth horizon are limited. Japan also faces the risk that U.S. President Donald Trump's protectionist rhetoric is soon transformed into policy that disrupts global trade, while the effects of last year's stimulus are expected to fade by the second quarter of next year.
"Unless domestic private consumption picks up the economy is unlikely to gain traction," said Atsushi Takeda, an economist at Itochu Corp. in Tokyo.
A hit to exports would leave Japan's beleaguered consumers to pick up the slack, something they've shown little inclination to do since a sales-tax increase in early 2014. Wages are rising only slightly, even with the tightest labor market in decades.
Apr 26
The United States, Japan and other countries surrounding North Korea are on high alert over the nation's provocative actions, including the possibility it would conduct its sixth nuclear test, as Tuesday marked the 85th anniversary of the foundation of its Korean People's Army.
(the-japan-news.com)
Apr 26
A furnace exploded Tuesday morning at an iron factory in Asahikawa, Hokkaido, killing the manager and leaving five people injured, police and firefighters said.
(Japan Today)
Apr 26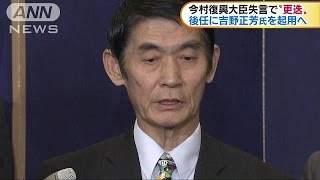 Japan's Prime Minister Shinzo Abe has decided to appoint Masayoshi Yoshino, a former State Minister of the Environment, as the new minister in charge of rebuilding areas hit by the 2011 earthquake and tsunami.
(NHK)
Apr 26
Japan's catches of smaller Pacific bluefin tuna this season are very close to topping the annual limit set under an international accord for resources conservation.
(the-japan-news.com)
Apr 26
Japan Post Holdings says it expects to book a net loss of about 360 million dollars for the business year that ended in March.
(NHK)
Apr 26
Canadian pop singer Justin Bieber, 23, will perform at Tokyo's Ajinomoto Stadium on Sept 23 and 24. It will be Bieber's fourth concert tour in Japan and his first visit since last August.
(Japan Today)
Apr 26
Despite the initial excitement among major financial institutions, the Bank of Japan's push for exchange-traded funds tracking companies that actively raise employee pay or invest in new equipment has run aground.
(Nikkei)
Apr 26
Japan's growing labor shortage threatens the nation's ubiquitous convenience stores, whose business model relies on an army of part-timers packing bento lunch boxes, manning cash registers and delivering goods 24/7.
(Japan Today)
Apr 25
The labor ministry referred advertising agency Dentsu Inc. and three officials from its offices in Nagoya, Osaka and Kyoto to prosecutors on Tuesday on suspicion of violating the Labor Standards Law by making employees work overtime beyond legal limits.
(Japan Times)
Apr 25
It has been revealed that information related to Japan's national security was included in the confidential documents disclosed by former US National Security Agency contractor Edward Snowden.
(NHK)
---