In Tinseltown this week there is the potential for a golfing script of which even Hollywood itself would be proud.
The story of a young Japanese man who saw an earthquake and tsunami devastate his city before he moved to America and who, once there, without a swing coach, became the first Asian male to become world No 1. The land of the rising son, indeed.
Hideki Matsuyama needs everything to go his way if he is to make history in the LA Open at the revered Riviera Country Club, just a few miles west of Beverly Hills. Yet despite being a multi-millionaire at the age of 24, and a confirmed superstar in his own country, it is fair to say that the route has not always been pathed with gold for this particular golden child.
Inevitably, there were people he knew amongst the near 16,000 killed in the 2011 disaster and when he took the decision that his future as a professional sportsman had to rest in the US, it was a wrench to leave so many loved ones in Sendai. But, six years on, he has the opportunity to achieve a dream and put his country and continent on top of the world.
"It's always been one of my goals and it would be a great to be able to realise it here," Matusyama said. "But whether it happens this week or next week or sometime in the future, I'll just keep working hard."
Seeing as he needs to win and Jason Day finish worse than a two-way tie for 24th, the odds are against Matsuyama making the leap from fifth to first on Sunday, and they are certainly greater than those of Dustin Johnson (who simply needs to win and for Day finishing worse than a three-way tie for third). But they are not as lengthy as might be suspected. Day is nowhere near his best and Matsuyama is undoubtedly the hottest player in the game at the moment, with five wins and a second in his last nine events.
Nov 20
Police in Okinawa, southwestern Japan, have arrested a US Marine in connection with a fatal traffic accident.
(NHK)
Nov 20
Japanese railway companies plan to use data from seabed seismometers to quickly stop Shinkansen bullet trains when a major earthquake hits.
(NHK)
Nov 20
Prison inmates who don't speak Japanese now have access to better interpretation services, thanks to a new system introduced earlier this month.
(NHK)
Nov 20
Hyogo Prefectural Police on Friday arrested a sex worker for allegedly stealing a wristwatch valued at 10 million yen from a male customer two years ago, reports the Sankei Shimbun
(tokyoreporter.com)
Nov 19
Police in Tokyo on Saturday arrested an unemployed 42-year-old man of no fixed address on suspicion of killing a 61-year-old homeless man on a riverbank in Katsushika Ward.
(Japan Today)
Nov 19
A man died Saturday after falling off a cliff while competing in a trail running race in Saitama Prefecture, police said.
(Japan Times)
Nov 19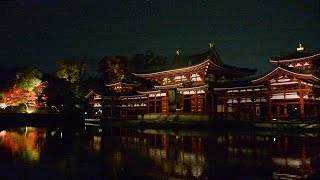 The Phoenix Hall of Byodoin temple, a UNESCO World Heritage site in Uji, Kyoto Prefecture, glows at night during a trial illumination on Friday.
(the-japan-news.com)
Nov 19
Despite their magical reputation, shooting stars are just pieces of space debris from millimeters to a few centimeters thick that fly into Earth's atmosphere and brightly burn up into nothing.
(rocketnews24.com)
Nov 19
Chiba Prefectural Police have arrested a 33-year-old man for allegedly selling cash above face value using marketplace app Mercari and collecting interest exceeding the legal interest rate, reports TV Asahi
(tokyoreporter.com)
Nov 18
Japan's national broadcaster NHK has unveiled this year's lineup for its annual New Year's Eve music show "Kohaku Uta Gassen" (Red and White Song Battle), featuring 10 new groups and singers.
(Japan Today)
---