Tokyo Metropolitan Police have arrested another executive of a software company whose dating sites are alleged to have defrauded users with fake profiles of celebrities, including former AKB48 member Atsuko Maeda, reports the Sankei Shimbun.
On Wednesday, police arrested Yuji Fukuda, the 46-year-old president of Free World, based in Shinjuku Ward, on charges of fraud after his arrival at Haneda Airport from South Korea.
Free World operated dating site management company Wing Net, whose employees are alleged to have accessed social-networking services like Facebook to create fabricated profiles of entertainers. Fans were then charged fees to engage in communication through the company's 22 deai-kei matchmaking sites.
In April and May of 2012, a 40-year-old man from Saitama Prefecture was defrauded out of 1.37 million yen to exchange messages with the fake profile of Atsuko Maeda.
Over a two-year period ending in 2012, Win Net collected 11.6 billion yen in revenue, the majority of which, investigators believe, came through fraudulent behavior targeting more than 300,000 persons, according to TV Asahi (Feb. 15).
Police first busted the company in 2013. In September of last year, police arrested Ryosuke Tsuneizumi, the 38-year-old managing director of Free World, on fraud charges. The suspect had fled overseas, but he was apprehended upon his return to Japan. Police have arrested about 30 employees of the company since the start of the investigation, according to Fuji News Network (Feb. 15).
In November of last year, a warrant was issued for the arrest of Fukuda, who had also fled overseas. In January, the Ministry of Foreign Affairs issued an order for the return of Fukuda's passport.
元AKB48の前田敦子さんらになりすましてメールをやり取りし、出会い系サイトの利用料をだまし取ったとして、ソフトウェア開発会社の社長の男が逮捕されました。
Apr 26
The United States, Japan and other countries surrounding North Korea are on high alert over the nation's provocative actions, including the possibility it would conduct its sixth nuclear test, as Tuesday marked the 85th anniversary of the foundation of its Korean People's Army.
(the-japan-news.com)
Apr 26
A furnace exploded Tuesday morning at an iron factory in Asahikawa, Hokkaido, killing the manager and leaving five people injured, police and firefighters said.
(Japan Today)
Apr 26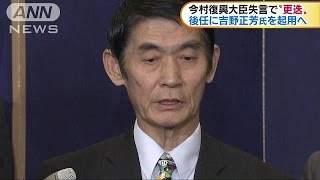 Japan's Prime Minister Shinzo Abe has decided to appoint Masayoshi Yoshino, a former State Minister of the Environment, as the new minister in charge of rebuilding areas hit by the 2011 earthquake and tsunami.
(NHK)
Apr 26
Japan's catches of smaller Pacific bluefin tuna this season are very close to topping the annual limit set under an international accord for resources conservation.
(the-japan-news.com)
Apr 26
Japan Post Holdings says it expects to book a net loss of about 360 million dollars for the business year that ended in March.
(NHK)
Apr 26
Canadian pop singer Justin Bieber, 23, will perform at Tokyo's Ajinomoto Stadium on Sept 23 and 24. It will be Bieber's fourth concert tour in Japan and his first visit since last August.
(Japan Today)
Apr 26
Despite the initial excitement among major financial institutions, the Bank of Japan's push for exchange-traded funds tracking companies that actively raise employee pay or invest in new equipment has run aground.
(Nikkei)
Apr 26
Japan's growing labor shortage threatens the nation's ubiquitous convenience stores, whose business model relies on an army of part-timers packing bento lunch boxes, manning cash registers and delivering goods 24/7.
(Japan Today)
Apr 25
The labor ministry referred advertising agency Dentsu Inc. and three officials from its offices in Nagoya, Osaka and Kyoto to prosecutors on Tuesday on suspicion of violating the Labor Standards Law by making employees work overtime beyond legal limits.
(Japan Times)
Apr 25
It has been revealed that information related to Japan's national security was included in the confidential documents disclosed by former US National Security Agency contractor Edward Snowden.
(NHK)
---