For one ship captain, it was a fish story of monstrous proportions. Last week, the largest tuna on record for Wakayama Prefecture was reeled in off the coast of the the Kii Peninsula, reports TV Asahi
Weighing 446 kilograms and measuring 2.82 meters in length, the "king" kuro maguro, or northern bluefin tuna, was pulled aboard a long-line fishing vessel at sea about 320 kilometers off the coast on Friday.
"I thought it was a monster," said Yoshifumi Kodama, the 50-year-old captain of the ship, which is from the town of Kawaminami in Miyazaki Prefecture, according to the Yomiuri Shimbun (Mar. 6).
He used sardine as bait. "I landed it after a 30-minute fight in which he didn't get too violent," he told the Sankei Shimbun (Mar. 5).
Large enough enough to serve an estimated 3,000 sashimi (sliced fish) meals, the fish was sold at auction for 2.96 million yen.
The tuna is the largest by weight since statistics started being kept by a fishery cooperative in 1949. The previous record was a 417-kilogram tuna landed in January of last year.
和歌山県の勝浦漁港で、過去最大となる450キロ近くの巨大クロマグロが水揚げされました。 このクロマグロですが、全長は約2.8メートル、重さは446キロで、宮崎の延縄漁船が勝浦沖で仕留めました。勝浦漁協では1949年に統計を始めましたが、過去最大です。
Apr 30
Osaka Prefectural Police have arrested a 35-year-old man on charges of murder after his elderly neighbor was found stabbed to death, possibly the result of a feud over a pet dog, reports TBS News.
(tokyoreporter.com)
Apr 30
A male worker died after he was buried alive while working alone inside a sand storage tank at a concrete factory in Kitakami City on Saturday, police said.
(tokyoreporter.com)
Apr 30
Participants in a large-scale May Day rally in Tokyo on Saturday called for eliminating long working hours and correcting unreasonable pay gaps.
(Jiji)
Apr 30
Japanese Prime Minister Shinzo Abe has strongly condemned North Korea's latest firing of a ballistic missile.
(NHK)
Apr 30
Historic buildings and artifacts in Nikko, north of Tokyo, are taking on a new glow during the spring holiday season.
(NHK)
Apr 30
The town of Taiji, known for its whale-hunting traditions, held an annual memorial service on Saturday for whales captured and killed.
(Japan Times)
Apr 30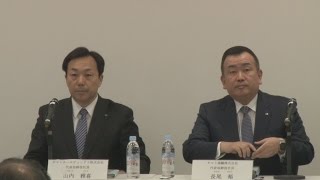 Leading parcel delivery firm Yamato Transport Co. said Friday that it will raise its basic tariff for retail customers by ¥140-¥180 excluding tax in September, marking its first rate hike in 27 years.
(the-japan-news.com)
Apr 30
As tension spikes on the Korean peninsula, a French amphibious assault carrier sailed into Japan's naval base of Sasebo on Saturday ahead of drills that risk upsetting China, which faces U.S. pressure to rein in North Korea's arms programs.
(Japan Today)
Apr 29
Tokyo Metro Co. briefly suspended all subway services on Saturday morning following news reports on a ballistic missile launch by North Korea.
(Jiji)
Apr 29
The US military says the latest ballistic missile launched by North Korea did not leave the nation's territory.
(NHK)
---