King Salman and hundreds of business leaders from Saudi Arabia began talks in Japan Monday mainly expected to focus on economic ties.
The visit is the first by a Saudi king in 46 years, though Salman visited more recently as crown prince.
Saudi Arabia is one of Japan's biggest suppliers of crude oil, accounting for about a third of its total imports of oil from the Middle East.
The kingdom is striving to diversify its economy away from its heavy reliance on oil exports, and Salman is on a month-long tour of Asia to advance his kingdom's economic and business interests.
Japan's Chief Cabinet Secretary Yoshihide Suga told reporters Monday that Japan is willing to provide support for the economic power in the Middle East.
"We will discuss growth strategy, including our 'Saudi Vision' project," he said, referring to Japanese collaboration with Vision 2030, a roadmap adopted by the kingdom last year for its development and economic objectives
He did not confirm reports that the countries would agree to set up a special economic zone in Saudi Arabia.
Salman met with Japanese Foreign Minister Fumio Kishida and was to meet Prime Minister Shinzo Abe later Monday.
Reports say Japan plans to urge that Saudi Aramco, the state-run oil company that is being partially privatized, seek a share listing on the Tokyo Stock Exchange.
Oct 23
Tokyo's Nikkei 225 on Monday posted the longest winning streak in its nearly 70-year history as markets cheered the weekend election victory of Japan's pro-business prime minister.
(Japan Today)
Oct 21
The Tokyo metropolitan government said Friday it will issue 10 billion yen in "green bonds" for institutional investors on Oct. 31.
(Jiji)
Oct 19
A possible slowdown in purchases of 30- and 40-year Japanese government bonds by life insurers could influence the Finance Ministry's debt issuance plans for the next fiscal year.
(Nikkei)
Oct 16
Japanese officials are expressing growing frustration with the Trump administration's economic policies, vowing to continue striking trade deals with other countries that undercut U.S. agricultural exports rather than seek a new trade agreement with the United States.
(politico.eu)
Oct 12
Gasoline prices in Japan have hit a 2-year high after oil producers cut their output.
(NHK)
Oct 12
The International Monetary Fund, in a report released on Wednesday, warned of the risk of problems at only one major bank in Japan causing "stress" in the entire banking system in the country.
(Jiji)
Oct 11
The Nikkei's rally comes despite a big scandal enveloping Japan's third-biggest steel maker, Kobe Steel.
(theguardian.com)
Oct 10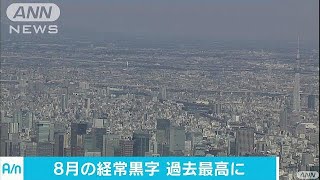 The current account surplus expanded to ¥2.38 trillion ($21 billion) in August - the highest on record for the month - lifted by foreign investments and a bigger trade surplus, government data showed Tuesday.
(Japan Times)
Oct 04
While the Federal Reserve is entering the final phase of its exit strategy, there is no end in sight for the BOJ's massive monetary easing policy, which has seen nothing but expansion during Gov. Haruhiko Kuroda's term.
(Nikkei)
Oct 04
Companies in Japan's service industries are struggling to hire and retain staff as the labor market becomes the tightest in decades, and are increasingly taking unorthodox steps to alleviate the shortage.
(Japan Today)
---