Two-time champions Japan knocked out Cuba 8-5 in the second round at the World Baseball Classic with two stunning homers by slugger Tetsuto Yamada on Tuesday, moving another step closer to the final stage.
Japan, unbeaten in the tournament, got off to a good start when Yamada blasted a lead-off homer in the first inning, to an explosive reaction from 32,700 local fans.
But Cuba, defeated by Japan in the first round, turned the match around as Yurisbel Gracial hit a two-run homer in the second inning.
The two teams progressed fairly evenly in the seesaw match, but Japan finally took the lead as substitute Seiichi Uchikawa scored the decisive run with a sacrifice fly in the bottom half of the eighth inning.
Yamada silenced the Cubans by smashing his second homer of the game in the same inning before ace closer Kazuhisa Makita sealed victory in style.
"It was good to have my own swings," upbeat Yamada told reporters.
"We are aiming at the world number one, but first we will beat our opponents at hand," Yamada said.
Japan manager Hiroki Kokubo said: "It was a tough game today, but our batters held on. What happened so far today is a thing of the past. We will go for a victory tomorrow at any cost."
Japan will take on Israel on Wednesday, while Cuba will play the Netherlands.
Japan, chasing a third title after scooping the first two editions of the World Baseball Classic in 2006 and 2009, narrowly beat the Netherlands on Sunday in their second round opener.
Apr 30
Osaka Prefectural Police have arrested a 35-year-old man on charges of murder after his elderly neighbor was found stabbed to death, possibly the result of a feud over a pet dog, reports TBS News.
(tokyoreporter.com)
Apr 30
A male worker died after he was buried alive while working alone inside a sand storage tank at a concrete factory in Kitakami City on Saturday, police said.
(tokyoreporter.com)
Apr 30
Participants in a large-scale May Day rally in Tokyo on Saturday called for eliminating long working hours and correcting unreasonable pay gaps.
(Jiji)
Apr 30
Japanese Prime Minister Shinzo Abe has strongly condemned North Korea's latest firing of a ballistic missile.
(NHK)
Apr 30
Historic buildings and artifacts in Nikko, north of Tokyo, are taking on a new glow during the spring holiday season.
(NHK)
Apr 30
The town of Taiji, known for its whale-hunting traditions, held an annual memorial service on Saturday for whales captured and killed.
(Japan Times)
Apr 30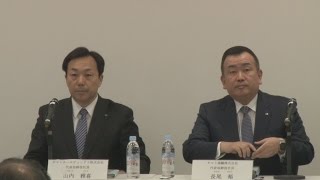 Leading parcel delivery firm Yamato Transport Co. said Friday that it will raise its basic tariff for retail customers by ¥140-¥180 excluding tax in September, marking its first rate hike in 27 years.
(the-japan-news.com)
Apr 30
As tension spikes on the Korean peninsula, a French amphibious assault carrier sailed into Japan's naval base of Sasebo on Saturday ahead of drills that risk upsetting China, which faces U.S. pressure to rein in North Korea's arms programs.
(Japan Today)
Apr 29
Tokyo Metro Co. briefly suspended all subway services on Saturday morning following news reports on a ballistic missile launch by North Korea.
(Jiji)
Apr 29
The US military says the latest ballistic missile launched by North Korea did not leave the nation's territory.
(NHK)
---