Some countries and regions still maintain import bans on Japanese fishery and agricultural products, six years after Japan's worst nuclear accident at Tokyo Electric Power Company Holdings Inc.'s <9501> disaster-stricken Fukushima No. 1 plant.
Safety concerns over Japanese products remain especially strong in China and other neighboring economies, leaving Japanese fishery and farm producers mired in tough business conditions.
There are signs of hope, however, with some producers enjoying export growth after exploring new markets, industry sources said.
Miyagi Prefecture was the largest producer of sea squirts before the March 2011 earthquake and tsunami. Some 70 pct of Japan's production of sea squirts was exported to South Korea.
But in 2013, South Korea stopped imports of fishery products from eight prefectures in Japan, including Miyagi, Iwate and Fukushima, the three northeastern prefectures hit hardest by the disaster.
Mar 24
In a move that may touch off a realignment in the cryptocurrency exchange business, Yahoo Japan next month will acquire 40% of operator BitARG Exchange Tokyo, then launch a full-blown exchange in April 2019 or later.
(Nikkei)
Mar 24
Japanese public prosecutors indicted four major general contractors on Friday for rigging bids in the Chuo Shinkansen high-speed magnetic levitation railway project in violation of the antimonopoly law.
(Jiji)
Mar 24
Japanese precision equipment firm Ricoh says it will report a record loss for the fiscal year ending in March. This is due to a slump in its business in the United States.
(NHK)
Mar 23
ANA Holdings Inc, Japan's biggest airline by revenue, said on Thursday it would merge its units Peach Aviation and Vanilla Air by March 2020, to sharpen the competitive edge of its budget carrier business and tap growing travel demand in Asia.
(Japan Today)
Mar 22
Amazon nearly doubled its share and Netflix grew strongly in Japan's streaming market last year as the two global services try to raise their profiles in Asia.
(variety.com)
Mar 22
Japanese condom-makers are ramping up preparations ahead of the Tokyo 2020 Olympic Games, seeing a golden opportunity to showcase their world-record ultrathin products.
(Japan Times)
Mar 22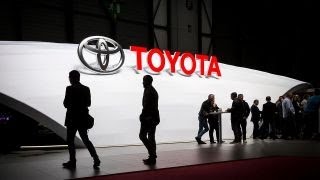 Toyota Motor says it is suspending autonomous vehicle testing on US public roads in the wake of a fatal accident involving a test vehicle operated by the ride-hailing company Uber.
(NHK)
Mar 22
Prime Minister Shinzo Abe is considering abolishing a regulation that limits the percentage of foreign equity stakes in broadcasters, as part of a debate about reviewing regulations on broadcasting businesses.
(the-japan-news.com)
Mar 20
The world's largest Muji store, slated to open in Osaka on Tuesday, will prominently feature pricey seafood, such as freshly caught sea bream and Japanese spiny lobster, part of a strategy aimed at promoting a high-quality image.
(Nikkei)
Mar 19
The Fisheries Agency plans to reduce next season's quota for small Pacific bluefin tuna that can be caught off Hokkaido and Kagoshima Prefecture effectively to zero, and greatly reduce the quotas for Iwate and Kochi prefectures, as these prefectures have significantly exceeded their quotas for this season.
(the-japan-news.com)
---