With Toshiba Corp. expected to log an enormous loss in its nuclear power business, the company has announced a plan to remove Westinghouse Electric Co., a U.S. nuclear power company, from the group next fiscal year.
This would essentially mean Toshiba is abandoning its overseas nuclear power business.
To strengthen its fiscal base, the company is also considering spinning off part of its semiconductor division, then selling stock of the new company. The Innovation Network Corporation of Japan, a government-backed fund, is considering investing in this new company, according to sources.
Whether Toshiba can isolate the risk from its nuclear power business will be the key to its business rehabilitation.
The most important part of this is how it deals with Westinghouse, which has generated huge losses.
Toshiba President Satoshi Tsunakawa explained at a press conference on Tuesday that the company would seek to remove Westinghouse from its consolidated accounting, by selling the subsidiary's stock and other means.
"We have a number of options," Tsunakawa said.
Westinghouse is involved in building four nuclear reactors in the United States.
Construction delays on the projects have generated enormous additional personnel costs and other expenses, leading to a loss on the scale of ¥700 billion. If the delays continue, the losses could mount further.
Toshiba sees retreating from the construction of nuclear power plants as its best choice for avoiding more damage.
経営危機に瀕(ひん)している東芝は、東京証券取引所に内部管理に関する報告書を提出しました。改善が認められなければ上場廃止となります。 東芝の株はおととしの不正会計問題を受けて、上場廃止の可能性がある「特設注意市場銘柄」に指定されました。
Apr 30
Osaka Prefectural Police have arrested a 35-year-old man on charges of murder after his elderly neighbor was found stabbed to death, possibly the result of a feud over a pet dog, reports TBS News.
(tokyoreporter.com)
Apr 30
A male worker died after he was buried alive while working alone inside a sand storage tank at a concrete factory in Kitakami City on Saturday, police said.
(tokyoreporter.com)
Apr 30
Participants in a large-scale May Day rally in Tokyo on Saturday called for eliminating long working hours and correcting unreasonable pay gaps.
(Jiji)
Apr 30
Japanese Prime Minister Shinzo Abe has strongly condemned North Korea's latest firing of a ballistic missile.
(NHK)
Apr 30
Historic buildings and artifacts in Nikko, north of Tokyo, are taking on a new glow during the spring holiday season.
(NHK)
Apr 30
The town of Taiji, known for its whale-hunting traditions, held an annual memorial service on Saturday for whales captured and killed.
(Japan Times)
Apr 30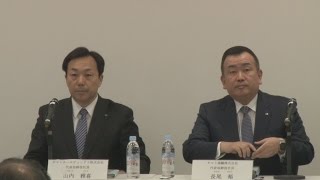 Leading parcel delivery firm Yamato Transport Co. said Friday that it will raise its basic tariff for retail customers by ¥140-¥180 excluding tax in September, marking its first rate hike in 27 years.
(the-japan-news.com)
Apr 30
As tension spikes on the Korean peninsula, a French amphibious assault carrier sailed into Japan's naval base of Sasebo on Saturday ahead of drills that risk upsetting China, which faces U.S. pressure to rein in North Korea's arms programs.
(Japan Today)
Apr 29
Tokyo Metro Co. briefly suspended all subway services on Saturday morning following news reports on a ballistic missile launch by North Korea.
(Jiji)
Apr 29
The US military says the latest ballistic missile launched by North Korea did not leave the nation's territory.
(NHK)
---