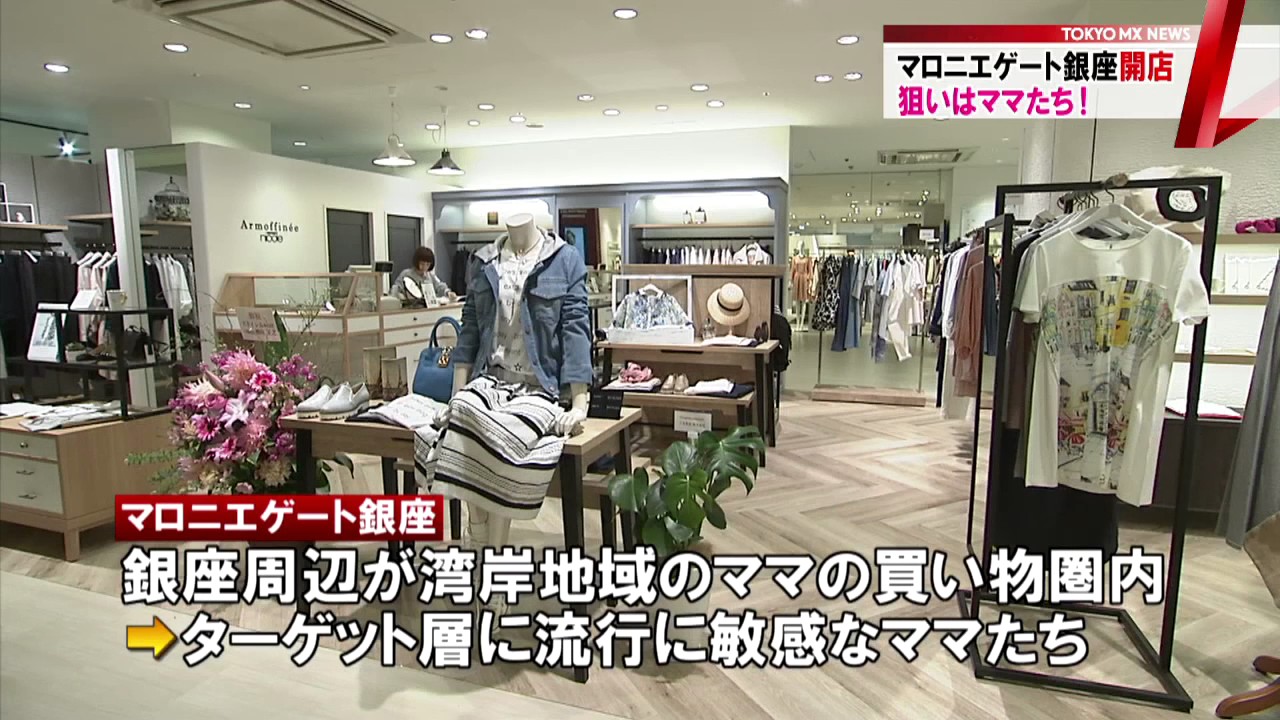 Marronnier Gate Ginza 2 and 3 made their grand debut in the Ginza district of Tokyo on Wednesday after renovations were completed on the main and annex buildings of the former Printemps Ginza department store.
The renovated buildings aim to attract working women in their 20s to 40s and child-raising mothers who are conscious of the latest fashion trends. Wednesday marked the start of Marronnier Gate as a new icon in Tokyo's upscale district, with the two buildings joining Marronnier Gate 1 to form a three-building complex along Ginza Marronnier-dori street.
The renovation of the two buildings came after Printemps Ginza's contract with France's Printemps department store to use its trade name and trademark expired late last year, ending the store's 32-year history. Marronnier Gate Co. renovated the buildings' interiors and replaced some of the stores.
Marronnier Gate Ginza 2 and 3 accommodate a total of 123 shops, including 32 newly opened businesses. They offer a wide array of fashion items, such as women's shoes, cosmetics and bags. Kobe Shoes has opened its first outlet at a department store there, while the cosmetics section features six new brands.
去年末、32年間の営業を終えた「プランタン銀座」が新しく生まれ変わり、15日にオープンしました。働く女性や子育て女性をターゲットにしています。 15日に新しく開業した「マロニエゲート銀座2&3」は、開店前から1000人の人が行列をつくりました。
Oct 19
The estimated number of visitors to Japan in January-September rose 17.9 pct from a year earlier to 21,196,400, topping the 20-million mark at the fastest pace in any year, the Japan National Tourism Organization said Wednesday.
(Jiji)
Oct 19
Ever wondered where the best place to enjoy a refreshing Mojito in Japan is? Well, 300Bar, with three locations in Tokyo's Ginza district, is a serious contender. It has just been awarded by the Cuban Embassy in Tokyo 'The most authentic Mojito in Japan' certificate.
(Japan Today)
Oct 18
People dressed as samurai warriors have marched in a procession at a World Heritage site in Nikko, north of Tokyo.
(NHK)
Oct 17
Amid the gloom and struggle that Osaka has gone through in recent years, a tourism boom has been an unexpected boon for Japan's gritty second city.
(Japan Times)
Oct 17
Japanese travel company H.I.S. Co. said Monday it will open 10 more hotels staffed by robots in Tokyo, Fukuoka, Osaka and Kyoto by March 2019.
(Kyodo)
Oct 16
The government expanded the no-go zone around Mt Shinmoe in Kyushu on Sunday as volcanic activities intensified.
(Japan Today)
Oct 16
The Japan Tourism Agency plans to launch model projects in early December to consider ways to attract more people, including foreign tourists, to snow resorts amid the declining skiing and snowboarding population.
(Jiji)
Oct 11
Iwakura in Aichi Prefecture is striving to make the central Japan city a mecca of yo-yos, which were a big hit in the country in the 1980s and 1990s. More than 10 million people across Japan are thought to have played with them.
(Jiji)
Oct 10
People in Chichibu, a city north of Tokyo, launched hand-made rockets on Sunday to express their gratitude for the season's harvest.
(NHK)
Oct 10
An autumn festival featuring dazzling floats has begun in the central Japanese city of Takayama.
(NHK)
---