The chairman of an educational body embroiled in a scandal involving a land deal for a private elementary school told the Diet on Thursday that he received a donation from Prime Minister Shinzo Abe, reports Sankei Sports.
Yasunori Kagoike, the chairman of Moritomo Gakuen, told the Budget Committee of the uppder house of the Diet that Abe granted a donation for the school.
Over the past month, Moritomo Gakuen has been embroiled in a scandal over its purchase of government-owned land in Osaka's Toyonaka City from the Ministry of Finance at a price far below market value for the school, which it planned to open on the site in the spring.
Due to the controversy, Kagoike earlier this week announced the cancellation of the application to open the school.
The school is affiliated with Nippon Kaigi, or Japan Conference, which aims for "a beautiful, traditional sovereignty for Japan's future." Given that Abe is an adviser for Nippon Kaigi, there has been speculation that his administration was behind the low-ball price paid for the land.
Abe, however, has denied such involvement and vowed to resign if proven true. "I clearly state that I will definitely quit as prime minister and a member of the Diet if me or my wife were to have been involved," Abe said in the Diet in February.
Abe's wife, Akie, was once listed on the school's website as its honorary principal. She has since withdrawn that title.
Update: Yoshihide Suga, Chief Cabinet Secretary, has denied the donation took place, reports TBS News (Mar. 16). "A donation was not made by the prime minister, his wife, his office or via a third party," Suga said.
森友学園の籠池理事長が「100万円の寄付を受けた」と語ったことについて、安倍総理大臣が記者団の質問に答えました。
Apr 30
Osaka Prefectural Police have arrested a 35-year-old man on charges of murder after his elderly neighbor was found stabbed to death, possibly the result of a feud over a pet dog, reports TBS News.
(tokyoreporter.com)
Apr 30
A male worker died after he was buried alive while working alone inside a sand storage tank at a concrete factory in Kitakami City on Saturday, police said.
(tokyoreporter.com)
Apr 30
Participants in a large-scale May Day rally in Tokyo on Saturday called for eliminating long working hours and correcting unreasonable pay gaps.
(Jiji)
Apr 30
Japanese Prime Minister Shinzo Abe has strongly condemned North Korea's latest firing of a ballistic missile.
(NHK)
Apr 30
Historic buildings and artifacts in Nikko, north of Tokyo, are taking on a new glow during the spring holiday season.
(NHK)
Apr 30
The town of Taiji, known for its whale-hunting traditions, held an annual memorial service on Saturday for whales captured and killed.
(Japan Times)
Apr 30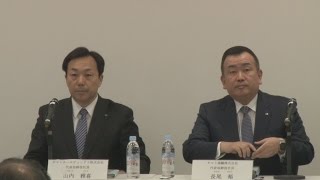 Leading parcel delivery firm Yamato Transport Co. said Friday that it will raise its basic tariff for retail customers by ¥140-¥180 excluding tax in September, marking its first rate hike in 27 years.
(the-japan-news.com)
Apr 30
As tension spikes on the Korean peninsula, a French amphibious assault carrier sailed into Japan's naval base of Sasebo on Saturday ahead of drills that risk upsetting China, which faces U.S. pressure to rein in North Korea's arms programs.
(Japan Today)
Apr 29
Tokyo Metro Co. briefly suspended all subway services on Saturday morning following news reports on a ballistic missile launch by North Korea.
(Jiji)
Apr 29
The US military says the latest ballistic missile launched by North Korea did not leave the nation's territory.
(NHK)
---