A luxury, all-suite sleeper train was stranded on the tracks Monday in Nikko, Tochigi Prefecture, due to engine trouble, JR East said.
Train Suit Shiki-Shima, a 10-car luxury train including a diner, a lounge and a cypress bathtub, had been on a test run Monday when a "breakdown" sign showed up on the operator's monitor, forcing the driver to halt the train at around 2 p.m. The train had originated at Tokyo's Ueno Station.
The driver could not detect any trouble and resumed the run. But then the train came to a halt at around 3:50 p.m., according to JR East.
JR East officials suspect engine trouble and are investigating. The train returned to a rail yard in Tokyo later in the day.
The trouble stopped the operations of other trains on the JR Nikko Line for four hours, affecting some 2,000 passengers.
5月から運行を始めるJRの豪華寝台列車「四季島」が試運転中にエンジン系統の故障で4時間以上、立ち往生しました。 20日午後2時前、栃木県のJR日光線下野大沢駅と今市駅の間で、JR東日本の豪華寝台列車「トランスイート四季島」が停止するトラブルがあり、約4時間半、立ち往生しました。
Dec 07
Narita International Airport near Tokyo is looking to ease congestion at one of its terminals.
(NHK)
Dec 03
Inui Street in the Imperial Palace in central Tokyo was opened to the public on Saturday, in time for the autumn foliage season.
(Jiji)
Dec 01
Local restaurants, souvenir shops and even some temples and shrines are hoping to cater to foreign guests with an international custom yet to be adopted in Japan: letting customers pay their bills with credit cards instead of cash.
(Japan Today)
Nov 29
The latest edition of the Michelin guide for Tokyo is due out on Friday with 82 new restaurants, including five new two-star establishments and 23 entities garnering single stars, Michelin said on Tuesday.
(Japan Times)
Nov 28
From a television commercial that gives a humorous twist to a theme park's impending closure to hotels staffed by robots, tactics to capitalize on company outings, and ads featuring Japanese pop idols and actors — theme parks in Japan are squeezing their creative juices to attract more first-time visitors and repeaters through avant-garde ways.
(Japan Times)
Nov 27
A new Tokyo Bay amphibious bus tour was launched Monday to service the expected influx of foreign tourists drawn to the city ahead of the 2020 Tokyo Olympics and Paralympics.
(Kyodo)
Nov 26
Railway fans have gathered in western Japan to see a steam locomotive get chugging again for the first time in 44 years.
(NHK)
Nov 25
Japan appeals to different people for different reasons. Some visit for the history or the food. Many stay for the martial arts, while others keep coming back for a dose of manga, anime and video-game culture. Still others come to enjoy the land — the huge span of scenery from the north of Hokkaido to Okinawa in the southwest, and the sharp changes such places undergo with the revolutions of season.
(Japan Times)
Nov 19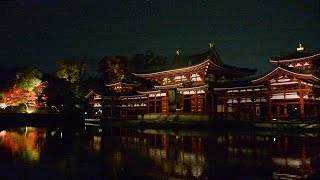 The Phoenix Hall of Byodoin temple, a UNESCO World Heritage site in Uji, Kyoto Prefecture, glows at night during a trial illumination on Friday.
(the-japan-news.com)
Nov 17
Osaka Governor Ichiro Matsui sought support for the western Japan prefecture's bid to host the 2025 World Exposition at a general meeting of the Bureau International des Expositions in Paris on Wednesday.
(Jiji)
---