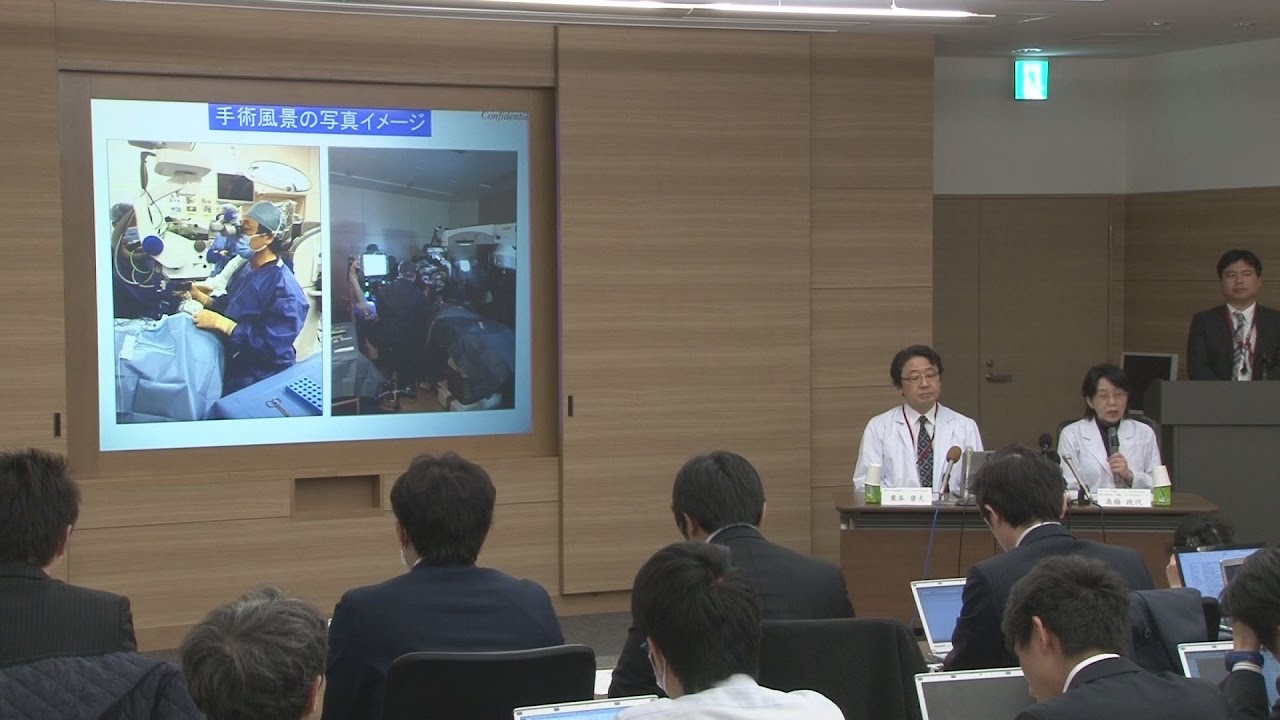 Groups of Japanese researchers say they have successfully transplanted iPS cells derived from a donor into a patient suffering from a serious eye disease.
The one-hour operation was performed on Tuesday at Kobe City Medical Center General Hospital. It was conducted by project leader Masayo Takahashi from a RIKEN research lab, and teams from Kobe City Medical Center General Hospital, Kyoto University and Osaka University.
They transplanted retinal tissue made from donor iPS cells into a man in his 60s with a disease called age-related macular degeneration.
The tissue was created from a special kind of iPS cell less likely to be rejected immunologically. A group led by Kyoto University Professor Shinya Yamanaka created this type of cell from people with a special kind of immunity. The university preserves such iPS cells by freezing them. These tissues can be multiplied almost indefinitely once they are unfrozen and cultured.
理化学研究所などのチームは28日、目の病気の患者に、他人の人工多能性幹細胞(iPS細胞)から作った網膜の細胞を移植する手術を実施したと発表した。他人のiPS細胞を使った移植は世界初。
Feb 23
Japan's Crown Prince Naruhito turned 58 on Friday.
(NHK)
Feb 23
A World Trade Organization panel has ruled in Japan's favor in a dispute over South Korea's ban on seafood imports from 8 Japanese prefectures.
(NHK)
Feb 23
Aomori Prefectural Police have arrested an 18-year-old girl for allegedly killing her 2-year-old son at a residence in Mutsu City on Tuesday, reports the Yomiuri Shimbun
(tokyoreporter.com)
Feb 23
A senior Japanese official has criticized South Korea for what he calls the illegal occupation of the Takeshima Islands in the Sea of Japan. He made the remark on Thursday at a ceremony to commemorate Japan's incorporation of the islands more than a century ago.
(NHK)
Feb 23
Tokyo Metropolitan Police have arrested a 21-year-old Korean national for the alleged possession of marijuana after a pursuit ended in an accident in Shibuya Ward early Wednesday, reports TV Asahi.
(tokyoreporter.com)
Feb 23
Prosecutors have announced the non-prosecution of a male socialite over the alleged threats of a partner in a sex business last year, reports TV Asahi
(tokyoreporter.com)
Feb 23
The health, labor and welfare division of Japan's ruling Liberal Democratic Party on Thursday broadly approved a diluted draft bill for strengthening measures against passive smoking in public places, including restaurants.
(Jiji)
Feb 23
Japan's Self-Defense Force has begun surveying a lake in the northern prefecture of Aomori where a US fighter jet offloaded 2 external fuel tanks.
(NHK)
Feb 23
Japanese automaker Honda has announced that its HondaJet won the most delivered jet title in its category last year.
(NHK)
Feb 23
Osaka Prefectural Police have raided four so-called 'girl's bar' establishments in Osaka for licensing violations that are believed to have employed minors, reports TV Asahi.
(tokyoreporter.com)
---