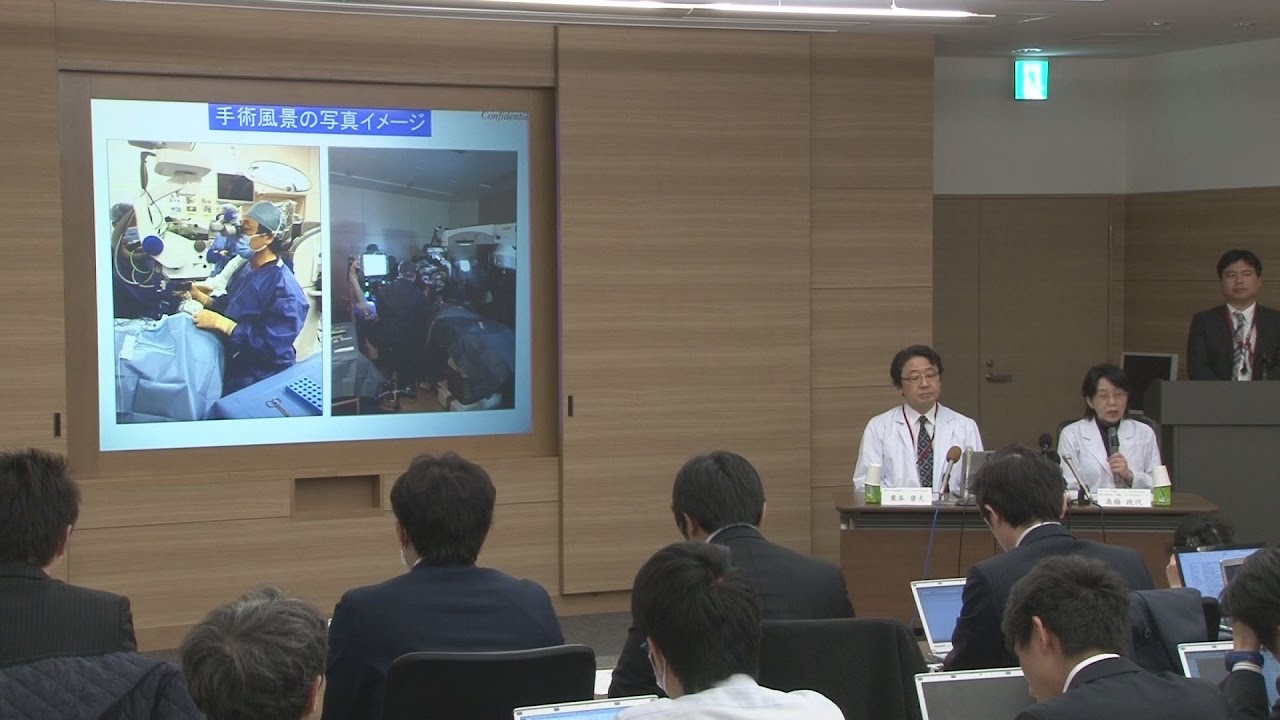 Groups of Japanese researchers say they have successfully transplanted iPS cells derived from a donor into a patient suffering from a serious eye disease.
The one-hour operation was performed on Tuesday at Kobe City Medical Center General Hospital. It was conducted by project leader Masayo Takahashi from a RIKEN research lab, and teams from Kobe City Medical Center General Hospital, Kyoto University and Osaka University.
They transplanted retinal tissue made from donor iPS cells into a man in his 60s with a disease called age-related macular degeneration.
The tissue was created from a special kind of iPS cell less likely to be rejected immunologically. A group led by Kyoto University Professor Shinya Yamanaka created this type of cell from people with a special kind of immunity. The university preserves such iPS cells by freezing them. These tissues can be multiplied almost indefinitely once they are unfrozen and cultured.
理化学研究所などのチームは28日、目の病気の患者に、他人の人工多能性幹細胞(iPS細胞)から作った網膜の細胞を移植する手術を実施したと発表した。他人のiPS細胞を使った移植は世界初。
May 29
Japan's Defense Ministry says North Korea launched a missile on Monday morning. Government officials believe it landed within Japan's exclusive economic zone in the Sea of Japan.
(NHK)
May 29
Tokyo Metropolitan Police on Sunday apprehended a 21-year-old man in the theft of two diamonds valued at more than 6 million yen from a jewelry store in Taito Ward, reports TV Asahi
(tokyoreporter.com)
May 29
Takuma Sato won the 101st running of the Indianapolis 500 on Sunday, becoming the first Japanese driver to triumph in America's iconic race.
(Japan Times)
May 29
An ancient ball game known as "kemari" was staged at a major shrine in Nara. The event held at Kasugataisha shrine is named "Manyo-kemari".
(NHK)
May 29
The 70th Cannes Film Festival awarded its top prize, the Palme d'Or, to Swedish director Ruben Ostlund for his comedy "The Square".
(NHK)
May 29
Billed as a domestically developed version of the Global Positioning System, the Quasi-Zenith Satellite System (QZSS) Michibiki No. 2 satellite will be launched on Thursday from the Tanegashima Space Center in Kagoshima Prefecture.
(the-japan-news.com)
May 29
A survey shows that nearly 30 percent of gas stations in sparsely populated areas of Japan are not sure if they will be able to continue their business operations.
(NHK)
May 29
While the number of foreign tourists to Japan increases, operators of bathhouses and other such facilities are perplexed, after the government approved a written statement that said access to public bathing facilities should not be restricted just because customers having tattoos, at a Cabinet meeting in February.
(the-japan-news.com)
May 28
Tokyo Metropolitan Police on Saturday arrested a 43-year-old man for allegedly shoving a male commuter into a train, leaving him severely injured during an altercation at a station in Chofu City, reports TBS News
(tokyoreporter.com)
May 28
Police in Senboku, Akita Prefecture, said a 61-year-old woman was apparently killed by a bear while picking bamboo shoots in the mountains.
(Japan Today)
---