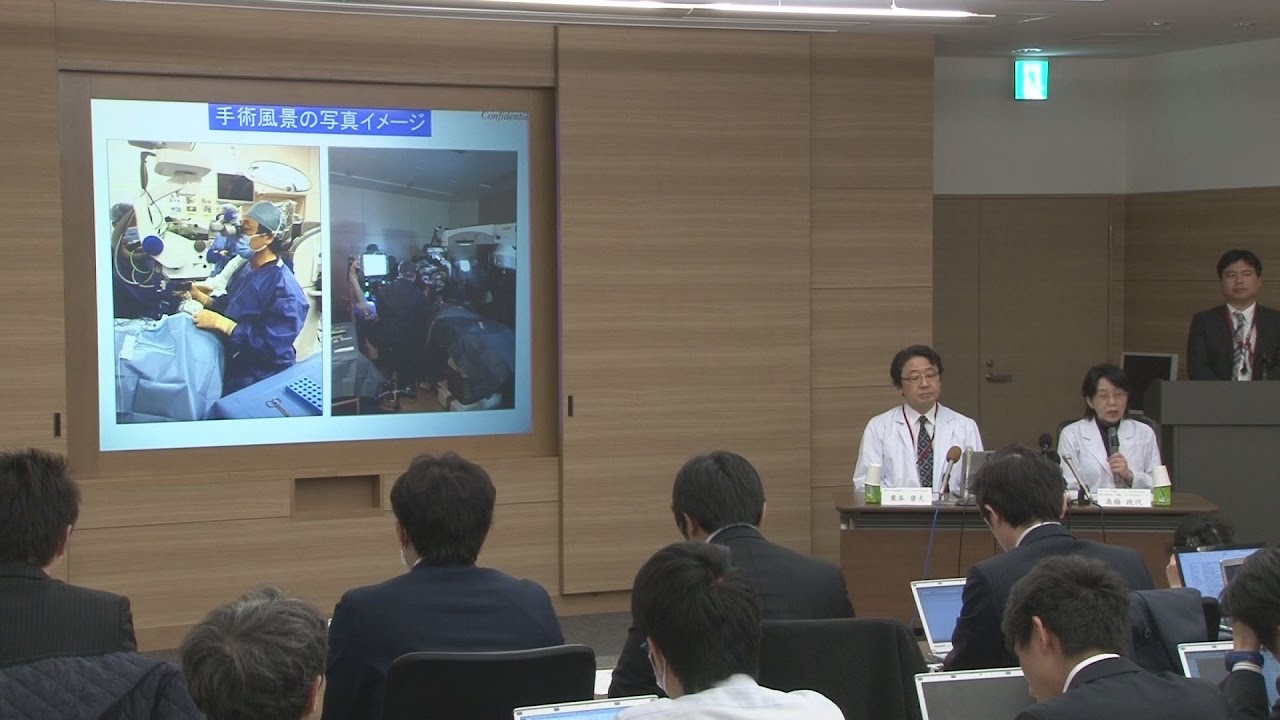 Groups of Japanese researchers say they have successfully transplanted iPS cells derived from a donor into a patient suffering from a serious eye disease.
The one-hour operation was performed on Tuesday at Kobe City Medical Center General Hospital. It was conducted by project leader Masayo Takahashi from a RIKEN research lab, and teams from Kobe City Medical Center General Hospital, Kyoto University and Osaka University.
They transplanted retinal tissue made from donor iPS cells into a man in his 60s with a disease called age-related macular degeneration.
The tissue was created from a special kind of iPS cell less likely to be rejected immunologically. A group led by Kyoto University Professor Shinya Yamanaka created this type of cell from people with a special kind of immunity. The university preserves such iPS cells by freezing them. These tissues can be multiplied almost indefinitely once they are unfrozen and cultured.
理化学研究所などのチームは28日、目の病気の患者に、他人の人工多能性幹細胞(iPS細胞)から作った網膜の細胞を移植する手術を実施したと発表した。他人のiPS細胞を使った移植は世界初。
Sep 22
Police in Shizuoka City said Friday they have arrested a 16-year-old boy on suspicion of stabbing his 51-year-old father to death at their home.
(Japan Today)
Sep 22
A 40-year-old Japanese adventurer will embark on an unassisted solo trek in mid-November journeying approximately 1,130 km across Antarctica to the South Pole.
(Japan Times)
Sep 22
Japanese high school baseball standout Kotaro Kiyomiya said on Friday he had decided to turn pro rather than attend university.
(Japan Today)
Sep 22
Japan Automobile Manufacturers Association Chairman Hiroto Saikawa has called on the public to visit the Tokyo Motor Show, scheduled to be held from late October, to see the world's latest technologies.
(Japan Times)
Sep 22
With Japan's Queen of Pop set to end her career, many are left wondering who the front-runner for the opening ceremonies is now.
(tokyoreporter.com)
Sep 22
Japan's three major mobile carriers on Friday began selling the iPhone 8 and 8 Plus -- minus the usual enthusiasm of previous iPhone launches.
(Nikkei)
Sep 22
North Korean leader Kim Jong Un said Friday in a statement that the country will seriously consider taking the "highest level of hard-line" action in its history, following a threat by U.S. President Donald Trump to "totally destroy" the country in a speech to the United Nations.
(Nikkei)
Sep 22
Officials have found that lunches served at two schools in the town of Oiso dating back to last year were contaminated with plastic fragments and bugs, the Yomiuri Shimbun reports (Sept. 16).
(tokyoreporter.com)
Sep 22
Prime Minister Shinzo Abe addressed the U.N. General Assembly on Wednesday, calling for strict implementation of U.N. Security Council resolutions against North Korea, which has conducted a series of nuclear tests and missile launches.
(the-japan-news.com)
Sep 22
Japanese police reported a record-high 30,262 children as suspected abuse victims to welfare authorities in the first half of 2017, on the back of increased public awareness of the issue, the National Police Agency said Thursday.
(Japan Today)
---