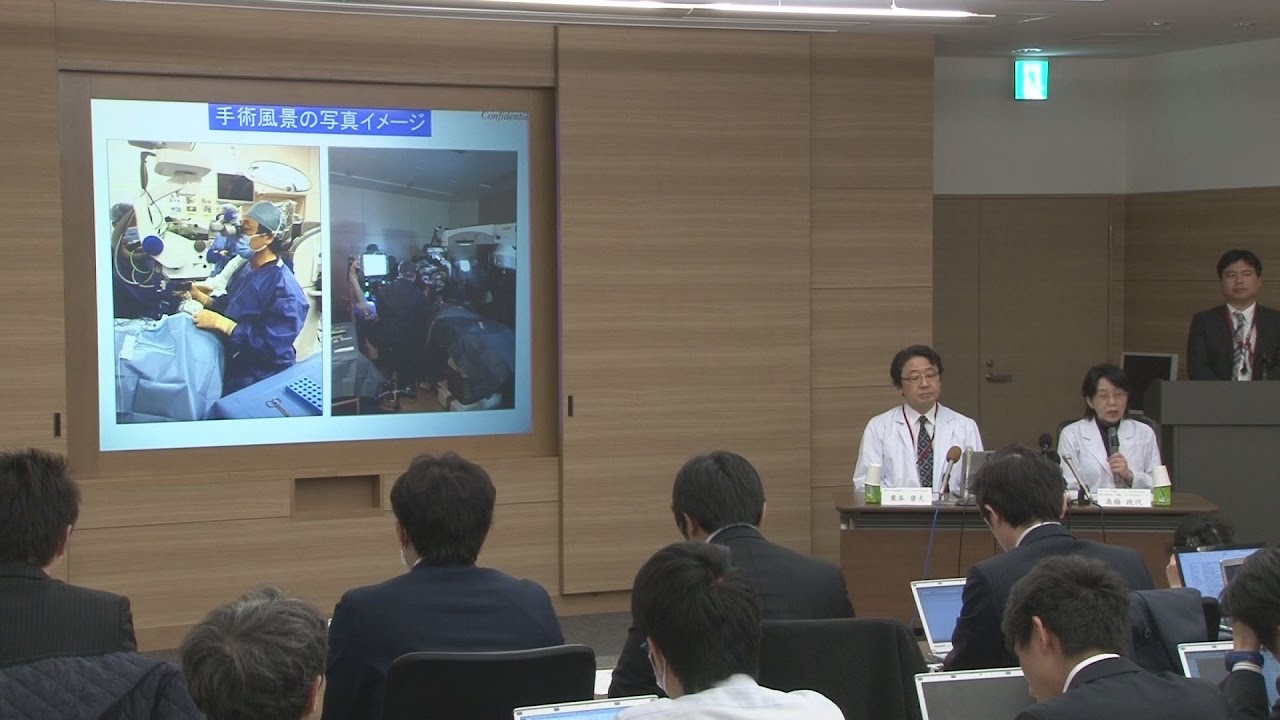 Groups of Japanese researchers say they have successfully transplanted iPS cells derived from a donor into a patient suffering from a serious eye disease.
The one-hour operation was performed on Tuesday at Kobe City Medical Center General Hospital. It was conducted by project leader Masayo Takahashi from a RIKEN research lab, and teams from Kobe City Medical Center General Hospital, Kyoto University and Osaka University.
They transplanted retinal tissue made from donor iPS cells into a man in his 60s with a disease called age-related macular degeneration.
The tissue was created from a special kind of iPS cell less likely to be rejected immunologically. A group led by Kyoto University Professor Shinya Yamanaka created this type of cell from people with a special kind of immunity. The university preserves such iPS cells by freezing them. These tissues can be multiplied almost indefinitely once they are unfrozen and cultured.
理化学研究所などのチームは28日、目の病気の患者に、他人の人工多能性幹細胞(iPS細胞)から作った網膜の細胞を移植する手術を実施したと発表した。他人のiPS細胞を使った移植は世界初。
Apr 25
It has been revealed that information related to Japan's national security was included in the confidential documents disclosed by former US National Security Agency contractor Edward Snowden.
(NHK)
Apr 25
Airbnb estimates that its services contributed 920 billion yen ($8.35 billion) to the Japanese economy in 2016, up 80% from the previous year, as foreign users took advantage of affordable lodging in big cities and rural areas.
(Nikkei)
Apr 25
Princess Kako, a granddaughter of Emperor Akihito, will study at the University of Leeds in Britain from September this year to June next year as an exchange student, the Imperial Household Agency said Monday.
(Japan Today)
Apr 25
The Japanese government on Monday filed a candidacy for the western Japan city of Osaka to host the 2025 World Exposition with the Bureau International des Expositions in Paris.
(Jiji)
Apr 25
Tokyo Metropolitan Police have arrested the former manager of an illicit parlor in Shinjuku who is suspected of instructing teenage girls to perform sex acts with customers, reports TBS News.
(tokyoreporter.com)
Apr 25
The police department of Osaka Prefecture, western Japan, has arrested a 40-year-old bus driver for allegedly using stimulants in violation of the stimulant control law.
(Jiji)
Apr 25
The Japanese government has decided to start landfill work at the Henoko coastal area in the city of Nago, Okinawa Prefecture, on Tuesday for the relocation of the U.S. Marine Corps' Futenma air base, informed sources said Monday.
(Jiji)
Apr 25
The Bank of Japan wants financial institutions to lend more money under its large-scale monetary-easing policy. But it's worried that some regional banks are too eager to offer real estate loans, especially for building rental housing.
(NHK)
Apr 25
Two elderly women were hit and killed by a train at a station in Kanagawa Prefecture, south of Tokyo, with surveillance camera footage showing the two jumping on the tracks holding each other's hands, police said Monday.
(Japan Today)
Apr 25
Rakuten Inc announced the official launch of "Rakuten Super English," a comprehensive English learning service utilizing technology to provide a practical English learning and a new style of studying. The launch of Rakuten Super English marks Rakuten's entry into the English education business.
(Japan Today)
---