A group of major private music school operators said Tuesday they intend to take legal action against Japan's largest copyright collection group after it emerged it would from next January levy copyright fees on schools using its music.
The music school operators said they planned to file a lawsuit against the Japanese Society for Rights of Authors, Composers and Publishers (JASRAC) with the Tokyo District Court as early as July, a representative told The Japan Times.
In February, JASRAC informed several hundred private music school operators it will begin collecting copyright fees for the use of sheet music under its management.
It claims the use of music to teach piano or other instruments infringes on the "right of performance" under Article 22 of the Copyright Law, which stipulates the composer has the exclusive right to perform their work publicly.
JASRAC plans to revise its regulations, enabling the organization to collect 2.5 percent of all annual fees charged by the music schools.
But school operators argue that performances during classes should not require consent from a composer under the copyright law.
In response to JASRAC's move, Yamaha Music Foundation, Kawai Musical Instruments Manufacturing Co. and five other musical school operators initially set up a group advocating for the right to educate using musical works without copyright consent.
The group, which now has 350 members, has collected over 10,000 signatures demanding a halt to JASRAC's plan, which it plans to submit to the culture ministry in July.It remains unclear how many companies will join the lawsuit.
"We want the court to confirm that performances at (music) schools do not need JASRAC's consent," said a representative for the group.
The representative said that JASRAC's move had sparked concern among students that the copyright fees would affect the schools. He acknowledged the revised policy could lead to an increase in tuition fees.
Yamaha Music Foundation has more than 3,300 schools across Japan teaching about 390,000 students, including 280,000 children.
Nov 19
Police in Tokyo on Saturday arrested an unemployed 42-year-old man of no fixed address on suspicion of killing a 61-year-old homeless man on a riverbank in Katsushika Ward.
(Japan Today)
Nov 19
A man died Saturday after falling off a cliff while competing in a trail running race in Saitama Prefecture, police said.
(Japan Times)
Nov 19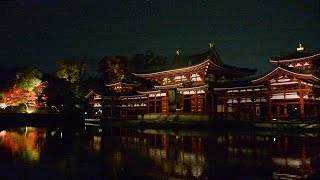 The Phoenix Hall of Byodoin temple, a UNESCO World Heritage site in Uji, Kyoto Prefecture, glows at night during a trial illumination on Friday.
(the-japan-news.com)
Nov 19
Despite their magical reputation, shooting stars are just pieces of space debris from millimeters to a few centimeters thick that fly into Earth's atmosphere and brightly burn up into nothing.
(rocketnews24.com)
Nov 19
Chiba Prefectural Police have arrested a 33-year-old man for allegedly selling cash above face value using marketplace app Mercari and collecting interest exceeding the legal interest rate, reports TV Asahi
(tokyoreporter.com)
Nov 18
Japan's national broadcaster NHK has unveiled this year's lineup for its annual New Year's Eve music show "Kohaku Uta Gassen" (Red and White Song Battle), featuring 10 new groups and singers.
(Japan Today)
Nov 18
Yokozuna Grand Champion Harumafuji has reportedly told police that he hit a lower-ranked wrestler with his bare hands, not with a beer bottle as was reported.
(NHK)
Nov 18
An apology by a Japanese railroad operator for a train's early departure has attracted the attention of foreign media.
(NHK)
Nov 18
The overall number of crimes committed in Japan continued to drop in 2016, falling below the 1 million mark for the first time in the postwar era, according to the annual White Paper on Crime released Friday by the Justice Ministry.
(Japan Times)
Nov 18
After beginning service in Japan in 2011, Naver Corporation's Line messaging app quickly become one of the most popular ways to stay connected to personal acquaintances.
(Japan Today)
---