Having heard that Tsukuba Kasumigaura Ring Ring Road, an about 180-kilometer-long cycling course in Ibaraki Prefecture, became even more visitor-friendly this spring, I tried out a section about 40 kilometers long between Sakuragawa and Tsuchiura.
I'm in my second year at The Yomiuri Shimbun after graduating from university, where I trained as an American football player, and was quite confident in the strength of my legs. However, it turned out not to be so easy.
From this fiscal year, a total of 102 rental bicycles, including some suited for women and children, are available for biking the route, representing an increase of 60. Cyclists on the route can enjoy beautiful views of Mt. Tsukuba and Lake Kasumigaura.
I called in advance to reserve a crossover bike, and on April 28, I left my house in Mito at about 7:30 a.m. for Sakuragawa, which I chose as my starting point because I had heard that I could enjoy a close view of Mt. Tsukuba while cycling.
I got off the train at JR Iwase Station before heading to Takasago ryokan, a Japanese-style inn that also rents out bikes. A one-day rental fee was ¥1,500. Toshio Takamatsu, 68, the owner of the inn, saw me off with a smile, saying: "From Sakuragawa to Tsuchiura, the route is slightly downhill. So it'll be easy."
I put on a helmet, got on my crossover bike and began pedaling enthusiastically.
Rural area with old station
The route from Iwase Station through the countryside toward Mt. Tsukuba in the south utilizes the now-defunct Tsukuba tetsudo railway. Riding in the spring sunshine, the crisp breeze through my thin long-sleeved shirt made me feel comfortable. Besides the occasional tractor's engine I heard only the sound of the wind. My spirits lifted when I took a deep breath of the fresh air, and I began pedaling out of the saddle.
Soothed by the canola flowers swaying in the wind, I didn't feel tired at all when I arrived at the Amabiki rest stop, five kilometers from my starting point. The former platform of a now-defunct train station there provided a good atmosphere.
Nov 19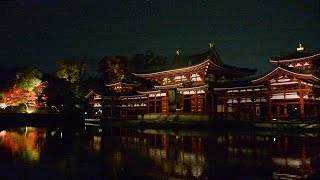 The Phoenix Hall of Byodoin temple, a UNESCO World Heritage site in Uji, Kyoto Prefecture, glows at night during a trial illumination on Friday.
(the-japan-news.com)
Nov 17
Osaka Governor Ichiro Matsui sought support for the western Japan prefecture's bid to host the 2025 World Exposition at a general meeting of the Bureau International des Expositions in Paris on Wednesday.
(Jiji)
Nov 17
Japanese regional carrier Air Do becomes the latest airline struck by the global shortage of pilots, saying Thursday it has canceled 26 flights scheduled for February after already grounding 34 trips this month.
(Nikkei)
Nov 17
The government plans to actively promote stays at farming villages geared toward foreign tourists. Supportive measures to begin next fiscal year will include sponsoring skilled chefs to hold cooking classes at women's clubs to enhance local cuisine, and other steps to attract foreigners interested Japanese food and culture.
(the-japan-news.com)
Nov 16
Colorful autumn leaves are in their prime at a park in Saitama Prefecture, north of Tokyo, drawing many visitors.
(NHK)
Nov 16
The Imperial Household Agency said Wednesday that it will open Inui Street, running through the Imperial Palace in central Tokyo, to the public on Dec. 2-10.
(Jiji)
Nov 15
The first public exhibition of a giant panda cub born at a Tokyo zoo in 29 years will begin next month, with large numbers of visitors expected.
(Japan Today)
Nov 13
Of all the things there are to see and do in a foreign city, it's fair to say a visit to the local garbage incinerator is not usually one of them. But a garbage facility in the Japanese city of Osaka has become a major tourist attraction --- for all the wrong reasons.
(cairnspost.com.au)
Nov 13
The Ritz-Carlton, Osaka's French restaurant La Baie and The Ritz-Carlton Kyoto's Japanese restaurant Tempura Mizuki have both been awarded one Michelin star in the Michelin Guide to Kyoto and Osaka 2018.
(Japan Today)
Nov 12
Airports around the world have found an unconventional, eco-friendly way to take advantage of all the unused open space around their runways and buildings: hosting beehives.
(Japan Times)
---