Having heard that Tsukuba Kasumigaura Ring Ring Road, an about 180-kilometer-long cycling course in Ibaraki Prefecture, became even more visitor-friendly this spring, I tried out a section about 40 kilometers long between Sakuragawa and Tsuchiura.
I'm in my second year at The Yomiuri Shimbun after graduating from university, where I trained as an American football player, and was quite confident in the strength of my legs. However, it turned out not to be so easy.
From this fiscal year, a total of 102 rental bicycles, including some suited for women and children, are available for biking the route, representing an increase of 60. Cyclists on the route can enjoy beautiful views of Mt. Tsukuba and Lake Kasumigaura.
I called in advance to reserve a crossover bike, and on April 28, I left my house in Mito at about 7:30 a.m. for Sakuragawa, which I chose as my starting point because I had heard that I could enjoy a close view of Mt. Tsukuba while cycling.
I got off the train at JR Iwase Station before heading to Takasago ryokan, a Japanese-style inn that also rents out bikes. A one-day rental fee was ¥1,500. Toshio Takamatsu, 68, the owner of the inn, saw me off with a smile, saying: "From Sakuragawa to Tsuchiura, the route is slightly downhill. So it'll be easy."
I put on a helmet, got on my crossover bike and began pedaling enthusiastically.
Rural area with old station
The route from Iwase Station through the countryside toward Mt. Tsukuba in the south utilizes the now-defunct Tsukuba tetsudo railway. Riding in the spring sunshine, the crisp breeze through my thin long-sleeved shirt made me feel comfortable. Besides the occasional tractor's engine I heard only the sound of the wind. My spirits lifted when I took a deep breath of the fresh air, and I began pedaling out of the saddle.
Soothed by the canola flowers swaying in the wind, I didn't feel tired at all when I arrived at the Amabiki rest stop, five kilometers from my starting point. The former platform of a now-defunct train station there provided a good atmosphere.
May 29
An ancient ball game known as "kemari" was staged at a major shrine in Nara. The event held at Kasugataisha shrine is named "Manyo-kemari".
(NHK)
May 29
While the number of foreign tourists to Japan increases, operators of bathhouses and other such facilities are perplexed, after the government approved a written statement that said access to public bathing facilities should not be restricted just because customers having tattoos, at a Cabinet meeting in February.
(the-japan-news.com)
May 27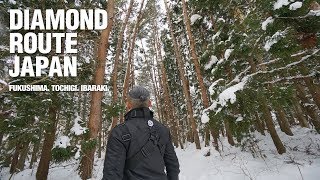 With the aim of revitalizing its tourism industry in the wake of the 2011 Great East Japan Earthquake, Fukushima Prefecture is teaming up with neighboring Ibaraki and Tochigi prefectures to establish a so-called "Diamond Route" to serve as an inbound tourism route linking major sightseeing spots.
(the-japan-news.com)
May 27
A former juvenile prison in the city of Nara in western Japan, built in 1908 and designated as an important cultural asset, will be converted into a hotel, the Justice Ministry said Friday.
(Jiji)
May 26
Outdoor theme park Legoland Japan on Thursday started selling one-day family tickets that offer discounts of up to 25 percent in response to complaints about higher fees compared with other parks.
(Japan Times)
May 25
I hope you're hungry because we're about the go on a street food eating binge on Hiroshima's amazing island, Miyajima.
(ONLY in JAPAN)
May 25
There's never a bad time to visit Japan's former capital, but May is an especially good time.
(rocketnews24.com)
May 24
Budget carrier Peach Aviation is set to become Japan's first airline to accept bitcoin as payment for tickets.
(NHK)
May 24
Tokyo's Ueno Zoo said Tuesday it will suspend the public viewing of giant panda Shin Shin from Thursday as chances of her pregnancy have increased.
(Jiji)
May 22
An annual event to taste the regional fish specialty of katsuo, or bonito, was held in Kochi Prefecture, western Japan, on Sunday.
(NHK)
---