One of the reactors at Takahama nuclear plant in the central Japanese prefecture of Fukui has been restarted for the first time in 15 months.
Plant workers began pulling control rods out of the No.4 reactor at 5 PM on Wednesday.
It runs on MOX fuel, which is a mixture of plutonium extracted from spent nuclear fuel and uranium.
The reactor is to reach criticality, a self-sustained nuclear reaction, in about 13 hours by around 6 AM on Thursday. The operator, Kansai Electric Power Company, plans to start power generation and transmission to the grid on Monday next week.
The power utility plans to resume commercial operations with the reactor in mid-June.
Wednesday's restart brought the number of reactors operating in Japan to 4, including 2 reactors at Sendai plant in Kagoshima Prefecture and one at Ikata plant in Ehime Prefecture.
17日に再稼働した関西電力の高浜原発4号機は、核分裂が安定的に続く「臨界」にまもなく達する見通しです。 高浜原発4号機は夕方に再稼働し、国内で稼働している原発は4基となりました。関西電力の原発が動くのは約1年2カ月ぶりです。
Nov 23
Tokyo Metropolitan Police have arrested a 39-year-old man for molesting a woman inside a carriage of the JR Saikyo Line last year, reports Nippon News Network.
(tokyoreporter.com)
Nov 23
The Japanese Olympic Committee and city of Sapporo announced Wednesday they will enter a dialogue process over a potential bid to host the 2026 Winter Olympics.
(Japan Today)
Nov 23
Tokyo Metropolitan Police are searching have arrested eight persons, including an organized crime member, in the robbery of gold valued at nearly 100 million yen from a shop in Taito Ward earlier this year, reports NHK
(tokyoreporter.com)
Nov 23
A team of Japanese researchers has found a new drug combination that reduces amyloid beta protein, believed to play a key role in causing Alzheimer's disease, by using stem cells derived from patients, Kyoto University announced Tuesday.
(Japan Times)
Nov 23
The Yokohama family court granted a request by a daughter of Aum Shinrikyo cult founder Shoko Asahara to nullify her parents' right to inherit her property in the event of her death.
(Japan Times)
Nov 23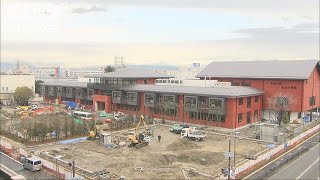 The government sold land in Osaka to school operator Moritomo Gakuen for a highly discounted price based on faulty data estimating the cost of removing industrial waste left in the plot, a government watchdog on spending concluded in a much-awaited report released Wednesday.
(Japan Times)
Nov 22
The Imperial Household Agency said Wednesday the wedding ceremony of Princess Mako, the eldest granddaughter of Emperor Akihito, and her classmate from university days Kei Komuro will be held on Nov 4 next year.
(Japan Today)
Nov 22
Subaru Corp. will introduce a series of all-electric cars in Japan as early as 2021, sources said, as competition intensifies between automakers looking to develop eco-friendly cars in response to stricter global emissions regulations.
(Japan Times)
Nov 22
The government will draw up a fiscal 2017 supplementary budget for additional spending of some ¥2 trillion, including for setting up nursery facilities to accept 320,000 children on waiting lists ahead of schedule as pledged by the ruling coalition in the Oct. 22 general election.
(Japan Times)
Nov 22
A woman employed as a costumed performer at Tokyo Disneyland was awarded labor compensation after developing a disorder that caused acute pain in her arm, the park's operator said Wednesday.
(Kyodo)
---