One of the perks of holding the highest rank in professional sumo -- yokozuna or grand champion -- is that the title is so exalted, demotion to a lower rank due to poor performance is almost unthinkable.
Unlike those in the lower ranks, should a yokozuna be hobbled by injury or illness, he can choose not to take part in a tournament, or drop out midway, and even miss several consecutive tournaments (former yokozuna Takanohana sat out seven straight tournaments due to injury from 2001 to 2002) and still return to his position. On the other hand, should he suffer a string of humiliating defeats he would be obliged to announce his retirement.
There have also been situations when yokozuna failed to demonstrate sufficient hinkaku (dignity), as was the case in February 2010 with Mongolian grand champion Asashoryu, who was involved in a drunken brawl and allegedly injured a man -- although the details to this day have never been made public. While still at the peak of his career, Asashoryu was forced to retire and leave professional sumo.
Which brings us to the newest yokozuna, Kisenosato. After winning the New Year's tournament to gain promotion to the top rank, and then making a miraculous recovery from a badly injured left bicep to win the playoff match on the tournament's final day to take the championship, fans were overjoyed to see the local boy whack his Mongolian rivals and make good.
Prior to the start of the summer tournament on May 14, rumors flew that Kisenosato would announce a kyujo (non-participation), sitting out the 15-day tournament in order to give himself time to achieve a full recovery, while preparing for a comeback at the Nagoya tournament in July.
But to the fans' delight, Kisenosato marched into the ring on the first day, only to lose handily to a scrappy smaller rival, Yoshikaze. He lost again on Wednesday. It was clear that his left arm has not fully recovered. So why, asked Yukan Fuji (May 17), did he chose to compete?
The reason, the writer is convinced, is that Kisenosato faces a damned-if-you-do, damned-if -you-don't situation. For one thing, a huge amount of corporate prize money that is being offered for each bout he wins, and if he sits out the tournament, he would miss the chance to collect the all-time record number of kensho (packets of prize money carried home by the winner of a match).
Nov 19
Police in Tokyo on Saturday arrested an unemployed 42-year-old man of no fixed address on suspicion of killing a 61-year-old homeless man on a riverbank in Katsushika Ward.
(Japan Today)
Nov 19
A man died Saturday after falling off a cliff while competing in a trail running race in Saitama Prefecture, police said.
(Japan Times)
Nov 19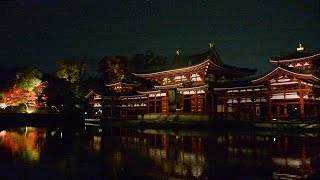 The Phoenix Hall of Byodoin temple, a UNESCO World Heritage site in Uji, Kyoto Prefecture, glows at night during a trial illumination on Friday.
(the-japan-news.com)
Nov 19
Despite their magical reputation, shooting stars are just pieces of space debris from millimeters to a few centimeters thick that fly into Earth's atmosphere and brightly burn up into nothing.
(rocketnews24.com)
Nov 19
Chiba Prefectural Police have arrested a 33-year-old man for allegedly selling cash above face value using marketplace app Mercari and collecting interest exceeding the legal interest rate, reports TV Asahi
(tokyoreporter.com)
Nov 18
Japan's national broadcaster NHK has unveiled this year's lineup for its annual New Year's Eve music show "Kohaku Uta Gassen" (Red and White Song Battle), featuring 10 new groups and singers.
(Japan Today)
Nov 18
Yokozuna Grand Champion Harumafuji has reportedly told police that he hit a lower-ranked wrestler with his bare hands, not with a beer bottle as was reported.
(NHK)
Nov 18
An apology by a Japanese railroad operator for a train's early departure has attracted the attention of foreign media.
(NHK)
Nov 18
The overall number of crimes committed in Japan continued to drop in 2016, falling below the 1 million mark for the first time in the postwar era, according to the annual White Paper on Crime released Friday by the Justice Ministry.
(Japan Times)
Nov 18
After beginning service in Japan in 2011, Naver Corporation's Line messaging app quickly become one of the most popular ways to stay connected to personal acquaintances.
(Japan Today)
---