A wild boar entered the grounds of a Kyoto University dormitory in Kyoto's Sakyo Ward Tuesday, bumping into a man in his 60s on a bicycle before being captured. The man suffered a minor injury to his right leg.
According to police, the roughly 1-meter-long wild boar appears to be a female. Before it entered the Kumano dormitory grounds, a passer-by saw the animal running on a street at around 4:40 p.m. and reported to the police.
The wild boar ran around the neighborhood for about an hour before hunters shot an anesthesia injection needle into it and captured it.
"I have been living around here, but I've never seen it before," said a surprised male neighbor in his 20s.
A wild boar was also seen in May entering a hotel in the city's Higashiyama Ward.
13日、京都大学の学生寮に1頭のイノシシが迷い込む騒動があり、約2時間後に捕獲されました。 午後4時40分ごろ、京都市左京区で車を運転していた男性が車道を走っているイノシシを発見し、警察に通報しました。
Oct 24
Mount Fuji, Japan's highest peak, has been capped with snow for the first time this season.
(NHK)
Oct 24
Power transmission trouble halted three JR Utsunomiya Line trains in Kuki, Saitama Prefecture, on Monday, stranding about 1,900 passengers for about two hours.
(Japan Times)
Oct 24
Typhoon Lan blazed through Tokyo on Monday morning after making landfall along the central Pacific coastline earlier in the day, leaving seven people dead as it pummeled Honshu with heavy rain and strong winds.
(Japan Times)
Oct 24
Visiting Tokyo Governor Yuriko Koike on Monday announced a plan to make the Japanese capital free of carbon dioxide emissions during the opening and closing days of the 2020 Tokyo Olympics and Paralympics.
(Jiji)
Oct 24
An industry group says the sales of Japanese animation, related services, and products topped 2 trillion yen, or about 17.6 billion dollars, for the first time in 2016.
(NHK)
Oct 24
Up to now, it has been a real hassle making advance reservations for Japan's bullet trains from overseas. JR East finally set up an online reservation system a while back, but that was only for trains heading north from Tokyo.
(rocketnews24.com)
Oct 23
Tokyo's Nikkei 225 on Monday posted the longest winning streak in its nearly 70-year history as markets cheered the weekend election victory of Japan's pro-business prime minister.
(Japan Today)
Oct 23
Voter turnout for single-seat constituencies in Sunday's election for the House of Representatives, the lower chamber of parliament, is projected at around 53.69 pct, the second-lowest in the post-World War II period, a Jiji Press estimate showed Monday.
(Jiji)
Oct 23
Fresh off a decisive election victory, Prime Minister Shinzo Abe pledged Monday to tackle what he called Japan's two national crises: the military threat from North Korea and an aging and shrinking population.
(Japan Today)
Oct 23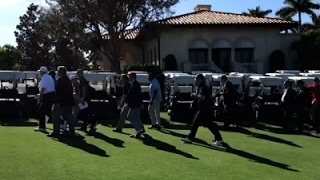 U.S. President Donald Trump on Monday congratulated Prime Minister Shinzo Abe on his ruling camp's big victory in the general election the previous day.
(Japan Today)
---