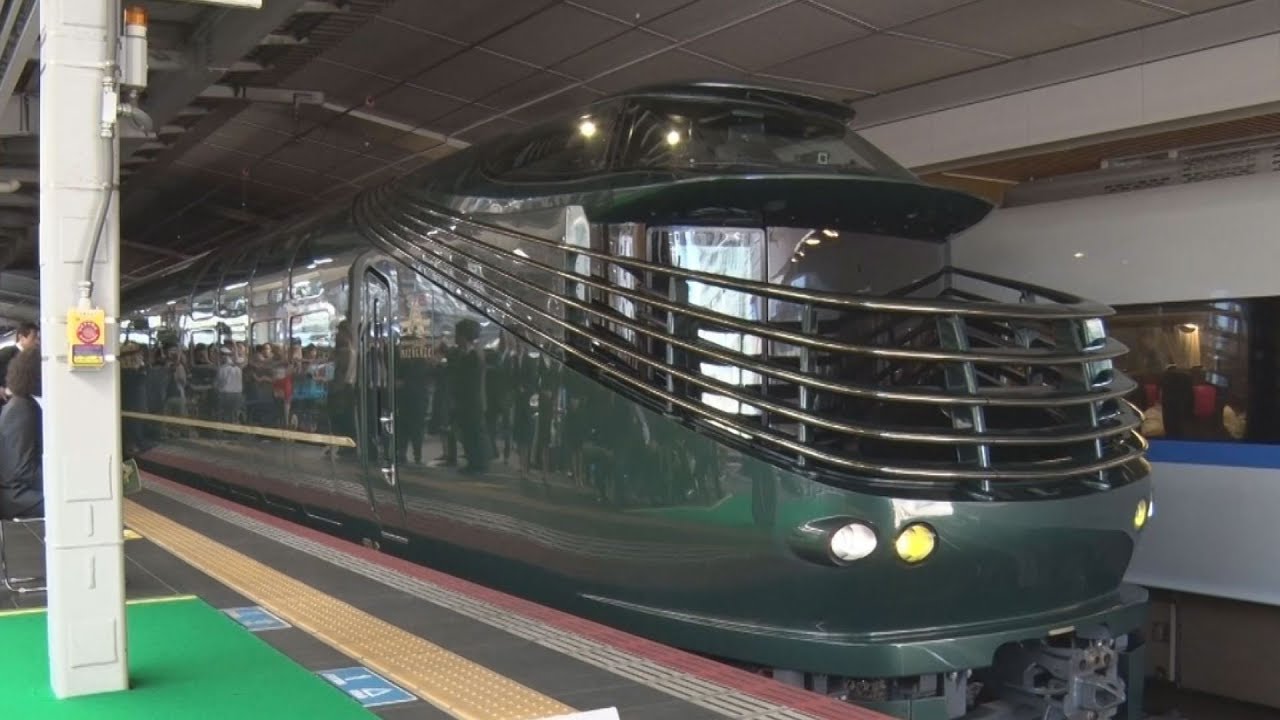 Train buffs and railway officials have attended the launch of a luxury sleeper train journey from Osaka Station.
The service, named Twilight Express Mizukaze, is operated by West Japan Railway. A ceremony marked the first train's departure on Saturday.
Train fans cheered as the streamlined, deep-green train appeared at the platform in the morning.
The train has 10 cars with 16 cabins. Travelers can enjoy panoramic views from the front and end cars, whose windows extend to the ceiling. The cars also have outside decks for passengers to use.
The dining car features seasonal delicacies from western Japan, and a bar and lounge serve drinks and traditional green tea.
Fares range from 270,000 yen or around 2,500 dollars for one night in a twin berth cabin, to more than 750,000 yen or about 6,800 dollars. The rail operator says the inaugural journey attracted some 25 times more applicants than places.
JR西日本の豪華寝台列車「トワイライトエクスプレス瑞風(みずかぜ)」の一番列車が17日、大阪駅(大阪市北区)を出発した。ダークグリーンの「走るホテル」が近畿、中国地方の各地を巡る。
Mar 21
Japan saw an estimated 2,509,300 visitors from overseas in February, up 23.3 pct from a year earlier, the Japan National Tourism Organization said Tuesday.
(Jiji)
Mar 20
A Somei-Yoshino cherry tree being monitored in Kochi reached full bloom on Monday, the Metrological Agency said.
(Japan Times)
Mar 20
The refurbished interior of the "Tower of the Sun" was opened to the public on Monday for the first time since the major artwork by the late Taro Okamoto became a symbol of the Expo '70 world's fair in Osaka.
(Japan Times)
Mar 18
Japan's Meteorological Agency announced on Saturday the official start of Tokyo's annual cherry blossom season.
(NHK)
Mar 18
Workers have replaced a lightning-damaged shachihoko roof ornament on a castle in Inuyama City, central Japan.
(NHK)
Mar 17
Japanese authorities have lowered volcanic alert levels for the 2 peaks of Mount Kusatsu-Shirane in Gunma Prefecture, more than 7 weeks after the volcano erupted.
(NHK)
Mar 17
American rocker and songwriter Bob Dylan will perform at the Fuji Rock Festival in July, his first appearance in Japan since receiving the 2016 Nobel Prize in Literature, the event's organizer said.
(Kyodo)
Mar 16
A survey of 36 major Kyoto city hotels showed that foreigners accounted for 40.5 percent of their total guests in 2017, the highest figure recorded since the survey began in 2014.
(Japan Times)
Mar 14
The operator of Narita airport agreed Tuesday with the Chiba Prefectural Government, surrounding municipalities and the transport ministry on a plan to expand the hours for landings and takeoffs in bid to enhance the functions of the international gateway - but some nearby residents are concerned about increased noise.
(Japan Times)
Mar 10
Another eruption at a volcano in southwestern Japan sent smoke soaring to a height of 4,500 meters, the highest altitude reached since volcanic activity began 9 days ago.
(NHK)
---