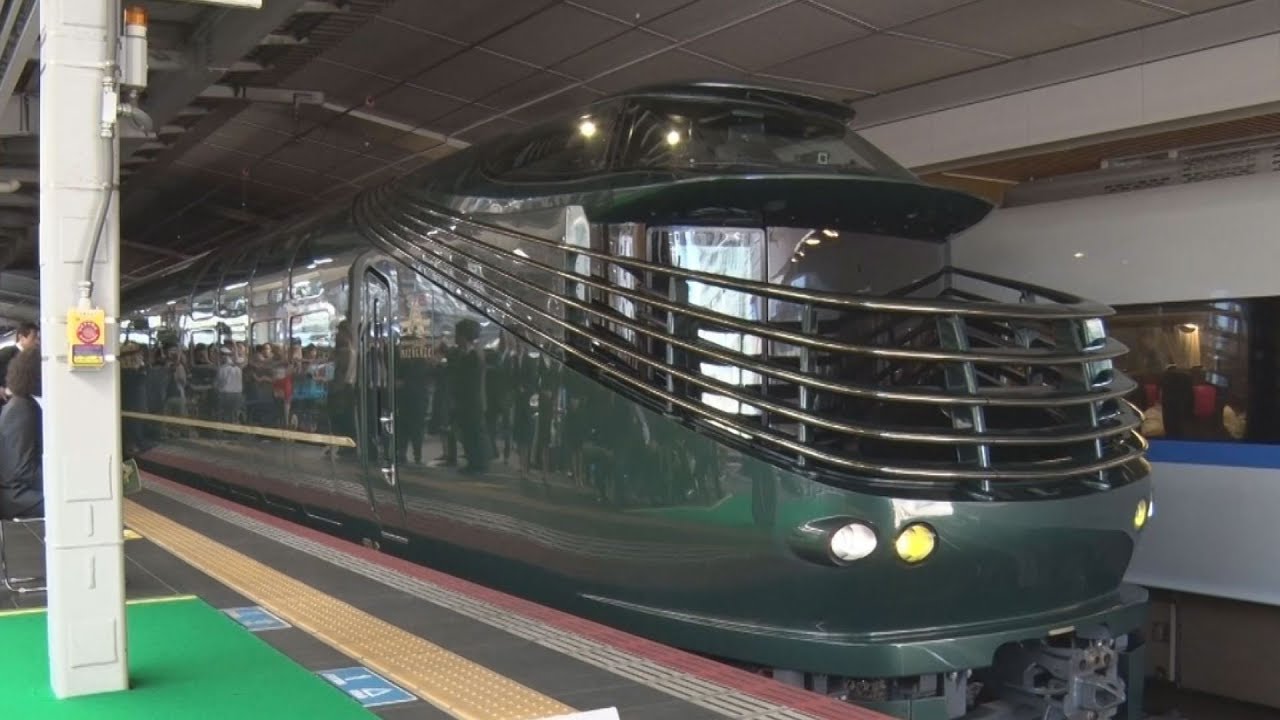 Train buffs and railway officials have attended the launch of a luxury sleeper train journey from Osaka Station.
The service, named Twilight Express Mizukaze, is operated by West Japan Railway. A ceremony marked the first train's departure on Saturday.
Train fans cheered as the streamlined, deep-green train appeared at the platform in the morning.
The train has 10 cars with 16 cabins. Travelers can enjoy panoramic views from the front and end cars, whose windows extend to the ceiling. The cars also have outside decks for passengers to use.
The dining car features seasonal delicacies from western Japan, and a bar and lounge serve drinks and traditional green tea.
Fares range from 270,000 yen or around 2,500 dollars for one night in a twin berth cabin, to more than 750,000 yen or about 6,800 dollars. The rail operator says the inaugural journey attracted some 25 times more applicants than places.
JR西日本の豪華寝台列車「トワイライトエクスプレス瑞風(みずかぜ)」の一番列車が17日、大阪駅(大阪市北区)を出発した。ダークグリーンの「走るホテル」が近畿、中国地方の各地を巡る。
Oct 24
Mount Fuji, Japan's highest peak, has been capped with snow for the first time this season.
(NHK)
Oct 24
Up to now, it has been a real hassle making advance reservations for Japan's bullet trains from overseas. JR East finally set up an online reservation system a while back, but that was only for trains heading north from Tokyo.
(rocketnews24.com)
Oct 19
The estimated number of visitors to Japan in January-September rose 17.9 pct from a year earlier to 21,196,400, topping the 20-million mark at the fastest pace in any year, the Japan National Tourism Organization said Wednesday.
(Jiji)
Oct 19
Ever wondered where the best place to enjoy a refreshing Mojito in Japan is? Well, 300Bar, with three locations in Tokyo's Ginza district, is a serious contender. It has just been awarded by the Cuban Embassy in Tokyo 'The most authentic Mojito in Japan' certificate.
(Japan Today)
Oct 18
People dressed as samurai warriors have marched in a procession at a World Heritage site in Nikko, north of Tokyo.
(NHK)
Oct 17
Amid the gloom and struggle that Osaka has gone through in recent years, a tourism boom has been an unexpected boon for Japan's gritty second city.
(Japan Times)
Oct 17
Japanese travel company H.I.S. Co. said Monday it will open 10 more hotels staffed by robots in Tokyo, Fukuoka, Osaka and Kyoto by March 2019.
(Kyodo)
Oct 16
The government expanded the no-go zone around Mt Shinmoe in Kyushu on Sunday as volcanic activities intensified.
(Japan Today)
Oct 16
The Japan Tourism Agency plans to launch model projects in early December to consider ways to attract more people, including foreign tourists, to snow resorts amid the declining skiing and snowboarding population.
(Jiji)
Oct 11
Iwakura in Aichi Prefecture is striving to make the central Japan city a mecca of yo-yos, which were a big hit in the country in the 1980s and 1990s. More than 10 million people across Japan are thought to have played with them.
(Jiji)
---