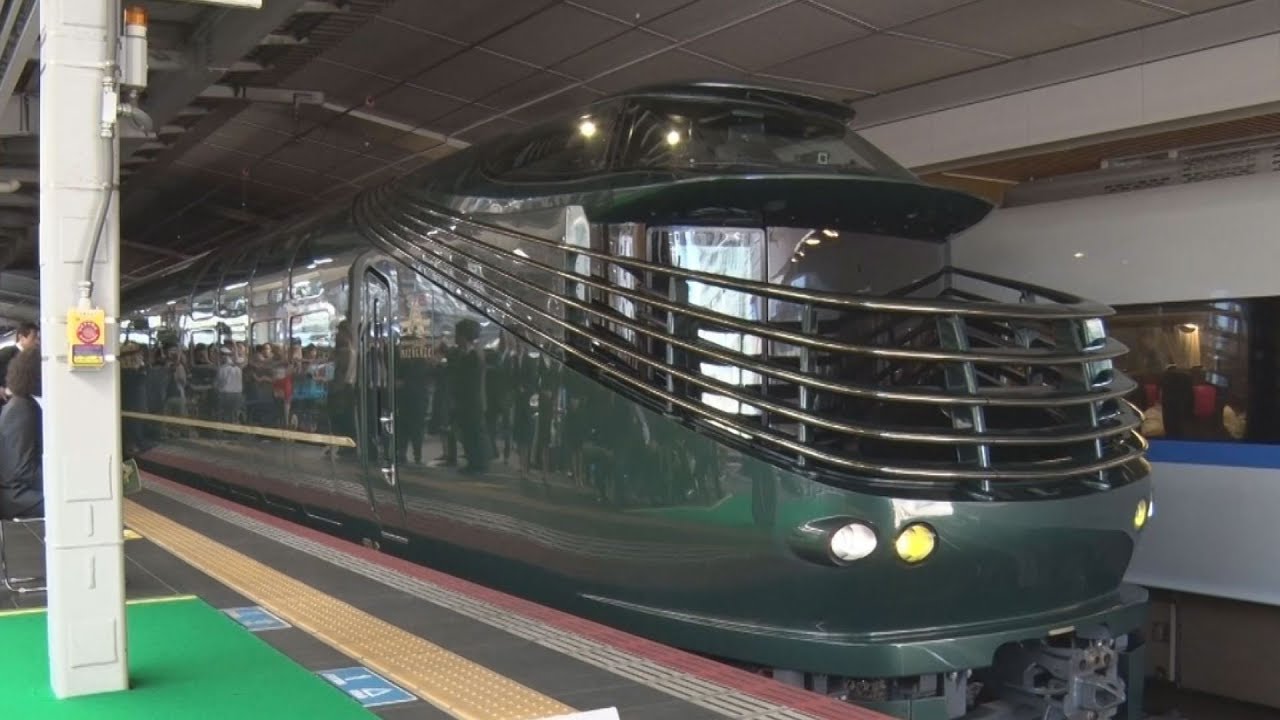 Train buffs and railway officials have attended the launch of a luxury sleeper train journey from Osaka Station.
The service, named Twilight Express Mizukaze, is operated by West Japan Railway. A ceremony marked the first train's departure on Saturday.
Train fans cheered as the streamlined, deep-green train appeared at the platform in the morning.
The train has 10 cars with 16 cabins. Travelers can enjoy panoramic views from the front and end cars, whose windows extend to the ceiling. The cars also have outside decks for passengers to use.
The dining car features seasonal delicacies from western Japan, and a bar and lounge serve drinks and traditional green tea.
Fares range from 270,000 yen or around 2,500 dollars for one night in a twin berth cabin, to more than 750,000 yen or about 6,800 dollars. The rail operator says the inaugural journey attracted some 25 times more applicants than places.
JR西日本の豪華寝台列車「トワイライトエクスプレス瑞風(みずかぜ)」の一番列車が17日、大阪駅(大阪市北区)を出発した。ダークグリーンの「走るホテル」が近畿、中国地方の各地を巡る。
Jun 22
The number of foreign tourists visiting Japan is continuing to increase. It hit a new record for the month of May.
(NHK)
Jun 21
Japan Airlines (JAL) is now providing free inflight connectivity throughout the entire flight to customers flying on domestic routes.
(getconnected.aero)
Jun 21
Hydrangea flowers are in full bloom in Tokyo and the surrounding area. They are a welcome sight for people who don't like the rainy season.
(NHK)
Jun 20
Japan has become world-famous for its incredibly polished customer service, which isn't something you'll find only at premium-priced hotels and leisure resorts. Just about any shop or restaurant you go to in Japan, right down to convenience stores and fast food joints, will be staffed by courteous clerks and servers.
(rocketnews24.com)
Jun 18
Train buffs and railway officials have attended the launch of a luxury sleeper train journey from Osaka Station.
(NHK)
Jun 18
In Yamanashi Prefecture, the top producer of wine made only from grapes grown in Japan, three cities have come together to create a plan for a wine resort.
(Japan Times)
Jun 16
Irises are in full bloom in a mountainous area in Saitama Prefecture, near Tokyo.
(NHK)
Jun 11
Japan Airlines' hanger and exhibition areas open to the public on a reservation bases, collectively called Sky Museum, topped the rankings of popular tourist spots in Tokyo, the metropolitan government's Transportation Bureau has said.
(Jiji)
Jun 10
The enactment of the minpaku home-sharing law in the Diet's upper house Friday removes the regulatory uncertainties surrounding renting private dwellings as temporary accommodations, possibly opening the door for dramatic growth of a new industry in Japan.
(Nikkei)
Jun 08
The Universal Studios Japan theme park in Osaka plans to add a new area featuring Nintendo characters and worlds, which was unveiled at a groundbreaking ceremony Thursday.
(Japan Times)
---