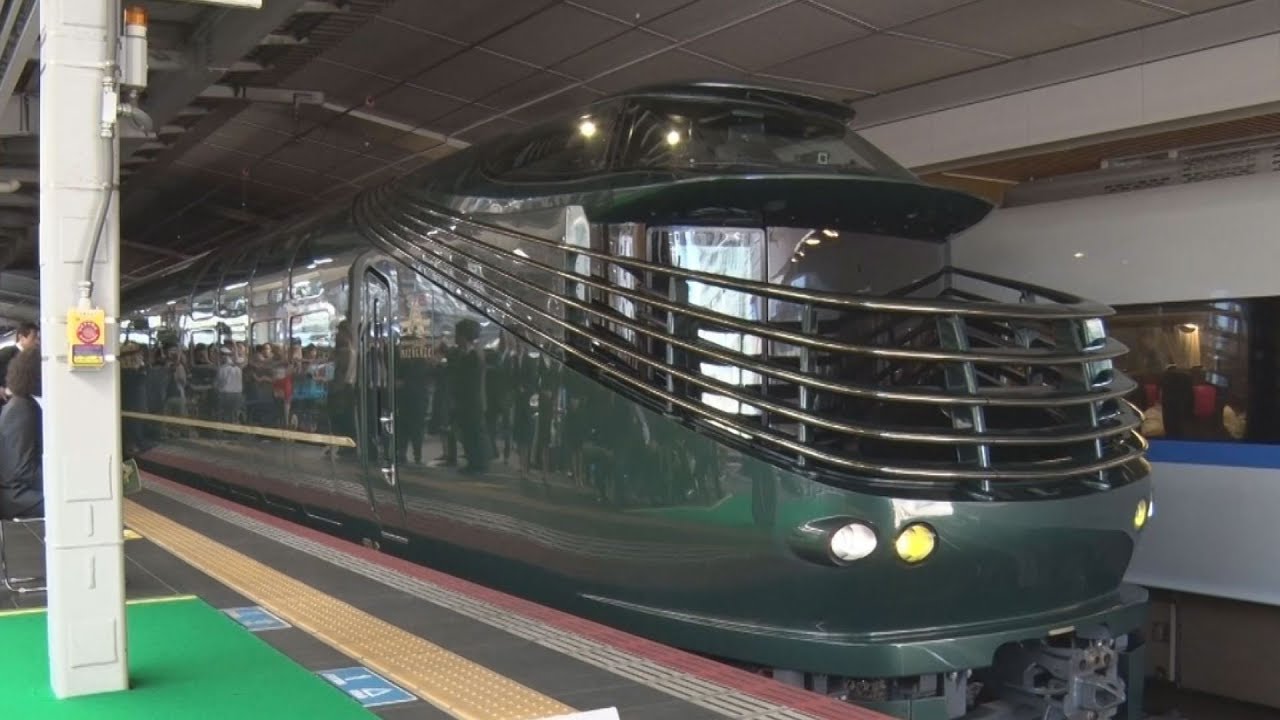 Train buffs and railway officials have attended the launch of a luxury sleeper train journey from Osaka Station.
The service, named Twilight Express Mizukaze, is operated by West Japan Railway. A ceremony marked the first train's departure on Saturday.
Train fans cheered as the streamlined, deep-green train appeared at the platform in the morning.
The train has 10 cars with 16 cabins. Travelers can enjoy panoramic views from the front and end cars, whose windows extend to the ceiling. The cars also have outside decks for passengers to use.
The dining car features seasonal delicacies from western Japan, and a bar and lounge serve drinks and traditional green tea.
Fares range from 270,000 yen or around 2,500 dollars for one night in a twin berth cabin, to more than 750,000 yen or about 6,800 dollars. The rail operator says the inaugural journey attracted some 25 times more applicants than places.
JR西日本の豪華寝台列車「トワイライトエクスプレス瑞風(みずかぜ)」の一番列車が17日、大阪駅(大阪市北区)を出発した。ダークグリーンの「走るホテル」が近畿、中国地方の各地を巡る。
Aug 21
The Miyagi Prefectural Government said Monday it will remove an online tourism promotional video that has been criticized as sexually suggestive.
(Japan Times)
Aug 21
Consumption by inbound tourists in Japan has started picking up as retailers and the tourism industry encourage spending on unique experiences and personal items, rather than souvenirs.
(Japan Times)
Aug 20
People are crowding into airports and train stations in Japan as they return from "bon" summer holiday travels.
(NHK)
Aug 19
A Hokkaido-based "kaiten" or conveyor-belt sushi shop chain has received the highest rating in the Oricon Japanese Customer Satisfaction Ranking (Rotary Sushi Division), beating out larger and more famous chains, such as Sushiro and Hama Sushi.
(seafoodsource.com)
Aug 19
The Land, Infrastructure, Transport and Tourism Ministry will address a surging number of accidents involving rental cars driven by foreign tourists, whose number is on the rise in Japan, by identifying locations where accidents are likely to occur and setting up foreigner-friendly road signs in the hope of preventing accidents.
(the-japan-news.com)
Aug 19
Legoland Japan said Friday it will start giving free one-day tickets to visitors who purchase one-day or one-day family passes to the theme park.
(Japan Times)
Aug 18
Some 10,000 fireworks were set off Thursday evening at a beach within the UNESCO World Cultural Heritage-listed Sacred Sites and Pilgrimage Routes in the Kii Mountain Range.
(Kyodo)
Aug 17
Huge bonfires on mountains lit up Japan's old capital, Kyoto, on Wednesday night in an annual Buddhist ceremony.
(NHK)
Aug 16
The estimated number of visitors to Japan in July grew 16.8 pct from a year before to 2,681,500, a record high on a monthly basis, the Japan National Tourism Organization said Wednesday.
(Jiji)
Aug 16
The Japan Tourism Agency plans to urge "ryokan" Japanese-style inn operators to set separate fees for stays and meals, agency officials said Wednesday.
(Jiji)
---