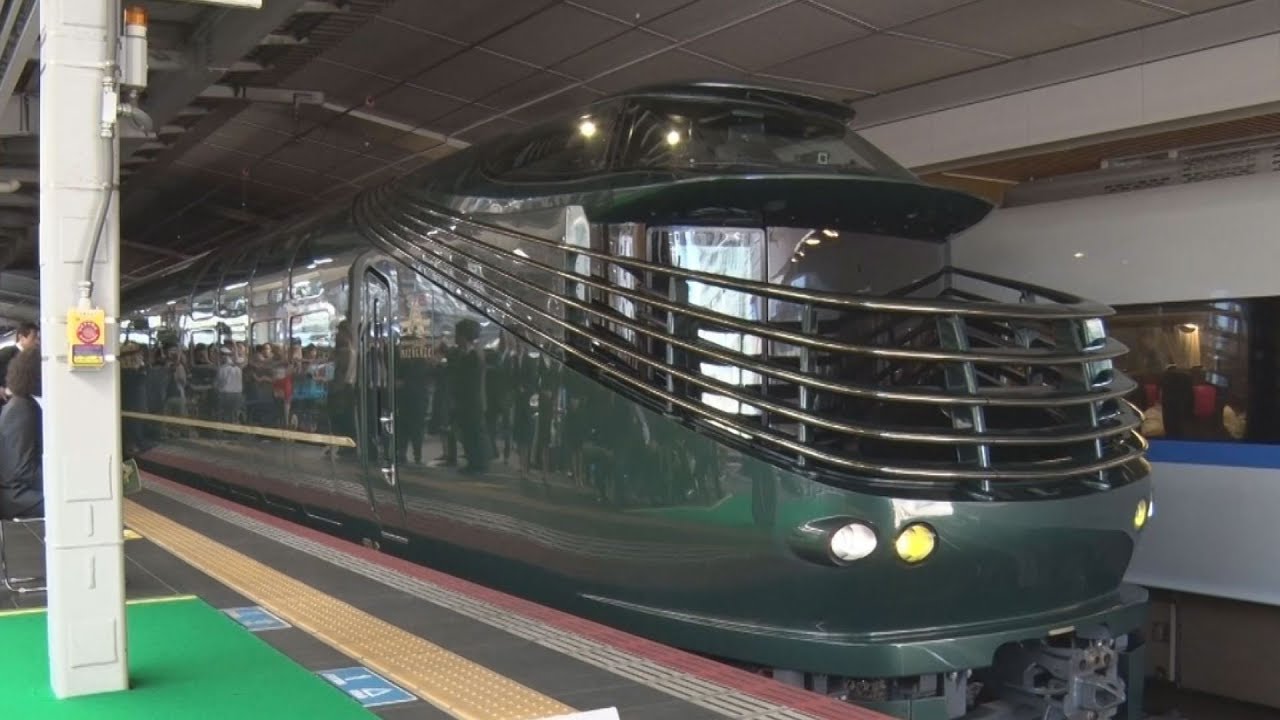 Train buffs and railway officials have attended the launch of a luxury sleeper train journey from Osaka Station.
The service, named Twilight Express Mizukaze, is operated by West Japan Railway. A ceremony marked the first train's departure on Saturday.
Train fans cheered as the streamlined, deep-green train appeared at the platform in the morning.
The train has 10 cars with 16 cabins. Travelers can enjoy panoramic views from the front and end cars, whose windows extend to the ceiling. The cars also have outside decks for passengers to use.
The dining car features seasonal delicacies from western Japan, and a bar and lounge serve drinks and traditional green tea.
Fares range from 270,000 yen or around 2,500 dollars for one night in a twin berth cabin, to more than 750,000 yen or about 6,800 dollars. The rail operator says the inaugural journey attracted some 25 times more applicants than places.
JR西日本の豪華寝台列車「トワイライトエクスプレス瑞風(みずかぜ)」の一番列車が17日、大阪駅(大阪市北区)を出発した。ダークグリーンの「走るホテル」が近畿、中国地方の各地を巡る。
Jan 17
Spending by visitors from abroad during their stays in Japan exceeded 4 trillion yen for the first time on record in 2017, the Japan National Tourism Organization said in a preliminary report on Tuesday.
(Jiji)
Jan 16
Discount retailer Don Quijote Co. unveiled a renovated Ferris wheel Monday in Osaka's Dotonbori shopping district.
(Japan Times)
Jan 15
About 2,000 women who are or will turn 20 years old as of April 1 took part in an annual New Year archery event for new adults at Sanjusangendo, a Buddhist temple in Kyoto, on Sunday.
(Japan Today)
Jan 15
Grab your towel because it's time for an epic Japanese onsen bath adventure! We will explore 12 Onsen Towns, hopping from one to another as a "bath tourist" around Fukushima. Naked outside in the snow? It's part of the fun!
(ONLY in JAPAN)
Jan 12
Japan received a record number of overseas visitors in 2017 for the fifth straight year, with the greatest growth coming from Asian countries, where low-cost air carriers are expanding service.
(Nikkei)
Jan 05
The Japanese government will launch a project to convert all traditional squat toilets in popular tourist destinations into sit-on types that are more commonly used in other developed countries.
(NHK)
Jan 01
Millions on Japanese ushered in the new year early Monday by visiting shrines, as well as going to vantage spots to watch the first sunrise (hatsuhinode) of 2018.
(Japan Today)
Dec 31
A section near Tokyo's Shibuya railway station will be made a vehicle-free promenade for the upcoming New Year's countdown.
(NHK)
Dec 31
The capital saw its first snowfall of the season on Sunday as cold air gripped eastern Japan with the approach of a low pressure system, the Meteorological Agency said.
(Japan Times)
Dec 30
Japanese travelers are crowding highways, train stations and airports as they head to their hometowns and leisure spots for the New Year holidays.
(NHK)
---