Visiting Japanese Crown Prince Naruhito on Saturday visited a maritime museum near Copenhagen after inspecting a school for Japanese in the Danish capital.
The Crown Prince, who studies waterborne transport, viewed displays zealously, such as compasses and charts. Denmark is known for its maritime industry.
He went on to visit Kronborg Castle, where William Shakespeare's "Hamlet" is set.
Speaking to reporters, the Crown Prince expressed hope that Japan and Denmark will deepen their mutual understanding further through events related to the 150th anniversary of the establishment of the two countries' diplomatic relations.
皇太子さまは訪問先のデンマークで世界遺産のクロンボー城をご覧になりました。 17日正午ごろ、皇太子さまはシェークスピアの「ハムレット」の舞台になった世界遺産のクロンボー城を訪問されました。
Mar 21
A female zookeeper at Ueno Zoological Gardens in Tokyo sustained injuries Tuesday after a gorilla bit her right arm, police said.
(Japan Today)
Mar 20
Police said Monday they have arrested three Taiwanese women for allegedly attempting to smuggle gold worth around 50 million yen ($470,000) into Japan in their bras.
(Japan Today)
Mar 20
The leaders of Japan and Russia have reaffirmed cooperation on planned joint economic projects on Russian-controlled islands claimed by Japan.
(NHK)
Mar 19
More than two decades after Japan's Aum Shinrikyo cult plunged Tokyo into terror by releasing a nerve agent on rush-hour subway trains, its spinoffs continue to attract new followers.
(Japan Today)
Mar 18
Tokyo Metropolitan Police plan to arrest a man claiming to be the former boyfriend of a woman found stabbed to death in Tama City on Friday, reports the Mainichi Shimbun
(tokyoreporter.com)
Mar 18
Investigative sources with law enforcement revealed on Saturday that popular adult video (AV) actress Nozomi Aso has been arrested again on drug-related charges, reports the Sankei Sports.
(tokyoreporter.com)
Mar 17
Japanese authorities have lowered volcanic alert levels for the 2 peaks of Mount Kusatsu-Shirane in Gunma Prefecture, more than 7 weeks after the volcano erupted.
(NHK)
Mar 17
A blackmail letter has been sent to a restaurant owned by Japanese Prime Minister Shinzo Abe's wife, Akie.
(NHK)
Mar 16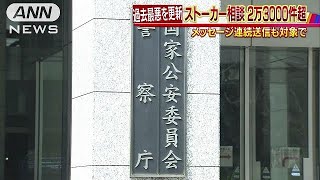 Police in Japan received a record-high number of inquiries and reports about stalking and domestic violence last year.
(NHK)
Mar 16
A car boarded by Eiichi Negishi, who won the 2010 Nobel Prize in Chemistry, has caused an accident in Illinois, and his wife, Sumire, also in the vehicle, has died, sources including local police said Wednesday.
(Jiji)
---