On the last day of the U.S. Open, Hideki Matsuyama was better than everyone else. Better than Brian Harman, Rickie Fowler, Justin Thomas and the rest of the congested leaderboard.
Matsuyama shot a 6-under 66 on Sunday to pull within one of the lead, but Brooks Koepka birdied three straight holes to pull away to his first major championship. The 25-year-old Japanese star had two of the best rounds of the tournament --- he shot 65 on Friday --- but a 2-over 74 in his opening round loomed large as the scores got lower and lower at a forgiving Erin Hills.
Matsuyama's 66 was the best score on a windy final day, one better than Koepka. But Matsuyama had to settle for a tie for second with Harman, four strokes back of Koepka.
It was Matsuyama's best finish in a major, another high in a topsy-turvy season.
Jan 16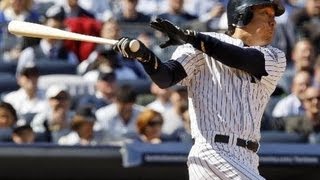 Former Japanese baseball star Hideki Matsui has become the youngest inductee into the Japanese Baseball Hall of Fame.
(NHK)
Jan 16
Sota Fujii, 15, the youngest professional shogi player, defeated Amahiko Sato, the holder of the Meijin title, in a quarterfinal of the 11th Asahi Cup open tournament, achieving his first victory over any title holder.
(Jiji)
Jan 15
Sumo's top-ranked referee will resign over a sexual harassment scandal, the sport's governing body said Saturday following an extraordinary meeting of its board of directors.
(Kyodo)
Jan 12
a canoeist who has been banned after admitting that he doped a fellow competitor's drink, contrived a variety of schemes to rattle his rival, an official source said thursday.
(Japan Times)
Jan 12
The Japan Sumo Association has withdrawn its invitation to Emperor Akihito and Empress Michiko to watch the New Year tournament at the Ryogoku Kokugikan arena in Tokyo, starting on Sunday, as the couple usually do every year, it was learned Thursday.
(Jiji)
Jan 12
Professional soccer player Kazuyoshi Miura has broken his own record for oldest player to sign a contract in the J-League. Miura will celebrate his 51st birthday on February 26th.
(NHK)
Jan 10
A Japanese kayak racer who drugged a rival at a national championship event has been banned from competing for 8 years.
(NHK)
Jan 10
Three yokozuna, or grand champion sumo wrestlers, have taken part in a ring-entering ceremony at a Shinto shrine in Tokyo to pray for safety and success at the sport's New Year tournament.
(NHK)
Jan 05
Councilors of the Japan Sumo Association have demoted stablemaster Takanohana from the post of director over his handling of an assault scandal.
(NHK)
Jan 02
With some two-and-a-half years to go before the 2020 Tokyo Olympics and Paralympics, a novel project to create gold, silver and bronze medals for the competitions by utilizing so-called urban mines needs a boost.
(Jiji)
---