On the last day of the U.S. Open, Hideki Matsuyama was better than everyone else. Better than Brian Harman, Rickie Fowler, Justin Thomas and the rest of the congested leaderboard.
Matsuyama shot a 6-under 66 on Sunday to pull within one of the lead, but Brooks Koepka birdied three straight holes to pull away to his first major championship. The 25-year-old Japanese star had two of the best rounds of the tournament --- he shot 65 on Friday --- but a 2-over 74 in his opening round loomed large as the scores got lower and lower at a forgiving Erin Hills.
Matsuyama's 66 was the best score on a windy final day, one better than Koepka. But Matsuyama had to settle for a tie for second with Harman, four strokes back of Koepka.
It was Matsuyama's best finish in a major, another high in a topsy-turvy season.
Nov 18
Yokozuna Grand Champion Harumafuji has reportedly told police that he hit a lower-ranked wrestler with his bare hands, not with a beer bottle as was reported.
(NHK)
Nov 17
A 3-meter-tall countdown clock for the 2020 Tokyo Olympics was unveiled Thursday in the Japanese capital's Ginza district.
(Kyodo)
Nov 16
Sumo grand champion Harumafuji is likely to have lost his temper at the smartphone use by a junior wrestler he allegedly assaulted in late October, informed sources said Wednesday.
(Jiji)
Nov 14
The Japanese government decided Tuesday to use the new National Stadium, the main venue of the 2020 Tokyo Olympics and Paralymics, only for ball games in principle after the quadrennial sporting events, in order to improve profitability.
(Jiji)
Nov 14
The Japan Sumo Association says it will look into allegations that Yokozuna grand champion Harumafuji assaulted a junior wrestler.
(NHKん)
Nov 12
Japan will be among the lowest-tier of teams in the draw for next June's World Cup finals after Senegal claimed a berth in the tournament on Friday.
(Japan Times)
Nov 11
A court here on Wednesday handed former marathon champion Yumiko Hara, 35, a suspended prison term for shoplifting from a convenience store in Ashikaga City, reports the Sankei Shimbun
(tokyoreporter.com)
Nov 10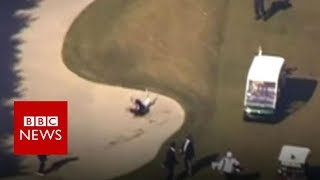 Japan's prime minister said his round of golf with visiting President Donald Trump was a good chance to relax and discuss difficult issues.
(Japan Today)
Nov 08
The men's road cycling race at the 2020 Tokyo Olympics is expected to cover a 270-km route starting in the Tokyo suburbs of Chofu, going past Lake Yamanaka and the foot of Mounbt Fuji, and finishing at Fuji Speedway in Shizuoka Prefecture, a source said Tuesday.
(Japan Times)
Oct 29
Houston Astros infielder Yulieski Gurriel will be suspended for the first five games of the 2018 season for making a racist gesture directed at Los Angeles Dodgers pitcher Yu Darvish during Friday's World Series game, Major League Baseball Commissioner Rob Manfred said Saturday.
(Kyodo)
---