Japan logged a customs-cleared trade deficit of 203.4 billion yen in May, against the year-before deficit of 47.3 billion yen, the Ministry of Finance said Monday.
The result came against the median forecast of 59.5 billion yen in surplus among 20 research institutes surveyed by Jiji Press.
Exports rose 14.9 pct to 5,851.4 billion yen, and imports grew 17.8 pct to 6,054.7 billion yen, the ministry said in a preliminary report.
In trade with the United States, Japan's surplus increased 19.0 pct to 411.1 billion yen. Exports were up 11.6 pct, and imports were up 7.4 pct.
5月の貿易収支は輸入が前年より増えたことから、2034億円の赤字でした。赤字は4カ月ぶりです。
Tweets about 日銀
Oct 21
The Tokyo metropolitan government said Friday it will issue 10 billion yen in "green bonds" for institutional investors on Oct. 31.
(Jiji)
Oct 19
A possible slowdown in purchases of 30- and 40-year Japanese government bonds by life insurers could influence the Finance Ministry's debt issuance plans for the next fiscal year.
(Nikkei)
Oct 16
Japanese officials are expressing growing frustration with the Trump administration's economic policies, vowing to continue striking trade deals with other countries that undercut U.S. agricultural exports rather than seek a new trade agreement with the United States.
(politico.eu)
Oct 12
Gasoline prices in Japan have hit a 2-year high after oil producers cut their output.
(NHK)
Oct 12
The International Monetary Fund, in a report released on Wednesday, warned of the risk of problems at only one major bank in Japan causing "stress" in the entire banking system in the country.
(Jiji)
Oct 11
The Nikkei's rally comes despite a big scandal enveloping Japan's third-biggest steel maker, Kobe Steel.
(theguardian.com)
Oct 10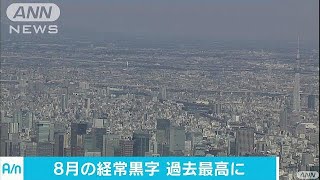 The current account surplus expanded to ¥2.38 trillion ($21 billion) in August - the highest on record for the month - lifted by foreign investments and a bigger trade surplus, government data showed Tuesday.
(Japan Times)
Oct 04
While the Federal Reserve is entering the final phase of its exit strategy, there is no end in sight for the BOJ's massive monetary easing policy, which has seen nothing but expansion during Gov. Haruhiko Kuroda's term.
(Nikkei)
Oct 04
Companies in Japan's service industries are struggling to hire and retain staff as the labor market becomes the tightest in decades, and are increasingly taking unorthodox steps to alleviate the shortage.
(Japan Today)
Oct 04
In the upcoming general election, Japanese Prime Minister Shinzo Abe will seek voters' verdict on his signature Abenomics economic policy mix, which he has strongly promoted but is yet to achieve the full range of its intended targets.
(Jiji)
---