A 70-year-old woman dubbed the "black widow" for allegedly murdering her husband and common-law partners with cyanide, pleaded innocent Monday at the first hearing of her trial at the Kyoto District Court.
"I entirely entrust the matter to my lawyers," Chisako Kakehi told the court. The defense team denied the charges of murder and attempted murder-robbery involving four elderly men and said the plaintiff has dementia and cannot defend herself.
Prosecutors aim to use circumstantial evidence to prove Kahehi's guilt amid a dearth of physical evidence, and more than 50 people are expected to be summoned as witnesses during the trial, which is likely to last until Nov. 7.
Kakehi admitted during the investigation to using cyanide capsules to poison the four victims, but her defense team later withdrew the admission and changed her plea to not guilty.
More than 10 men romantically involved with or associated with Kakehi are known to have died, allowing her to inherit an estimated ¥1 billion, investigative sources said.
According to the indictment, Kakehi slew her 75-year-old husband, Isao, and common-law partners Masanori Honda, 71, and Minoru Hioki, 75, and tried to kill acquaintance Toshiaki Suehiro, 79, by having them drink cyanide at various times between 2007 and 2013.
At the hearing presided over by Judge Ayako Nakagawa, prosecutors claimed that she committed the crimes for the purpose of inheriting their wealth, saying she once called a business to get it to open the safe of one of the victims the day after he died.
"The victims in the four cases are all elderly men and died from potassium cyanide poisoning. Their conditions and causes of death are so similar," the prosecutors said.
The prosecutors did not clarify how she obtained the cyanide.
京都、大阪、兵庫で起きた青酸化合物による連続不審死事件で、殺人などの罪に問われた女の裁判員裁判が始まり、被告側は無罪を主張しました。
Mar 21
A female zookeeper at Ueno Zoological Gardens in Tokyo sustained injuries Tuesday after a gorilla bit her right arm, police said.
(Japan Today)
Mar 20
Police said Monday they have arrested three Taiwanese women for allegedly attempting to smuggle gold worth around 50 million yen ($470,000) into Japan in their bras.
(Japan Today)
Mar 20
The leaders of Japan and Russia have reaffirmed cooperation on planned joint economic projects on Russian-controlled islands claimed by Japan.
(NHK)
Mar 19
More than two decades after Japan's Aum Shinrikyo cult plunged Tokyo into terror by releasing a nerve agent on rush-hour subway trains, its spinoffs continue to attract new followers.
(Japan Today)
Mar 18
Tokyo Metropolitan Police plan to arrest a man claiming to be the former boyfriend of a woman found stabbed to death in Tama City on Friday, reports the Mainichi Shimbun
(tokyoreporter.com)
Mar 18
Investigative sources with law enforcement revealed on Saturday that popular adult video (AV) actress Nozomi Aso has been arrested again on drug-related charges, reports the Sankei Sports.
(tokyoreporter.com)
Mar 17
Japanese authorities have lowered volcanic alert levels for the 2 peaks of Mount Kusatsu-Shirane in Gunma Prefecture, more than 7 weeks after the volcano erupted.
(NHK)
Mar 17
A blackmail letter has been sent to a restaurant owned by Japanese Prime Minister Shinzo Abe's wife, Akie.
(NHK)
Mar 16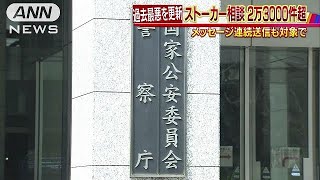 Police in Japan received a record-high number of inquiries and reports about stalking and domestic violence last year.
(NHK)
Mar 16
A car boarded by Eiichi Negishi, who won the 2010 Nobel Prize in Chemistry, has caused an accident in Illinois, and his wife, Sumire, also in the vehicle, has died, sources including local police said Wednesday.
(Jiji)
---