A 42-year-old woman of Sakai, Osaka Prefecture, was arrested Tuesday for allegedly setting a man on fire, causing him to sustain burns over his entire body, police said.
The man, who is in his 40s and was apparently the woman's boyfriend, remains unconscious in a hospital in critical condition.
Police officials said Yuko Ono, arrested on suspicion of attempted murder, told investigators that she poured ethanol over the man because she suspected he had had an affair and she wanted to "disinfect his dirty body." She reportedly said the man tried to light a cigarette and caught fire.
According to the officials, on June 19 at around 5:30 p.m., Ono allegedly tried to put the man on fire inside a car parked on a street in Sakai's Nishi Ward. The man reportedly escaped and ran into a nearby electric appliance store. He was taken to a hospital, but remains unconscious and in critical condition. His identity has not been confirmed, they said.
大阪府堺市で6月19日、全身火だるまになった40代男性が電器店に駆け込み、助けを求める事件があったが、現場から車で立ち去った交際相手の女が、殺人未遂の疑いで逮捕された。
6月27日に逮捕された無職、斧裕子容疑者(42)は、19日午後5時半ごろ、堺市西区の路上に停めた乗用車内で、男性にエタノールを浴びせたとされる。男性はその後、火だるまになった状態で近くの電器店に駆け込み……続きは動画で。
Nov 18
Yokozuna Grand Champion Harumafuji has reportedly told police that he hit a lower-ranked wrestler with his bare hands, not with a beer bottle as was reported.
(NHK)
Nov 18
An apology by a Japanese railroad operator for a train's early departure has attracted the attention of foreign media.
(NHK)
Nov 17
Following the discovery of nine corpses in a residence in Zama City last month, Tokyo Metropolitan Police have reason to believe that a man in custody, who has admitted to taking the lives of the victims, plotted one additional killing, reports TBS News
(tokyoreporter.com)
Nov 17
Japan's Fair Trade Commission is investigating the local unit of the US vacation rental platform Airbnb on suspicion of violating the anti-monopoly law.
(NHK)
Nov 17
Japan's health ministry has drastically relaxed its planned regulations on indoor smoking at restaurants after a plan to tolerate smoking only at small eateries and bars met with opposition from the ruling Liberal Democratic Party, government sources said Thursday.
(Kyodo)
Nov 17
Osaka Governor Ichiro Matsui sought support for the western Japan prefecture's bid to host the 2025 World Exposition at a general meeting of the Bureau International des Expositions in Paris on Wednesday.
(Jiji)
Nov 17
A 3-meter-tall countdown clock for the 2020 Tokyo Olympics was unveiled Thursday in the Japanese capital's Ginza district.
(Kyodo)
Nov 17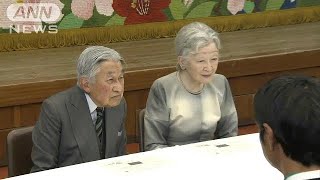 Japan's Emperor Akihito and Empress Michiko have begun a three-day trip to remote islands in southwestern Japan.
(NHK)
Nov 16
Sumo grand champion Harumafuji is likely to have lost his temper at the smartphone use by a junior wrestler he allegedly assaulted in late October, informed sources said Wednesday.
(Jiji)
Nov 16
Hokkaido Prefectural Police have sent a lawyer to prosecutors over the attack of a taxi driver inside his cab in Sapporo earlier this month, reports TV Asahi
(tokyoreporter.com)
---