The frequent tests and growing sophistication of North Korean missiles is prompting the Japanese government and the general public to think carefully about civil defence. What if Pyongyang actually did fire missiles at a major Japanese city?
An opinion poll published by the Japan News Network at the beginning of May found that 90 percent of the public admitted feeling worried about North Korea and 54 percent said that they were greatly worried.
The conservative government of Shinzo Abe, the Liberal Democratic Party leader who became Japan's prime minister in 2012, has tried to respond to these fears in part by giving assurances that it is working hard to fulfil its duty to defend the nation.
But there are also suggestions that the government is more subtly stoking these concerns just enough to assist it in its long-term agenda of dispensing with the remnants of the nation's post-war pacifism and moving towards constitutional revision.
There were certainly mixed reviews when Tokyo Metro, a subway company that serves millions of commuters in the Japanese capital, shut down all of its train lines for about 10 minutes on the morning of April 29 in response to news reports that North Korea had fired a missile. While some commentators appreciated the abundance of caution shown by the company, others pointed out that even in Seoul, the capital of South Korea, which is much closer to the danger zone, no such measures have ever been taken.
This criticism led Tokyo Metro to quickly change its company policy. In the future, the subway trains will be halted only if an official warning is issued through the J-Alert system of the Fire and Disaster Management Agency (FDMA), and not in response to media reports.
The J-Alert system is a fundamental pillar of Japan's civil defence measures. First launched in 2007, the system involves the FDMA sending out a warning signal via satellite that is to be received by Japanese local governments, which in turn warn the general public about the emergency through loudspeakers and other broadcasts. By 2014, all local governments throughout the nation were provided with the necessary receivers and were woven into the J-Alert system.
Nov 18
Yokozuna Grand Champion Harumafuji has reportedly told police that he hit a lower-ranked wrestler with his bare hands, not with a beer bottle as was reported.
(NHK)
Nov 18
An apology by a Japanese railroad operator for a train's early departure has attracted the attention of foreign media.
(NHK)
Nov 17
Following the discovery of nine corpses in a residence in Zama City last month, Tokyo Metropolitan Police have reason to believe that a man in custody, who has admitted to taking the lives of the victims, plotted one additional killing, reports TBS News
(tokyoreporter.com)
Nov 17
Japan's Fair Trade Commission is investigating the local unit of the US vacation rental platform Airbnb on suspicion of violating the anti-monopoly law.
(NHK)
Nov 17
Japan's health ministry has drastically relaxed its planned regulations on indoor smoking at restaurants after a plan to tolerate smoking only at small eateries and bars met with opposition from the ruling Liberal Democratic Party, government sources said Thursday.
(Kyodo)
Nov 17
Osaka Governor Ichiro Matsui sought support for the western Japan prefecture's bid to host the 2025 World Exposition at a general meeting of the Bureau International des Expositions in Paris on Wednesday.
(Jiji)
Nov 17
A 3-meter-tall countdown clock for the 2020 Tokyo Olympics was unveiled Thursday in the Japanese capital's Ginza district.
(Kyodo)
Nov 17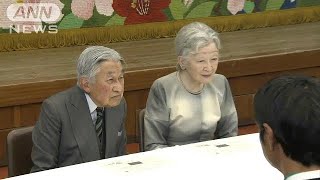 Japan's Emperor Akihito and Empress Michiko have begun a three-day trip to remote islands in southwestern Japan.
(NHK)
Nov 16
Sumo grand champion Harumafuji is likely to have lost his temper at the smartphone use by a junior wrestler he allegedly assaulted in late October, informed sources said Wednesday.
(Jiji)
Nov 16
Hokkaido Prefectural Police have sent a lawyer to prosecutors over the attack of a taxi driver inside his cab in Sapporo earlier this month, reports TV Asahi
(tokyoreporter.com)
---