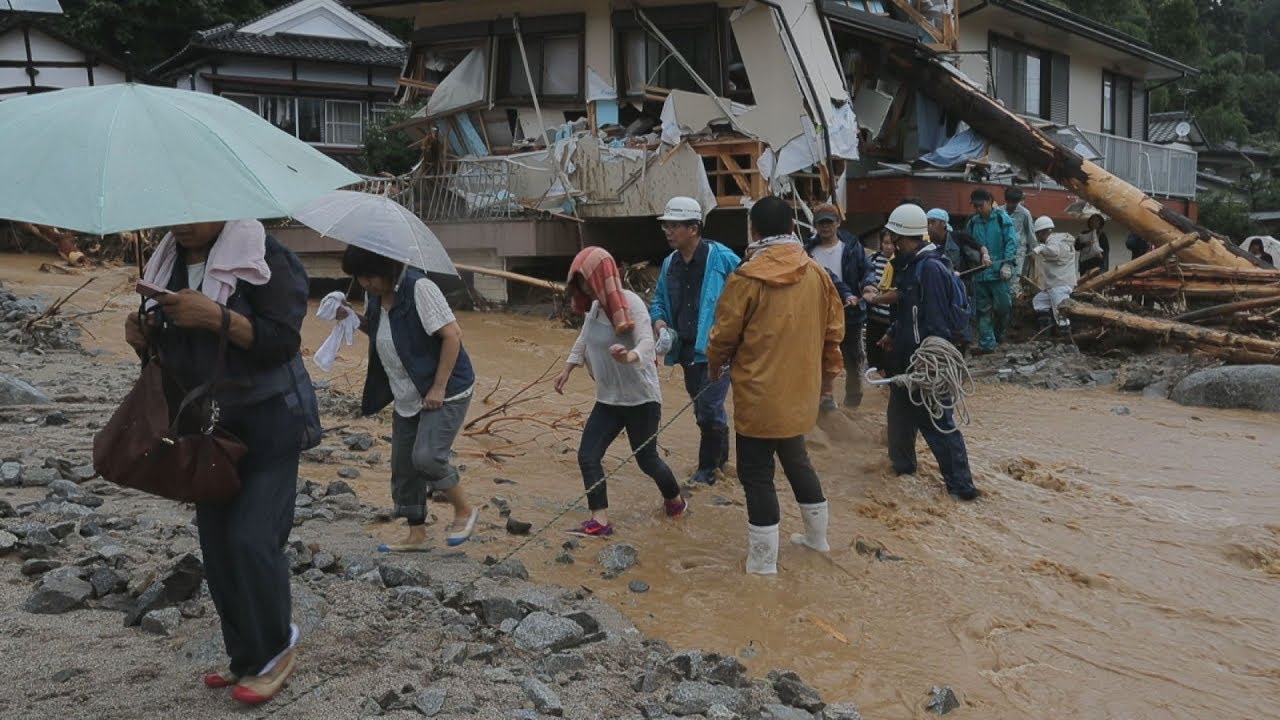 The death toll from torrential rain in the southwestern Japanese region of Kyushu has risen to 15. At least 10 are still missing.
The heavy rain has blocked roads to some parts of the area, making it difficult for local authorities to assess the extent of damage.
On Friday, intermittent heavy rainfall hit northern parts of Kyushu.
Weather officials are still warning of landslides and swollen rivers as more heavy downpours are forecast on Saturday.
Some parts of the Kyushu region have had the heaviest rainfall since record-keeping began in 1976.
九州北部を襲った記録的な大雨で、福岡県と大分県で合わせて15人の死亡が確認されました。依然、孤立している地域もあり、救助活動が続けられています。
Sep 22
Japanese police reported a record-high 30,262 children as suspected abuse victims to welfare authorities in the first half of 2017, on the back of increased public awareness of the issue, the National Police Agency said Thursday.
(Japan Today)
Sep 21
Emperor Akihito on Wednesday visited a shrine dedicated to ancient Korean settlers in Hidaka, Saitama Prefecture.
(Japan Today)
Sep 20
Toshiba Corp has decided to sell its chip unit to a Japan-U.S.-South Korean consortium for around 2.4 trillion yen ($21 billion) following months of talks involving other bidders, sources close to the matter said Wednesday.
(Japan Today)
Sep 20
Fukuoka Prefectural Police have arrested a 36-year-old woman in Yukahashi City after she admitted to stabbing her husband, who himself told police his intestines were "coming out" in an emergency call.
(tokyoreporter.com)
Sep 20
The estranged wife of a former violin maker broke into his house and destroyed 54 violins and 70 bows after they fought over payments for child support, prosecutors said Tuesday.
(Japan Times)
Sep 20
A work by 15th-century ink wash painter Sesshu that had been missing for 84 years has been found.
(NHK)
Sep 20
Some 862,000 people in Japan are estimated to have been newly diagnosed with cancer in 2013, down some 3,000 from the previous year, a National Cancer Center research revealed Wednesday.
(Jiji)
Sep 18
Severe tropical storm Talim has made landfall on Japan's northern main island of Hokkaido, after passing by the western coast of the country. It is packing strong winds and torrential rains.
(NHK)
Sep 18
Japan's Prime Minister Shinzo Abe is on his way to New York to attend the UN General Assembly.
(NHK)
Sep 18
Tokyo Metropolitan Police have arrested a middle school counselor for allegedly having sex with a middle school student after promising a cash payment, reports TV Asahi
(tokyoreporter.com)
---