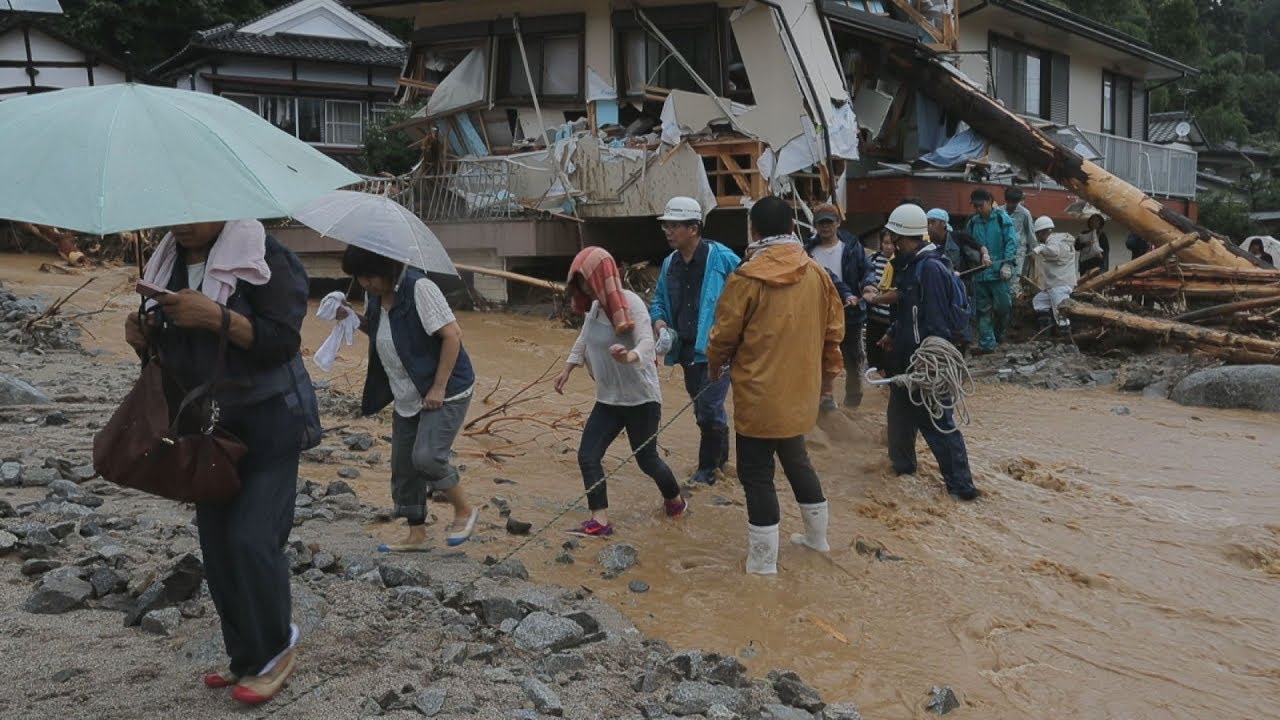 The death toll from torrential rain in the southwestern Japanese region of Kyushu has risen to 15. At least 10 are still missing.
The heavy rain has blocked roads to some parts of the area, making it difficult for local authorities to assess the extent of damage.
On Friday, intermittent heavy rainfall hit northern parts of Kyushu.
Weather officials are still warning of landslides and swollen rivers as more heavy downpours are forecast on Saturday.
Some parts of the Kyushu region have had the heaviest rainfall since record-keeping began in 1976.
九州北部を襲った記録的な大雨で、福岡県と大分県で合わせて15人の死亡が確認されました。依然、孤立している地域もあり、救助活動が続けられています。
Aug 22
2 tropical storms are bearing down on Japan. Weather officials are calling on people to keep up on developments as they approach.
(NHK)
Aug 21
20 million foreigners have visited Japan so far this year. It's the earliest in any year this milestone has been reached.
(NHK)
Aug 20
A 14-year-old boy was arrested Sunday for allegedly stabbing a newspaper delivery woman in Osaka Prefecture in July, in what he claimed to be a random attack, police said.
(Japan Today)
Aug 20
Police in Osaka Prefecture, western Japan, are deploying 3,000 officers to find a suspect who has been on the run for a week.
(NHK)
Aug 19
A former nurse at a hospital in Yokohama, the capital of Kanagawa Prefecture, south of Tokyo, was served a third arrest warrant on Saturday in a serial poisoning murder case about two years ago.
(Jiji)
Aug 17
A rape suspect who escaped from an Osaka Prefecture police station earlier this week may have snatched purses from several people since going on the run, investigative sources said Thursday.
(Japan Times)
Aug 16
Police are continuing to search for a man facing multiple charges who escaped from a police station in western Japan.
(NHK)
Aug 14
A 30-year-old man suspected of theft, forcible intercourse and other charges escaped from a detention house of a police station in Tondabayashi in Osaka Prefecture, western Japan, on Sunday.
(Jiji)
Aug 12
Japanese police carried out a climbing safety campaign on Mount Fuji on Mountain Day on Saturday.
(NHK)
Aug 11
All nine passengers on a rescue helicopter that crashed on a mountain near the border of Gunma and Nagano prefectures on Friday died, Gunma Prefectural Government officials confirmed on Saturday.
(Japan Times)
---