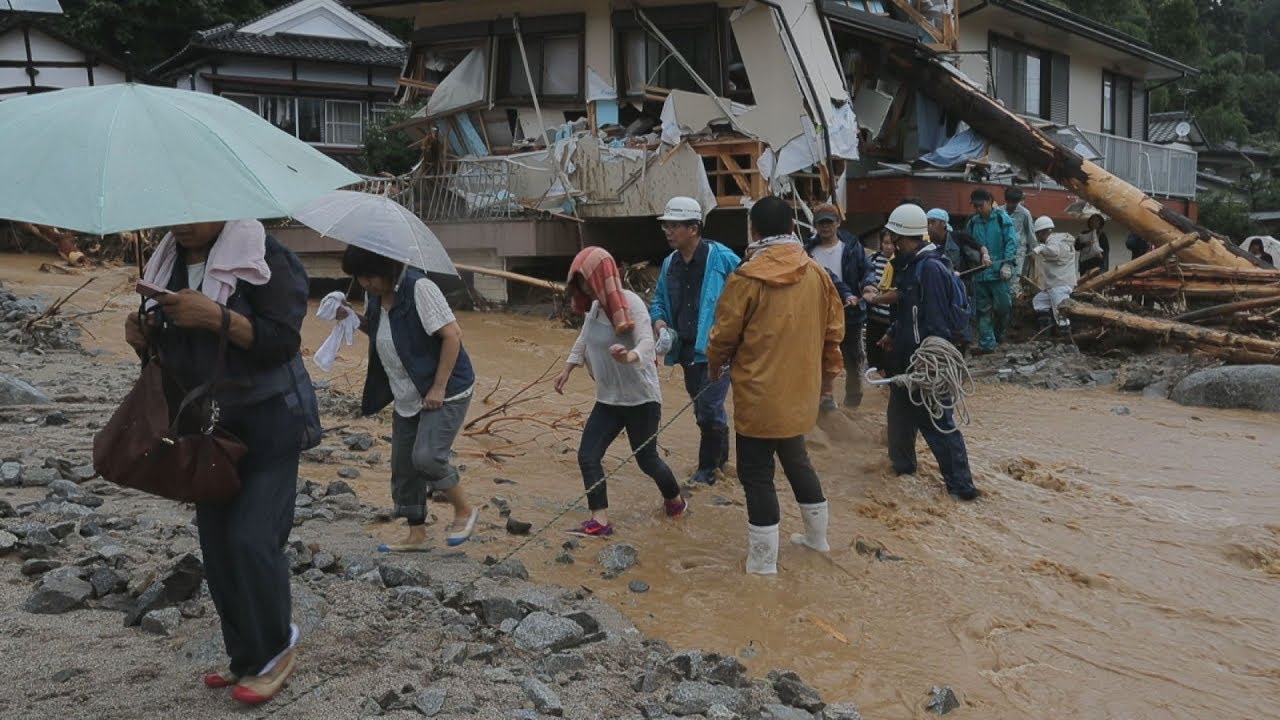 The death toll from torrential rain in the southwestern Japanese region of Kyushu has risen to 15. At least 10 are still missing.
The heavy rain has blocked roads to some parts of the area, making it difficult for local authorities to assess the extent of damage.
On Friday, intermittent heavy rainfall hit northern parts of Kyushu.
Weather officials are still warning of landslides and swollen rivers as more heavy downpours are forecast on Saturday.
Some parts of the Kyushu region have had the heaviest rainfall since record-keeping began in 1976.
九州北部を襲った記録的な大雨で、福岡県と大分県で合わせて15人の死亡が確認されました。依然、孤立している地域もあり、救助活動が続けられています。
Jun 18
A basketball referee was punched in the face by a high school player during a game in the western Japanese prefecture of Nagasaki on Sunday.
(NHK)
Jun 18
More than 2,000 venomous fire ants have been discovered in a shipping container from China that arrived at a port in Osaka Prefecture earlier this month, leaving two people hurt, government officials said.
(Japan Today)
Jun 17
An earthquake shook Gunma Prefecture, north of Tokyo, on Sunday afternoon. No major damage has been reported.
(NHK)
Jun 17
A nuclear reactor at a trouble-hit complex in southwestern Japan restarted operations Saturday for the first time in more than six and a half years amid lingering safety concerns.
(Japan Today)
Jun 17
Police arrested Hiromi Tsukuda, former mayor of Ito in the central Japan prefecture of Shizuoka, Saturday on suspicion of bribery over the city's land purchase.
(Jiji)
Jun 17
The U.S. naval hospital ship Mercy arrived Saturday in Japan, which is considering building such floating hospitals to provide medical care after disasters like the 2011 catastrophe.
(Kyodo)
Jun 16
Princess Kako, a granddaughter of Emperor Akihito, has returned to Japan after studying in Britain for about 9 months.
(NHK)
Jun 16
The government has instructed West Japan Railway Co. to investigate why a driver of one of its bullet trains that hit and killed a man did not report any abnormal sound at the time, the transport minister said Friday.
(Kyodo)
Jun 16
The father of a 9-year-old Vietnamese girl allegedly killed by a male neighbor near Tokyo in 2017 demanded capital punishment at a court hearing on Friday.
(Kyodo)
Jun 16
Tokyo Metropolitan Police have accused three male university students of unlawfully obtaining a large quantity of tickets for concerts featuring all-girl idol group AKB48 for the purpose of resale, reports the Sankei Shimbun
(tokyoreporter.com)
---