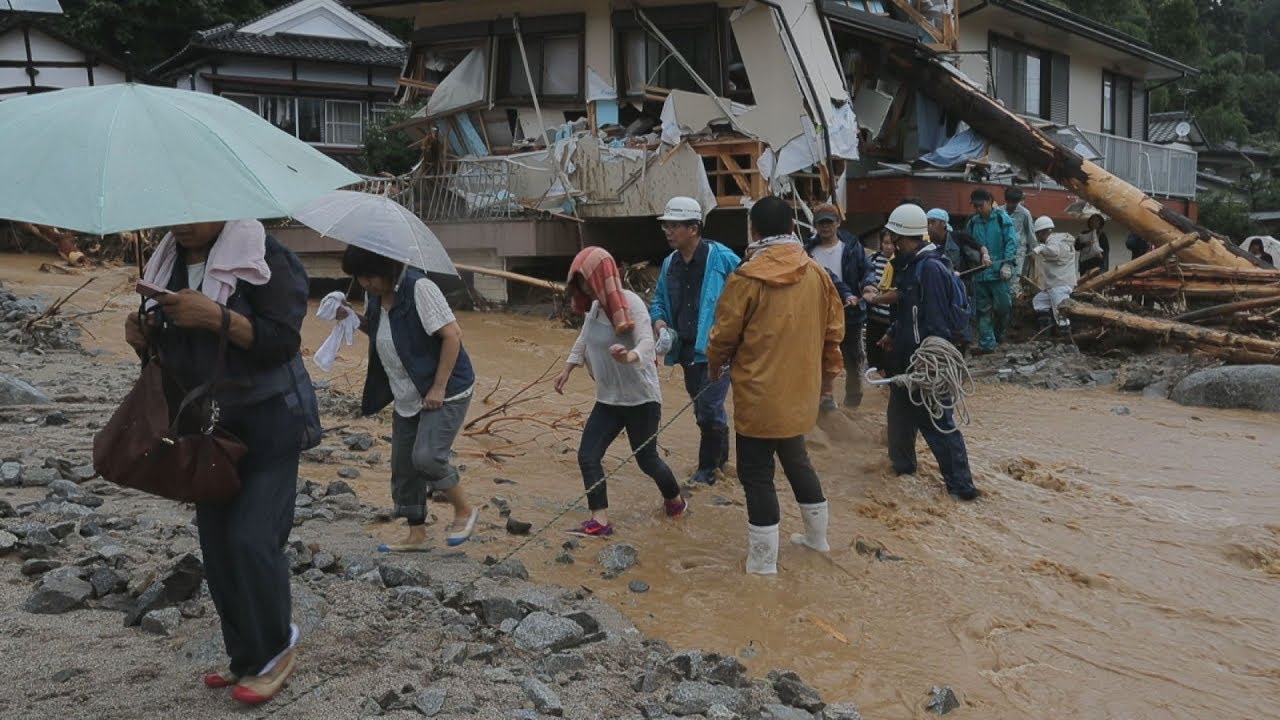 The death toll from torrential rain in the southwestern Japanese region of Kyushu has risen to 15. At least 10 are still missing.
The heavy rain has blocked roads to some parts of the area, making it difficult for local authorities to assess the extent of damage.
On Friday, intermittent heavy rainfall hit northern parts of Kyushu.
Weather officials are still warning of landslides and swollen rivers as more heavy downpours are forecast on Saturday.
Some parts of the Kyushu region have had the heaviest rainfall since record-keeping began in 1976.
九州北部を襲った記録的な大雨で、福岡県と大分県で合わせて15人の死亡が確認されました。依然、孤立している地域もあり、救助活動が続けられています。
Dec 11
Major Japanese restaurant chain Gusto on Monday stopped providing plastic straws at its 1,300 locations nationwide.
(NHK)
Dec 11
Prosecutors sought a 23-year prison term for a 26-year-old man on Monday over an alleged road-rage incident near Tokyo last year that left a couple dead and their children injured.
(Japan Times)
Dec 11
Winter bonuses at Japanese companies averaged an all-time high of 834,391 yen ($7,400) this year, according to a Nikkei survey released Monday, notching a sixth straight year of growth on strong corporate earnings.
(Nikkei)
Dec 10
Saitama Prefectural Police have arrested a 39-year-old man over the stabbing of three Cambodian nationals at an apartment building in Hanyu City on Saturday, reports NHK
(tokyoreporter.com)
Dec 09
A Chinese court has sentenced a Japanese woman to six years in prison for spying, a source privy to bilateral relations said Saturday.
(Japan Today)
Dec 09
Gunma Prefectural Police have arrested a staff member for the National Police Agency over the alleged rape of a 12-year-old girl he met online earlier this year, reports the Sankei Shimbun
(tokyoreporter.com)
Dec 07
The US Marine Corps says one of the 2 crewmembers rescued after a mid-air collision between 2 US military aircraft off Japan's western coast is dead.
(NHK)
Dec 06
Four men in their 20s were arrested Wednesday for allegedly overturning a small truck during a Halloween event in late October in the busy Shibuya district of Tokyo, police said.
(Japan Today)
Dec 06
Officials from the city of Minokamo, Gifu Prefecture, said Wednesday that a case of classical swine fever has been discovered at a public research institute — the third such case of the virus being reported this year and just over a decade since it was official declared eradicated in Japan.
(Japan Times)
Dec 05
Former world championships marathon runner Yumiko Hara has been sentenced to one year in prison, suspended for four years with supervision, for shoplifting food, with the court citing an eating disorder she is suffering from even after her retirement.
(Japan Today)
---