Kanagawa Prefectural Police working on a tip have arrested a woman after a corpse likely belonging to her husband was found in their residence in Yokohama, reports Nippon News Network.
On Saturday, police arrested Mariko Uchiyama, 60, and her daughters, Kei (34) and Yuka (29) for allegedly dumping a body likely that of Mariko's husband, aged in his 60s, at their residence in Kanagawa Ward.
All three suspects deny the allegations. They each told police they do not wish to discuss the matter, according to TV Asahi (July 16).
The body, which had turned partially skeletal, was found atop a futon in a bedroom. It did not have any external wounds. Police believe the person died about one month ago.
Police entered the residence after receiving a tip from a member of management of the building on Friday about a "foul smell" coming from the unit.
According to police, Mariko consulted with police last year about how her husband had withheld part of severance payment he had received and initiated domestic violence.
Police are now working to confirm the identity of the body.
夫とみられる男性の遺体を自宅に遺棄した疑いで、60歳の妻と娘2人が逮捕されました。 横浜市の無職・山内真里子容疑者と長女の桂容疑者(34)、次女の優香容疑者(29)は、同居していた60代の夫とみられる遺体を約1カ月にわたって自宅に遺棄した疑いです。
Nov 19
Police in Tokyo on Saturday arrested an unemployed 42-year-old man of no fixed address on suspicion of killing a 61-year-old homeless man on a riverbank in Katsushika Ward.
(Japan Today)
Nov 19
A man died Saturday after falling off a cliff while competing in a trail running race in Saitama Prefecture, police said.
(Japan Times)
Nov 19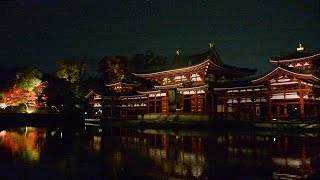 The Phoenix Hall of Byodoin temple, a UNESCO World Heritage site in Uji, Kyoto Prefecture, glows at night during a trial illumination on Friday.
(the-japan-news.com)
Nov 19
Despite their magical reputation, shooting stars are just pieces of space debris from millimeters to a few centimeters thick that fly into Earth's atmosphere and brightly burn up into nothing.
(rocketnews24.com)
Nov 19
Chiba Prefectural Police have arrested a 33-year-old man for allegedly selling cash above face value using marketplace app Mercari and collecting interest exceeding the legal interest rate, reports TV Asahi
(tokyoreporter.com)
Nov 18
Japan's national broadcaster NHK has unveiled this year's lineup for its annual New Year's Eve music show "Kohaku Uta Gassen" (Red and White Song Battle), featuring 10 new groups and singers.
(Japan Today)
Nov 18
Yokozuna Grand Champion Harumafuji has reportedly told police that he hit a lower-ranked wrestler with his bare hands, not with a beer bottle as was reported.
(NHK)
Nov 18
An apology by a Japanese railroad operator for a train's early departure has attracted the attention of foreign media.
(NHK)
Nov 18
The overall number of crimes committed in Japan continued to drop in 2016, falling below the 1 million mark for the first time in the postwar era, according to the annual White Paper on Crime released Friday by the Justice Ministry.
(Japan Times)
Nov 18
After beginning service in Japan in 2011, Naver Corporation's Line messaging app quickly become one of the most popular ways to stay connected to personal acquaintances.
(Japan Today)
---