NHK has learned that the US tech giant Google will start selling its smart speakers on the Japanese market starting in early October.
Smart speakers are equipped with artificial intelligence and respond to voice commands, allowing users to listen to music or news, or control appliances.
Many people in the United States are already using smart speakers made by Google and Amazon, among others.
Google started selling its version, Google Home, in November. The company is adding support for the Japanese language and is expected to enter the Japanese market.
The free messaging app provider LINE started selling a smart speaker in Japan with limited functions last month. Telecom giant NTT Docomo is also considering entering the market. But AI speakers aren't yet common in the country.
Nov 19
A man died Saturday after falling off a cliff while competing in a trail running race in Saitama Prefecture, police said.
(Japan Times)
Nov 18
Yokozuna Grand Champion Harumafuji has reportedly told police that he hit a lower-ranked wrestler with his bare hands, not with a beer bottle as was reported.
(NHK)
Nov 18
An apology by a Japanese railroad operator for a train's early departure has attracted the attention of foreign media.
(NHK)
Nov 17
Following the discovery of nine corpses in a residence in Zama City last month, Tokyo Metropolitan Police have reason to believe that a man in custody, who has admitted to taking the lives of the victims, plotted one additional killing, reports TBS News
(tokyoreporter.com)
Nov 17
Japan's Fair Trade Commission is investigating the local unit of the US vacation rental platform Airbnb on suspicion of violating the anti-monopoly law.
(NHK)
Nov 17
Japan's health ministry has drastically relaxed its planned regulations on indoor smoking at restaurants after a plan to tolerate smoking only at small eateries and bars met with opposition from the ruling Liberal Democratic Party, government sources said Thursday.
(Kyodo)
Nov 17
Osaka Governor Ichiro Matsui sought support for the western Japan prefecture's bid to host the 2025 World Exposition at a general meeting of the Bureau International des Expositions in Paris on Wednesday.
(Jiji)
Nov 17
A 3-meter-tall countdown clock for the 2020 Tokyo Olympics was unveiled Thursday in the Japanese capital's Ginza district.
(Kyodo)
Nov 17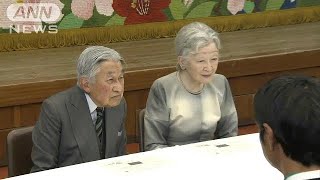 Japan's Emperor Akihito and Empress Michiko have begun a three-day trip to remote islands in southwestern Japan.
(NHK)
Nov 16
Sumo grand champion Harumafuji is likely to have lost his temper at the smartphone use by a junior wrestler he allegedly assaulted in late October, informed sources said Wednesday.
(Jiji)
---