Hyogo Prefectural Police have launched a manhunt after a shooting incident in Kobe left a man believed to be a bodyguard of the boss of a rival gang to the Yamaguchi-gumi dead, likely the result of a yakuza feud, reports NHK
At just past 10:00 a.m., a vehicle containing Yuhiro Kusumoto, a 44-year-old member of the Ninkyo Yamaguchi-gumi, was ambushed by a gunman on a road in Nagata Ward.
The bodyguard was struck by at least one bullet in the head. He was later confirmed dead about hour later at a nearby hospital, police said.
The alleged shooter fled the scene after the incident. Believed to be in his 40s or 50s, his whereabouts are sought by police.
Police believe the incident is the result of a gang feud that dates back to 2015, when the Kobe Yamaguchi-gumi formed after the split of the Yamaguchi-gumi.
Splinter group
In April, several gangs left the Kobe Yamaguchi-gumi due to dissatisfaction with internal operations on the part of upper-level management. The dissenting gangs subsequently formed the Ninkyo Dantai Yamaguchi-gumi (whose name has since been shorted to not include "Dantai"). The gang is headed by Yoshinori Oda.
The incident on Tuesday took place after three vehicles carrying members of the Ninkyo Yamaguchi-gumi exited the residence of Oda. A fourth vehicle containing the alleged shooter then blocked the path of the convoy.
According to an eyewitness, at least two shots were heard. It is believed that Oda, who was inside one of the first three vehicles, was the real target of the shooting, police said.
神戸市で暴力団関係者の男性が拳銃で撃たれて死亡した事件で、男性は「任侠山口組」の代表のボディーガード役だった可能性があることが分かりました。 12日に神戸市内の路上で、任侠山口組関係者の楠本勇裕さん(44)が男に頭を拳銃で撃たれて死亡しました。
Nov 23
Tokyo Metropolitan Police are searching have arrested eight persons, including an organized crime member, in the robbery of gold valued at nearly 100 million yen from a shop in Taito Ward earlier this year, reports NHK
(tokyoreporter.com)
Nov 23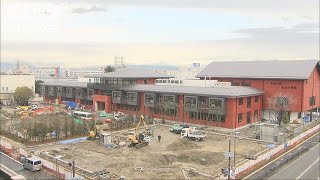 The government sold land in Osaka to school operator Moritomo Gakuen for a highly discounted price based on faulty data estimating the cost of removing industrial waste left in the plot, a government watchdog on spending concluded in a much-awaited report released Wednesday.
(Japan Times)
Nov 22
The Imperial Household Agency said Wednesday the wedding ceremony of Princess Mako, the eldest granddaughter of Emperor Akihito, and her classmate from university days Kei Komuro will be held on Nov 4 next year.
(Japan Today)
Nov 22
NHK has learned Japan is getting closer to finding out a date for the Emperor's abdication.
(NHK)
Nov 21
Police are set to refer sumo grand champion Harumafuji to prosecutors by the end of the year on suspicion of assaulting lower-ranked wrestler Takanoiwa in a drunken brawl, investigative sources said Tuesday.
(Japan Times)
Nov 21
Tokyo Metropolitan Police have arrested a 31-year-old man for organizing an orgy event via the social-networking service Twitter, reports the Sankei Shimbun.
(tokyoreporter.com)
Nov 21
A wild boar was killed after it injured an 11-year-old girl during a rampage in the town of Oizumi on Monday, reports NHK.
(tokyoreporter.com)
Nov 21
Osaka Prefectural Police have arrested a 53-year-old woman living in Neyagawa City the bodies of four newborn infants were found encased in concrete in a residence, reports TV Asahi
(tokyoreporter.com)
Nov 21
A group of Japanese researchers has developed the country's first quantum computer and is offering others free trials as a way to spur further innovation.
(NHK)
Nov 21
As a part of a crackdown on illegal gambling, Tokyo Metropolitan Police have busted a pair of internet casinos operating in Shibuya Ward, reports TV Asahi
(tokyoreporter.com)
---