Prime Minister Shinzo Abe addressed the U.N. General Assembly on Wednesday, calling for strict implementation of U.N. Security Council resolutions against North Korea, which has conducted a series of nuclear tests and missile launches.
"The gravity of this threat is unprecedented," Abe said at U.N. headquarters in New York. "It is indisputably a matter of urgency."
The prime minister added, "What is needed ... is not dialogue, but pressure."
Abe urged U.N. member states to ensure the "strict and full implementation" of the U.N. Security Council resolutions to impose sanctions against North Korea. "Whether or not we can put an end to the provocations by North Korea is dependent upon the solidarity of the international community," he said.
The North Korean issue took up more than 80 percent of Abe's 16-minute speech.
"The nonproliferation regime is about to suffer a serious blow from its most confident disrupter ever," Abe said, criticizing North Korean leader Kim Jong Un, who is the chairman of the Workers' Party of Korea.
"North Korea's nuclear weapons either already are, or are on the verge of becoming, hydrogen bombs," he argued. "Their means of delivery will sooner or later be ICBMs [intercontinental ballistic missiles]."
Abe said attempts to resolve North Korean issues through dialogue "have all come to naught." These attempts include the 1994 framework agreed on between the United States and North Korea in which light-water reactors and heavy fuel oil are provided to Pyongyang in exchange for it freezing its nuclear development, and the six-party talks in 2005 and 2007 over the North's nuclear plans.
"For North Korea, dialogue was, instead, the best means of deceiving us and buying time," Abe said.
The prime minister prodded countries to strictly implement the series of sanctions resolutions from the U.N. Security Council, including one adopted on Sept. 11 that restricts the export of oil to North Korea.
Oct 19
Senior officials from Japan, the United States, and South Korea have agreed that the 3 countries will put maximum pressure on North Korea for its repeated ballistic missile and nuclear tests.
(NHK)
Oct 19
A Japanese Air Self-Defense Force F-4 fighter jet caught fire as it approached a runway for takeoff for a training flight at an air base in Ibaraki Prefecture, northeast of Tokyo, on Wednesday, the ASDF said.
(Jiji)
Oct 17
Japan's Deputy Prime Minister Taro Aso and US Vice President Mike Pence on Monday confirmed that the 2 countries will coordinate to increase pressure on North Korea.
(NHK)
Oct 17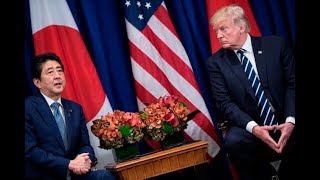 U.S. President Donald Trump will make from Nov. 5 his first visit to Japan since taking office in January on the first leg of his five-nation Asian tour, the White House announced on Monday.
(Jiji)
Oct 16
The prefectural government of Hiroshima is asking the US military to clarify if some of its fighter jets conducted aerial training maneuvers that released flares above part of the prefecture, alarming local residents.
(NHK)
Oct 16
The Tokyo Metropolitan Government has set the time for relocating the operations of the Tsukiji fish market to the nearby Toyosu waterfront area at September to October next year.
(Japan Times)
Oct 14
Japan's Foreign Ministry has revealed that 2 Japanese men being held in China were formally arrested last month.
(NHK)
Oct 13
Tokyo Governor Yuriko Koike's new political party, the Party of Hope, is alarmed by initial forecasts for the Oct. 22 general election published by major newspapers on Thursday, while the ruling coalition is eager to keep its guard up, despite its estimated lead.
(Jiji)
Oct 12
The U.S. military will suspend flights of CH-53 large transport helicopters in Japan, following the previous day's crash of one such aircraft in the village of Higashi in Okinawa Prefecture, southernmost Japan, Japanese Defense Minister Itsunori Onodera said Thursday.
(Jiji)
Oct 11
A U.S. military transport helicopter made an emergency landing and burst into flames near a training area in Okinawa Prefecture, southernmost Japan, Wednesday afternoon.
(Jiji)
---