Japan's Economic Revitalization Minister says all the 11 signatory nations of the Trans-Pacific Partnership trade deal have reconfirmed their broad agreement to put the deal into effect without the United States.
Toshimitsu Motegi is among ministers from 11 countries that in principle reached the agreement at a meeting in the Vietnamese city of Da Nang on Thursday.
The agreement was to be confirmed at the summit meeting scheduled for Friday, but was postponed.
That came as Canadian Prime Minister Justin Trudeau told his Japanese counterpart Shinzo Abe in a meeting before the planned summit that member countries were not ready to confirm the agreement.
This led TPP ministers from the 11 countries to hold a new round of talks on Friday.
Motegi told reporters that Canada's delegation said it had gained consent from the top leader.
Motegi also said it would be difficult to hold a summit due to the schedules of the leaders. He said he and his co-chair, Vietnamese Industry and Trade Minister Tran Tuan Anh, will publicize the content of the agreement and release ministers' statement on Saturday.
Motegi said the Canadians had expressed clear support for the broad agreement on Thursday, and added that this time the country confirmed all the details including wording.
Top leaders of TPP signatory countries are in Vietnam to attend the Asia-Pacific Economic Cooperation summit.
10日に予定されていたアメリカを除くTPP(環太平洋経済連携協定)11カ国の首脳会合はカナダが異論を唱えたため、延期となりました。 安倍総理大臣:「TPP首脳会合は延期することと致しました」 首脳会合では、9日の閣僚会合で大筋合意した協定内容が確認される予定でした。
Mar 20
Japan Exchange Group Inc. said Monday it has introduced artificial intelligence systems for market surveillance operations to detect price manipulations and other misconduct.
(Jiji)
Mar 20
Singapore remains the world's most expensive city for the fifth consecutive year, with Paris, Zurich and Hong Kong following closely behind, according to the Worldwide Cost of Living Survey published on Thursday.
(Japan Times)
Mar 16
Overseas investors were net sellers of Japanese equities for the ninth straight week through March 9 as a strong yen and U.S. President Donald Trump's protectionist policies rattled markets.
(Nikkei)
Mar 09
Eleven Pacific Rim countries signed the revised Trans-Pacific Partnership here Thursday afternoon, finalizing the trade and investment agreement just over a year after the American withdrawal left its fate in question.
(Nikkei)
Mar 07
Japan's cabinet approved on Tuesday a plan to improve the accuracy of the government's initial estimate of gross domestic product by collecting more data from the private sector on capital expenditure.
(Japan Today)
Mar 03
The head of the Bank of Japan says it will keep its monetary easing program in place in a bid to drive inflation up to 2 percent.
(NHK)
Mar 03
The Japanese government says the unemployment rate for January stood at a seasonally adjusted 2.4 percent. That's down 0.3 percentage points from the previous month, and is the lowest since April 1993.
(NHK)
Mar 02
Major food and beverage makers across Japan are to raise prices due to the higher costs of labor and raw materials.
(NHK)
Mar 01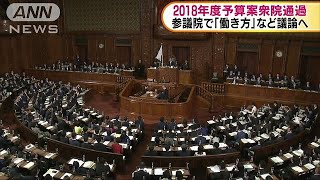 Japan's Lower House has passed the country's biggest-ever budget, which sets government spending at over 900 billion dollars.
(NHK)
Feb 23
A World Trade Organization panel has ruled in Japan's favor in a dispute over South Korea's ban on seafood imports from 8 Japanese prefectures.
(NHK)
---