The Fire and Disaster Management Agency plans to make the installation of hydrogen filling stations easier by revising ordinances related to the fire service law in fiscal 2018, in order to help promote the use of fuel cell vehicles, Jiji Press has learned.
At present, there must be a certain distance between gasoline and hydrogen filling facilities to prevent fires when hydrogen stations are built at gas stations.
Through the revision of the ordinances, the agency plans to allow the installation of hydrogen facilities very close to those for gasoline if certain safety measures are taken, according to informed sources.
This is expected to make it easier to install hydrogen stations in urban areas and other locations where enough space is not available, possibly helping spread the use of environmentally friendly fuel cell vehicles, according to the sources.
In Japan, as few as 1,799 fuel cell vehicles were in use as of the end of March this year, due partly to a lack of hydrogen stations. There are only some 90 such facilities in the country.
Currently, a gap 10-15 centimeters wide and deep must be secured on the ground between gas and hydrogen facilities to prevent gasoline from reaching the hydrogen facilities in case of leakage.
This requirement is making it difficult to increase hydrogen stations in urban areas.
Nov 24
Osaka City, western Japan, is to cut its sister city ties with San Francisco, following the US city's decision to accept the donation of a statue symbolizing those referred to as comfort women.
(NHK)
Nov 24
Mobile carrier KDDI Corp. will wholly acquire Aeon Corp., the nation's second-largest English conversation school operator, in January in a step to expand its business into the education field.
(Japan Times)
Nov 23
Tokyo Metropolitan Police have arrested a 39-year-old man for molesting a woman inside a carriage of the JR Saikyo Line last year, reports Nippon News Network.
(tokyoreporter.com)
Nov 23
The Japanese Olympic Committee and city of Sapporo announced Wednesday they will enter a dialogue process over a potential bid to host the 2026 Winter Olympics.
(Japan Today)
Nov 23
Tokyo Metropolitan Police are searching have arrested eight persons, including an organized crime member, in the robbery of gold valued at nearly 100 million yen from a shop in Taito Ward earlier this year, reports NHK
(tokyoreporter.com)
Nov 23
A team of Japanese researchers has found a new drug combination that reduces amyloid beta protein, believed to play a key role in causing Alzheimer's disease, by using stem cells derived from patients, Kyoto University announced Tuesday.
(Japan Times)
Nov 23
The Yokohama family court granted a request by a daughter of Aum Shinrikyo cult founder Shoko Asahara to nullify her parents' right to inherit her property in the event of her death.
(Japan Times)
Nov 23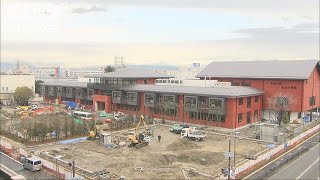 The government sold land in Osaka to school operator Moritomo Gakuen for a highly discounted price based on faulty data estimating the cost of removing industrial waste left in the plot, a government watchdog on spending concluded in a much-awaited report released Wednesday.
(Japan Times)
Nov 22
The Imperial Household Agency said Wednesday the wedding ceremony of Princess Mako, the eldest granddaughter of Emperor Akihito, and her classmate from university days Kei Komuro will be held on Nov 4 next year.
(Japan Today)
Nov 22
Subaru Corp. will introduce a series of all-electric cars in Japan as early as 2021, sources said, as competition intensifies between automakers looking to develop eco-friendly cars in response to stricter global emissions regulations.
(Japan Times)
---