Officials from a Japanese train operator say a crack was found near the welded joint of one of the key parts and the undercarriage of a Shinkansen bullet train.
A crack and evidence of burns were found in the undercarriage of the Tokyo-bound Shinkansen train when it stopped in Nagoya, central Japan on Monday. The train was removed from service.
The officials from West Japan Railway Company, or JR West, say a crack appeared near the area joining the undercarriage and the axis spring, which is a stress area. The spring acts as a shock absorber.
They say no cracks had been found in the undercarriages of any of Shinkansen trains under its management. They add that the ad hoc inspection revealed no abnormalities in the other Shinkansen trains, including those of the same model.
JR West plans to move the train from Nagoya Station to a nearby carriage facility for inspection after they establish the ability to move it safely.
The government's Transport Safety Board has designated this the first "serious incident" involving a Shinkansen train, reasoning that it could have led to a derailment.
Transport ministry officials say the crack is more than 10 centimeters long.
Previously a crack in a train undercarriage caused a derailment in Japan. A 10-car commuter train derailed in Tokyo's Itabashi Ward in May last year. No one was injured but 180,000 commuters were affected.
走行中の新幹線の台車に亀裂が見つかった問題で、亀裂の大きさが10センチ以上に達していたことが分かりました。 12日、博多から東京に向かっていた新幹線「のぞみ34号」の車体を支える台車の一部に、亀裂や油漏れが見つかりました。
Mar 21
A female zookeeper at Ueno Zoological Gardens in Tokyo sustained injuries Tuesday after a gorilla bit her right arm, police said.
(Japan Today)
Mar 20
Police said Monday they have arrested three Taiwanese women for allegedly attempting to smuggle gold worth around 50 million yen ($470,000) into Japan in their bras.
(Japan Today)
Mar 20
The leaders of Japan and Russia have reaffirmed cooperation on planned joint economic projects on Russian-controlled islands claimed by Japan.
(NHK)
Mar 19
More than two decades after Japan's Aum Shinrikyo cult plunged Tokyo into terror by releasing a nerve agent on rush-hour subway trains, its spinoffs continue to attract new followers.
(Japan Today)
Mar 18
Tokyo Metropolitan Police plan to arrest a man claiming to be the former boyfriend of a woman found stabbed to death in Tama City on Friday, reports the Mainichi Shimbun
(tokyoreporter.com)
Mar 18
Investigative sources with law enforcement revealed on Saturday that popular adult video (AV) actress Nozomi Aso has been arrested again on drug-related charges, reports the Sankei Sports.
(tokyoreporter.com)
Mar 17
Japanese authorities have lowered volcanic alert levels for the 2 peaks of Mount Kusatsu-Shirane in Gunma Prefecture, more than 7 weeks after the volcano erupted.
(NHK)
Mar 17
A blackmail letter has been sent to a restaurant owned by Japanese Prime Minister Shinzo Abe's wife, Akie.
(NHK)
Mar 16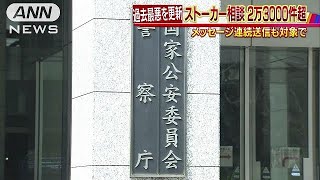 Police in Japan received a record-high number of inquiries and reports about stalking and domestic violence last year.
(NHK)
Mar 16
A car boarded by Eiichi Negishi, who won the 2010 Nobel Prize in Chemistry, has caused an accident in Illinois, and his wife, Sumire, also in the vehicle, has died, sources including local police said Wednesday.
(Jiji)
---