One-person households in Japan are seen increasing to 19.94 million in 2040, accounting for nearly 40 pct of all households, a government-affiliated research institute said Friday.
The number of people aged 65 or over who are living alone is forecast to total 8.96 million in 2040, accounting for 45 pct of all those living on their own, due to an increase in people in the age group who have never married, according to the National Institute of Population and Social Security Research , an affiliate of the Health, Labor and Welfare Ministry.
"Since the 1980s, it is not uncommon for people to remain unmarried," an official at the institute said, adding, "These people will get old by around 2040, leading to a rise in the rate of elderly people living alone."
The research institute updates household estimates every five years. The latest estimates are based on the 2015 census.
The total number of households is projected to increase from 53.33 million in 2015 to 54.19 million in 2023, but is then estimated to start falling and come to 50.76 million in 2040.
厚生労働省の推計で、2040年には一般世帯のうち4割が一人暮らしになる見込みであることが分かりました。 厚労省によりますと、日本の世帯数は2015年以降増え続け、2023年に約5400万世帯となり、ピークを迎える見込みです。
Mar 21
A female zookeeper at Ueno Zoological Gardens in Tokyo sustained injuries Tuesday after a gorilla bit her right arm, police said.
(Japan Today)
Mar 20
Police said Monday they have arrested three Taiwanese women for allegedly attempting to smuggle gold worth around 50 million yen ($470,000) into Japan in their bras.
(Japan Today)
Mar 20
The leaders of Japan and Russia have reaffirmed cooperation on planned joint economic projects on Russian-controlled islands claimed by Japan.
(NHK)
Mar 19
More than two decades after Japan's Aum Shinrikyo cult plunged Tokyo into terror by releasing a nerve agent on rush-hour subway trains, its spinoffs continue to attract new followers.
(Japan Today)
Mar 18
Tokyo Metropolitan Police plan to arrest a man claiming to be the former boyfriend of a woman found stabbed to death in Tama City on Friday, reports the Mainichi Shimbun
(tokyoreporter.com)
Mar 18
Investigative sources with law enforcement revealed on Saturday that popular adult video (AV) actress Nozomi Aso has been arrested again on drug-related charges, reports the Sankei Sports.
(tokyoreporter.com)
Mar 17
Japanese authorities have lowered volcanic alert levels for the 2 peaks of Mount Kusatsu-Shirane in Gunma Prefecture, more than 7 weeks after the volcano erupted.
(NHK)
Mar 17
A blackmail letter has been sent to a restaurant owned by Japanese Prime Minister Shinzo Abe's wife, Akie.
(NHK)
Mar 16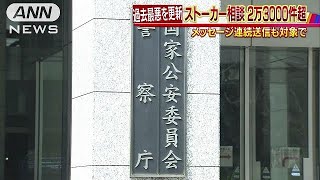 Police in Japan received a record-high number of inquiries and reports about stalking and domestic violence last year.
(NHK)
Mar 16
A car boarded by Eiichi Negishi, who won the 2010 Nobel Prize in Chemistry, has caused an accident in Illinois, and his wife, Sumire, also in the vehicle, has died, sources including local police said Wednesday.
(Jiji)
---