A newly appointed female judge on Japan's Supreme Court has said she will use her maiden name when handing down rulings, a legal first in a country criticised for its attitudes to gender equality.
Married couples in Japan are required to have a common surname under a law that was upheld in 2015, sparking criticism from activists who complain it is sexist and outdated.
Social conservatives defend the law as crucial to maintaining Japan's traditional family structure but critics say it reflects a society that is still male-dominated and lags behind other advanced nations in terms of equality.
Yuko Miyazaki, 66, the country's sixth-ever female member of Japan's top court, confirmed to AFP through a spokesman that she "will use her maiden name" for judgements.
"It is natural for me to keep using the name I used as an attorney," she told local media, adding it was important to have the "option" of keeping a pre-marriage name as traditional values change.
The Supreme Court allows its officials to use pre-marriage names but Miyazaki is the first top court judge to choose to do so.
Japan ranked bottom of the G7 countries in the World Economic Forum's latest "Global Gender Gap Report", coming 114th worldwide.
It scored poorly on women's participation in the economy and political involvement, as only around 10 percent of the lower house of parliament is made up of female MPs.
Miyazaki said she was inspired to go into the law -- at a time when it was difficult for women to find a job -- by her father, who told her there was "no difference between men and women in court".
After graduating from the University of Tokyo's faculty of law in 1976 and Harvard Law School in 1984, she registered as an attorney before marriage with her maiden name Miyazaki.
She has won global recognition in legal circles as a corporate and tax lawyer.
But she was reportedly once turned away from a hotel in a foreign country because her professional name was different from her legal name.
ソフトウェア会社「サイボウズ」の青野慶久社長が夫婦別姓を求めて国を提訴しました。これまでの裁判とは違う、新しいアプローチ。こちらが注目されます。 9日、東京地裁前に青野慶久さんの姿がありました。
Mar 21
A female zookeeper at Ueno Zoological Gardens in Tokyo sustained injuries Tuesday after a gorilla bit her right arm, police said.
(Japan Today)
Mar 20
Police said Monday they have arrested three Taiwanese women for allegedly attempting to smuggle gold worth around 50 million yen ($470,000) into Japan in their bras.
(Japan Today)
Mar 20
The leaders of Japan and Russia have reaffirmed cooperation on planned joint economic projects on Russian-controlled islands claimed by Japan.
(NHK)
Mar 19
More than two decades after Japan's Aum Shinrikyo cult plunged Tokyo into terror by releasing a nerve agent on rush-hour subway trains, its spinoffs continue to attract new followers.
(Japan Today)
Mar 18
Tokyo Metropolitan Police plan to arrest a man claiming to be the former boyfriend of a woman found stabbed to death in Tama City on Friday, reports the Mainichi Shimbun
(tokyoreporter.com)
Mar 18
Investigative sources with law enforcement revealed on Saturday that popular adult video (AV) actress Nozomi Aso has been arrested again on drug-related charges, reports the Sankei Sports.
(tokyoreporter.com)
Mar 17
Japanese authorities have lowered volcanic alert levels for the 2 peaks of Mount Kusatsu-Shirane in Gunma Prefecture, more than 7 weeks after the volcano erupted.
(NHK)
Mar 17
A blackmail letter has been sent to a restaurant owned by Japanese Prime Minister Shinzo Abe's wife, Akie.
(NHK)
Mar 16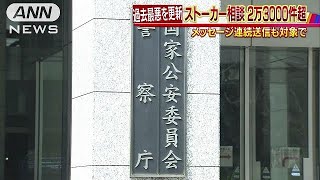 Police in Japan received a record-high number of inquiries and reports about stalking and domestic violence last year.
(NHK)
Mar 16
A car boarded by Eiichi Negishi, who won the 2010 Nobel Prize in Chemistry, has caused an accident in Illinois, and his wife, Sumire, also in the vehicle, has died, sources including local police said Wednesday.
(Jiji)
---