An increasing number of couples from overseas are having wedding ceremonies in Kyoto, western Japan, attracted by the ancient capital's reputation as symbolizing traditional Japanese culture.
In 2015, the Kyoto city government started to issue marriage certificates for foreign couples who held weddings in the city, following information from businesses that more and more foreign people are hoping to tie the knot in Japan.
Since the foundation of the certification system, the city government has given certificates to about 70 foreign couples, including those from Hong Kong, Germany and China. Wedding ceremonies are held mainly in spring and autumn, city officials said.
Kamigamo-jinja, a Shinto shrine in Kyoto's Kita Ward on the UNESCO World Heritage List, has been holding wedding ceremonies for foreign couples in response to an increase in requests since around 2009.
"Some couples had weddings as part of their honeymoon, just as some Japanese hold weddings abroad," an official at the shrine said, adding that many such weddings are small ones.
Jun 18
For a Filipino man visiting Tokyo in May last year, the tour of the capital was supposed to be a fun sightseeing trip.
(Japan Times)
Jun 16
Japan's new law on minpaku (private lodging) businesses took effect Friday, but stringent rules may dampen the entry of homeowners into the market, despite hopes that it could help counter a shortage of accommodation amid a growing number of foreign tourists.
(Japan Times)
Jun 15
The Japanese government said Thursday foreign travelers with unpaid medical bills will be denied entry to the country in the future, with the number of foreign visitors set to surge in the run-up to the Tokyo 2020 Olympics and Paralympics.
(Kyodo)
Jun 15
The number of applications to conduct "minpaku" lodging business under a new Japanese law totaled 2,707 as of a week before the minpaku law goes into effect on Friday, according to Japan Tourism Agency officials.
(Jiji)
Jun 15
A day before a new law on minpaku (private lodging services) takes effect, Airbnb Inc. on Thursday welcomed the change and reinforced its commitment to the Japanese market with fresh initiatives.
(Japan Times)
Jun 12
Xiang Xiang, a giant panda cub at Tokyo's Ueno Zoo, showed off a playful personality in front of the press on Monday, the day before her first birthday.
(Jiji)
Jun 09
Airbnb says it has been obliged by Japanese authorities to cancel thousands of bookings ahead of the introduction of new rules.
(NHK)
Jun 09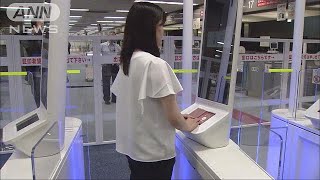 Japan's main international hub, Narita Airport, will start using facial recognition technology at immigration gates to shorten screening time and improve security.
(NHK)
Jun 07
Just over a week before a new law for minpaku (private lodging services) goes into effect, the popular rental website Airbnb has dropped nearly 80 percent of its listings for the services over the past three months.
(Japan Times)
Jun 06
Japan's tourism gross domestic product grew 2 trillion yen between 2012 and 2016, contributing to the country's economic expansion, a government white paper said Tuesday.
(Jiji)
---