The refurbished interior of the "Tower of the Sun" was opened to the public on Monday for the first time since the major artwork by the late Taro Okamoto became a symbol of the Expo '70 world's fair in Osaka.
The 70-meter-tall white tower with horn-like arms and three sun faces was built as part of the expo's theme pavilion in Suita, Osaka Prefecture, but had been kept off limits in principle since the event ended. The prefectural government began refurbishing the interior in 2016.
Long lines of people who had made reservations formed in front of the tower's entrance at Expo '70 Commemorative Park in the morning, prompting organizers to open the doors 10 minutes ahead of time.
Visitors enjoyed a projection mapping presentation on the 11-meter-wide tower's fourth sun, which is underground, with its round face appearing in different colors during the show. The display had been missing since the end of the expo and was reconstructed.
Jul 22
Several beaches ravaged by the 2011 earthquake and tsunami in northeastern Japan have been reopened for bathing for the first time in 8 years.
(NHK)
Jul 21
Severe tropical storm Ampil is moving toward Japan's southwestern island of Okinawa, bringing strong winds and high waves.
(NHK)
Jul 21
New VR Zone attraction lets you take on Godzilla in an attack chopper…
(soranews24.com)
Jul 20
Temperatures in Kyoto rose as high as 39.8 degrees Celsius on Thursday, tying the city's record high logged on Aug. 8, 1994, the Japan Meteorological Agency said.
(Jiji)
Jul 19
The number of foreign tourists who visited Japan in the first half of this year hit a record high for the period.
(NHK)
Jul 19
Japanese temples are offering their facilities as tourist accommodation, an initiative aimed at wooing foreigners to rural Japan.
(Nikkei)
Jul 19
The Legoland Japan theme park in the central Japanese city of Nagoya will lower its admission fee for children, its operator said Wednesday, following complaints about high ticket prices.
(Kyodo)
Jul 18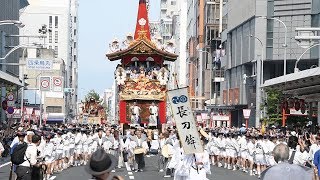 In Japan's ancient capital Kyoto, spectators braved sweltering heat to watch a series of colorfully decorated floats at the annual Gion festival on Tuesday.
(NHK)
Jul 17
Each year, a pair of the Aomori Prefecture town's fields are used to create amazing rice paddy art (or "tambo art," as it's called in Japanese).
(soranews24.com)
Jul 17
Tourist farms in Japan have been attracting hordes of foreign visitors who are placing fruit picking high on their travel itineraries as the global reputation of Japanese fruit grows.
(Japan Today)
---