Japan's Daigo Higa, aiming to break the national record for consecutive knockouts, was stripped Saturday of his World Boxing Council flyweight belt for being overweight on the eve of his title defense, local media said.
The 22-year-old boxer was scheduled to fight Cristofer Rosales of Nicaragua on Sunday in Yokohama about two months after equalling the national record of 15 straight wins by knockout.
But Higa weighed in at 51.7 kilograms, exceeding the flyweight limit by 900 grams, local media said, adding that he is the first Japanese champion to be stripped of the title because of a weight issue.
Despite the setback, however, Higa may be able to fight on Sunday after measuring his weight again and could still get the consecutive knockout wins record, news reports said.
Higa burst onto the boxing scene in 2014 when he knocked out Thailand's Saengkeng Saknarong in less than a minute.
He clinched the vacant WBC flyweight world championship in May, defeating Juan Hernandez Navarrete from Mexico with a technical knockout in the sixth round.
Jul 22
In sumo, Mitakeumi beat Tochiozan on the 14th day of the Nagoya tournament on Saturday to win his first title with 13 wins and one loss, ahead of the final day.
(NHK)
Jul 21
Tokyo Olympic organizers on Friday unveiled ticket prices for the 2020 Games ranging from 2,020 yen up to 300,000 yen, largely in line with prices at the London Olympics in 2012.
(Japan Today)
Jul 20
The Japan Swimming Federation conceded defeat on Thursday in its effort to have the Tokyo 2020 Olympics swimming finals aired domestically in the evening.
(Japan Today)
Jul 19
The schedule for the Tokyo Olympics has been broadly determined. Starting times of the marathon and other races along roads were moved forward in view of the hot summer weather.
(NHK)
Jul 19
The main stadium for the 2020 Tokyo Olympics and Paralympics, now under construction, has been shown to media 2 years ahead of the games' opening.
(NHK)
Jul 19
The International Olympic Committee and organizing committee for the Tokyo Games failed to agree on what time the swimming finals will be held.
(NHK)
Jul 18
The Tokyo Metropolitan Government invited the media to observe the construction sites for the 2020 Olympics and Paralympics venues on Tuesday, 2 years ahead of the games' opening.
(NHK)
Jul 18
Yomiuri Giants owner Shoichi Oikawa has resigned to take responsibility for a series of scandals involving players at the Japanese professional baseball team, the Giants said Tuesday.
(Jiji)
Jul 13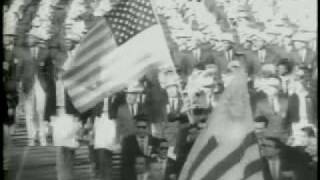 The torch relay for the 2020 Tokyo Olympics will start in Fukushima Prefecture, northeastern Japan, on March 26 of that year, the organizing committee of the games announced on Thursday.
(Jiji)
Jul 13
Yokozuna Hakuho, who was seeking to extend his record championship haul to 41, pulled out of the ongoing Nagoya Grand Sumo Tournament on Wednesday due to a right knee injury.
(Kyodo)
---