Police arrested Hiromi Tsukuda, former mayor of Ito in the central Japan prefecture of Shizuoka, Saturday on suspicion of bribery over the city's land purchase.
The police also arrested Keijiro Mori, president of Towa Kaihatsu Co., a local real estate company, and Hiroshi Inaba, a corporate employee, for their alleged roles in the bribery case.
Tsukuda, 71, is suspected of receiving a total of about 10 million yen in bribe from Mori, 47, via Inaba, 50, on several occasions between late August and early September in 2015 while in office in exchange for the city government's acquisition of a former hotel site from Towa Kaihatsu.
In an interview made before the arrest, Tsukuda said he only got back the money he had lent, denying any wrongdoing.
Towa Kaihatsu acquired the 4,000-square-meter former hotel site for about 50 million yen in October 2014. The city government bought the site for some 200 million yen from the company in July 2015 to build a learning facility.
警視庁は静岡県伊東市の前市長ら3人を逮捕しました。ホテル跡地の売買を巡る贈収賄の疑いです。 収賄の疑いで逮捕されたのは、伊東市の前市長・佃弘巳容疑者(71)です。また、贈賄の疑いなどで不動産会社社長の森圭司郎容疑者(47)と仲介役の稲葉寛容疑者(50)が逮捕されました。
Jul 19
Temperatures rose further across Japan excluding northern regions on Wednesday, exceeding 40 degrees Celsius for the first time in five years, the Japan Meteorological Agency said.
(Jiji)
Jul 19
The Diet, Japan's parliament, on Wednesday passed into law a bill to strengthen restrictions on smoking in public places in the fight against secondhand smoke.
(Jiji)
Jul 19
The schedule for the Tokyo Olympics has been broadly determined. Starting times of the marathon and other races along roads were moved forward in view of the hot summer weather.
(NHK)
Jul 19
Japan's Diet has enacted legislation to reform the electoral system, including the addition of six seats to the 242-seat Upper House.
(NHK)
Jul 19
The head of the International Monetary Fund says economic growth has started slowing in Japan and the euro zone.
(NHK)
Jul 18
More than a week after torrential rains in western Japan triggered landslides and flooding, over 200 people are dead and 16 are still missing.
(NHK)
Jul 18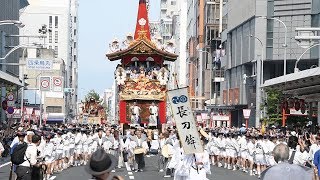 In Japan's ancient capital Kyoto, spectators braved sweltering heat to watch a series of colorfully decorated floats at the annual Gion festival on Tuesday.
(NHK)
Jul 18
Japan and the European Union have signed a free trade deal in Tokyo after years of negotiations. The economic partnership agreement covers about 40 percent of the world's trade and 30 percent of its gross domestic product. The EPA calls for Japan and the EU to remove tariffs on most of each other's goods in phases.
(NHK)
Jul 18
The Tokyo Metropolitan Government invited the media to observe the construction sites for the 2020 Olympics and Paralympics venues on Tuesday, 2 years ahead of the games' opening.
(NHK)
Jul 17
Each year, a pair of the Aomori Prefecture town's fields are used to create amazing rice paddy art (or "tambo art," as it's called in Japanese).
(soranews24.com)
---