Japan has been knocked out of the FIFA World Cup in Russia after losing to Belgium 3-2.
The first half of their round of 16 match in the southern city of Rostov-on-Don ended scoreless.
Genki Haraguchi's goal in the 48th minute put Japan ahead. After receiving a pass from Gaku Shibasaki, Haraguchi scored by firing a shot into the left corner.
Japan doubled its lead 4 minutes later with a fine finish by Takashi Inui.
But Belgium's Jan Vertonghen scored in the 69th minute to cut the deficit to 2-1.
And Marouane Fellaini headed the ball home in the 74th minute to bring his team level.
Japan's midfielders Hotaru Yamaguchi and Keisuke Honda were brought on in the 81st minute.
But Nacer Chadli scored in stoppage time to give Belgium a 3-2 win.
Japan reached the last 16 in the 2002 and 2010 World Cups but has never advanced to the quarterfinals.
Jul 19
Temperatures rose further across Japan excluding northern regions on Wednesday, exceeding 40 degrees Celsius for the first time in five years, the Japan Meteorological Agency said.
(Jiji)
Jul 19
The Diet, Japan's parliament, on Wednesday passed into law a bill to strengthen restrictions on smoking in public places in the fight against secondhand smoke.
(Jiji)
Jul 19
The schedule for the Tokyo Olympics has been broadly determined. Starting times of the marathon and other races along roads were moved forward in view of the hot summer weather.
(NHK)
Jul 19
Japan's Diet has enacted legislation to reform the electoral system, including the addition of six seats to the 242-seat Upper House.
(NHK)
Jul 19
The head of the International Monetary Fund says economic growth has started slowing in Japan and the euro zone.
(NHK)
Jul 18
More than a week after torrential rains in western Japan triggered landslides and flooding, over 200 people are dead and 16 are still missing.
(NHK)
Jul 18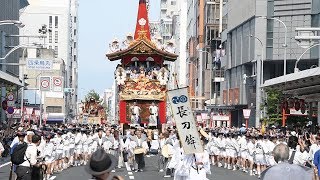 In Japan's ancient capital Kyoto, spectators braved sweltering heat to watch a series of colorfully decorated floats at the annual Gion festival on Tuesday.
(NHK)
Jul 18
Japan and the European Union have signed a free trade deal in Tokyo after years of negotiations. The economic partnership agreement covers about 40 percent of the world's trade and 30 percent of its gross domestic product. The EPA calls for Japan and the EU to remove tariffs on most of each other's goods in phases.
(NHK)
Jul 18
The Tokyo Metropolitan Government invited the media to observe the construction sites for the 2020 Olympics and Paralympics venues on Tuesday, 2 years ahead of the games' opening.
(NHK)
Jul 17
Each year, a pair of the Aomori Prefecture town's fields are used to create amazing rice paddy art (or "tambo art," as it's called in Japanese).
(soranews24.com)
---