Japanese general contractors Obayashi Corp. and Shimizu Corp. admitted Tuesday their involvement in rigging bids for a high-speed magnetic levitation railway project.
On the first day of the firms' trial at Tokyo District Court, senior officials of the companies respectively pleaded guilty over the case, in which they are suspected of involvement in unfair restriction of trade in violation of the antimonopoly law.
Presiding Judge Takumi Suzuki separated the trial, deciding to conclude the trial of Shimizu on Aug. 24 and that of Obayashi on Sept. 13.
Taisei Corp. <1801> and Kajima Corp. <1812> were also indicted in the case, along with former Taisei executive Takashi Okawa, 67, and senior Kajima official Ichiro Osawa, 61. The two general contractors and the two individuals are currently in the pretrial procedures for sorting out points at issue.
During the opening session of the trial of Obayashi and Shimizu, prosecutors pointed out that Okawa and Osawa initiated their order adjustment attempts in 2013 at the latest. Okawa proposed bid-rigging to the then vice president of Obayashi first and then asked a Shimizu executive to take part. Later, they started exchanging a list of maglev line sections for which their companies wished to receive construction orders.
リニア中央新幹線の建設工事を巡る談合事件で、大手ゼネコンの大林組と清水建設に対する初公判が東京地裁で開かれ、2社は起訴内容を認めました。
Aug 11
SoftBank Group on Tuesday reported a net profit of 1.25 trillion yen ($11.8 billion) in the April-June quarter thanks to the merger and sale of its stake in U.S. mobile carrier Sprint, marking a return to profit after suffering its worst ever loss in the previous quarter.
(Nikkei)
Aug 10
Despite uncertainties from COVID-19, top Japanese corporations plan to invest 15.8% more in information technology in fiscal 2020 to keep up the wave of digitization across industries.
(Nikkei)
Aug 10
Colorful kimono are synonymous with Tokyo summer celebrations but anti-coronavirus measures have put social gatherings off-limits and led struggling department stores to push the traditional Japanese outfits as a way to make a virtual fashion statement.
(Japan Times)
Aug 07
Official figures indicate that Japanese households may be recovering from the economic impact of COVID-19. Spending was down in June, but by a much smaller margin than the month before.
(NHK)
Aug 07
Japan's powerful business lobby, the Keidanren, is dominated by energy-intensive sectors that represent less than 10 percent of the economy, resulting in national policies that favour coal and hindering attempts to combat climate change, a new study said.
(aljazeera.com)
Aug 07
Toyota's profit plunged 74% in the last quarter as the coronavirus pandemic sank vehicle sales to about half of what the top Japanese automaker sold the previous year.
(krmg.com)
Aug 06
The average summer bonus at major Japanese companies this year dropped 2.17 percent from a year earlier to ¥901,147, a Japan Business Federation survey showed Wednesday.
(Japan Times)
Aug 06
Uber Technologies has begun to offer a food delivery subscription in Japan that replaces per-order fees, tapping into the growing demand from consumers holed up at home from the coronavirus.
(Nikkei)
Aug 05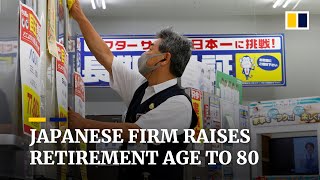 Japan's decision to offer an initial group of 87 companies subsidies totalling US$653 million to expand production at home and in Southeast Asia has sparked debate whether the world's third largest economy is trying to gradually decouple from China.
(scmp.com)
Aug 05
About 60 percent of people in the nation who developed cold-like symptoms during the first wave of the novel coronavirus pandemic, between February and May, went to work despite a request by the government for them not to do so, a recent survey has found.
(Japan Times)
---