Imported bluefin tuna are flooding in Tokyo's Tsukiji fish market, amid sluggish domestic supplies, including of renowned tuna from Oma, Aomori Prefecture, due to tighter fishing controls.
Overseas-landed tuna are now taking center stage at the leading fish market in Japan. It is now not rare for them to be sold at high prices for high-end sushi restaurants. "It's a situation that we've never seen before," a market worker said.
In particular, arrivals of unfrozen southern bluefin tuna from Australia and New Zealand are surging. The tuna are "rich in fat" as it is now winter in the Southern Hemisphere, and they "arrive fresh, thanks to shipments by air," a Tsukiji wholesaler said.
The number of southern bluefin tuna shipped to the Tsukiji market jumped about 1.5-fold from a year earlier to 3,780 in July 1-27, a peak figure for recent years. They fetched around 2,000 yen per kilogram in auctions in late July, as low as popular bigeye tuna.
Bluefin tuna from Boston, many of which weigh over 200 kilograms, are attracting demand as an alternative to the fish caught in the Tsugaru Strait between Aomori and the northernmost landmass of Hokkaido and landed at ports facing the strait including Oma. About 180 Boston tuna were sold at the Tsukiji market in July alone.
Oct 17
Tokyo police arrested on Tuesday some members of a fraud group for allegedly attempting to register a land ownership change using fake documents, in a high-profile case that led Sekisui House Ltd. <1928> to lose billions of yen.
(Jiji)
Oct 17
An unmanned store using artificial intelligence instead of cashiers is set to open on a trial basis at a station in Tokyo.
(NHK)
Oct 13
The head of NHK said Friday the Japanese public broadcaster aims to lower its subscription fees, possibly from fiscal 2019, after a government panel made it a condition for the company to start simultaneous online streaming of its television programs.
(Japan Today)
Oct 12
Major Japanese retailer FamilyMart Uny Holdings Co. said Thursday it will make discount store operator Don Quijote Holdings Co. its affiliate in a deeper capital tie-up amid intensifying competition in the shrinking domestic retail market.
(Kyodo)
Oct 11
Accommodation service provider Airbnb says it will review its contract terms with private lodging operators in Japan.
(NHK)
Oct 11
A study group at the Ministry of Internal Affairs and Communications held its first meeting Wednesday, where it discussed ways to spur industry competition with the aim of lowering mobile phone fees in the nation.
(Japan Times)
Oct 10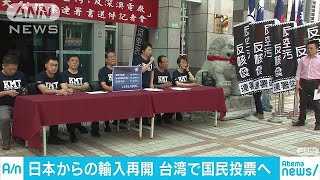 Taiwan will hold a referendum during local elections next month on whether to maintain a ban on food products from five Japanese prefectures imposed in the wake of the 2011 Fukushima nuclear disaster, the Central Election Commission said Tuesday.
(Japan Times)
Oct 08
The final trading session took place in Tokyo's famed Tsukiji wholesale food market on Saturday before relocation, ending the market's 83-year-old history as "the kitchen" of the metropolitan area.
(Jiji)
Oct 06
Japan's Financial Services Agency ordered Suruga Bank <8358> on Friday to stop extending fresh loans for real estate investment for six months, over its improper practices related to such financing.
(Jiji)
Oct 05
Japanese telecom firm Softbank is partnering with Toyota for a venture that could help to usher in a new era of mobility. They want to use automated driving to transform the way people move around and the services they enjoy.
(NHK)
---