Japanese consumer goods companies are increasing investment in factories at home, with an eye to exporting to China and other Asian markets where "Made in Japan" products have cachet.
The trend marks a major shift in strategy for household goods producers, whose focus had always been Japanese customers. It also breaks with the textbook approach to overseas expansion, where establishing local production and securing distribution channels were usually the first steps.
Cosmetics maker Shiseido will spend 140 billion yen ($1.23 billion) by 2022 to expand domestic production capacity -- a 45 billion yen increase from previous plans for spending through 2020.
By 2021, the company intends to build an addition to its Kakegawa plant southwest of Tokyo that makes lipsticks and eye shadows, and will cancel the planned closure of an Osaka factory whose products include skin toner.
Shiseido is on course to log its highest-ever operating profit and sales in 2018, thanks in part to purchases by tourists visiting Japan.
The company plans to open new Japanese plants for the first time in over three decades -- one north of Tokyo in 2019 and the other in an Osaka suburb the following year. But production capacity is still expected to fall short of demand, so it is earmarking additional investments which will lift its global capacity by 80%.
Cosmetics rival Kose's skin care unit Albion plans a 10 billion yen upgrade to a Tokyo area plant by 2020. The brand is popular among Chinese tourists -- an estimated one-fifth of Albion's fiscal 2017 sales of 68 billion yen came from visitors to Japan.
The large-scale investments by Shiseido and Kose show how health and beauty items, a domestic-market-focused sector once thought to have little in common with export-driven industries like automobiles, are emerging as a new face of Made in Japan.
Dec 14
A Japanese government panel says a run of growth that began in December 2012 has now become the second-longest period of expansion in the post-war era. But that verdict comes as Japan struggles with sluggish wage growth and a chronic labor shortage.
(NHK)
Dec 14
The Japanese government plans to take measures to make regional labor markets accessible to foreign blue-collar workers to avoid them concentrating in large cities such as Tokyo when the country starts accepting them under the new visa system next year, the government's top spokesman said Thursday.
(Japan Today)
Dec 12
As the global shortage of skilled information technology experts hits Japan hard, companies are scrambling to lure and keep top talent with hefty annual pay packages.
(Nikkei)
Dec 11
Winter bonuses at Japanese companies averaged an all-time high of 834,391 yen ($7,400) this year, according to a Nikkei survey released Monday, notching a sixth straight year of growth on strong corporate earnings.
(Nikkei)
Nov 29
Japan's gross domestic product could fall by over 25% in the next 40 years as its population declines, the International Monetary Fund said Wednesday, urging the government to boost productivity through structural reform to mitigate the damage.
(Nikkei)
Nov 23
Japan plans to give a 5 percent reward-point rebate to consumers on some payments made through credit cards and other cashless means as a way of underpinning domestic demand after a planned tax increase next October, government officials said Thursday.
(Japan Today)
Nov 15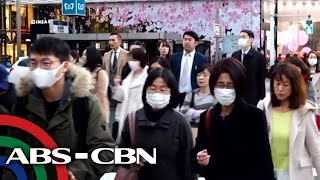 Between 260,000 and 340,000 foreign workers are estimated to flow into Japan in the five years from next April through an envisioned immigration control law revision aimed at dealing with the country's serious labor crunch, government sources said Tuesday.
(Japan Today)
Nov 15
Japan's economy contracted for the first time in 2 quarters. Government officials say a string of natural disasters in the period dented exports and consumer spending.
(NHK)
Nov 14
For the first time in almost three decades the Salt Industry Center of Japan has announced it will raise the price on many of its products by around 15 percent, indicating inflation has finally arrived in at least some industries.
(Japan Times)
Nov 10
On Oct. 15, Prime Minister Shinzo Abe confirmed during an extraordinary Cabinet meeting that the government would raise the consumption tax from 8 to 10 percent next Oct. 1.
(Japan Times)
---