Osaka Prefectural Police have sent papers to prosecutors on a man who allegedly drove a vehicle at 220 kilometers over the speed limit on a road in Higashiosaka City earlier this year, reports NHK (Nov. 5).
At around 4:10 a.m. on January 12, the man, a 35-year-old resident of Osaka City's Joto Ward, drove his his Nissan GT-R at roughly 280 kilometers per hour over a stretch of the Daini Hanna Toll Road over a stretch where the speed limit is 60 kilometers per hour.
Footage of the drive, which showed the vehicle reaching the maximum speed in 20 seconds, was posted on YouTube. In May, a person seeing the clip tipped off police.
On Monday, police sent the man to prosecutors on suspicion of violating the Road Traffic Act. "I wanted everyone to see me testing out the limits of the vehicle," the man was quoted by police.
The top speed reached by the vehicle is only five kilometers per hour less than that of a Shinkansen bullet train. Exceeding the speed limit by 220 kilometers per hour is believed to be the greatest violation on record in Japan.
May 24
The government will no longer use the term "lifelong singles" as a label for people who have not married by age 50, deeming the term inaccurate as Japanese are increasingly tying the knot later in life, officials said Thursday.
(Japan Today)
May 24
Many parts of Japan saw the mercury top 30 degrees Celsius on Thursday. Weather officials are warning of unseasonal high temperatures over the weekend.
(NHK)
May 24
Police in Japan are stepping up security for an upcoming visit by US President Donald Trump.
(NHK)
May 24
Japan's new supercomputer Fugaku is set to begin operations around 2021 with the country aiming to regain the title of building the world's fastest computer, replacing its current supercomputer K, government-backed research institute Riken said Thursday.
(Japan Times)
May 23
Kyoto Prefectural Police have arrested a 23-year-old male Australian national who is suspected of scrawling graffiti in dozens of locations in Kyoto City, reports Fuji News Network (May 22).
(tokyoreporter.com)
May 23
The International Olympic Committee says boxing is set to maintain its place in the 2020 Tokyo Games, but that the sport's international association should be excluded from organizing the events due to a number of problems.
(NHK)
May 22
Foreign Minister Taro Kono said Tuesday he plans to ask overseas media outlets to write Japanese names with the family name first, as is customary in the Japanese language.
(Kyodo)
May 22
Tokyo DisneySea has begun its largest expansion project ever.
(NHK)
May 22
A Japanese government committee has decided on the route of a parade scheduled for October to celebrate the enthronement of Emperor Naruhito.
(NHK)
May 22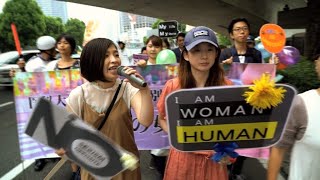 This year's pass ratio of female applicants for admission to the scandal-tainted Tokyo Medical University, which had discriminated against women for more than a decade, was slightly higher than that of male applicants, figures released by the university have shown.
(Japan Times)
---