Tokyo Metropolitan Police have arrested a male employee of Japan Post for allegedly paying a teenage girl for an illicit encounter earlier this year, reports the Sankei Shimbun
On August 29, Masayuki Shimonaga, 36, allegedly paid 3,000 yen in cash to the girl, 15, to engage in acts deemed obscene inside a rental car parked in a lot in Edogawa Ward while knowing she was a minor.
Shimonaga, who has been accused of violating the anti-child prostitution and pornography law, admits to the allegations. "I do some things for which I don't remember the details," the suspect was quoted by the Ueno Police Station.
According to police, Shimonaga met the girl via Twitter after she posted a message in which she hinted at seeking a relationship known as enjo kosai, or compensated dating.
Shimonaga surfaced as a person of interest after the girl was taken into protective custody by a cyber patrol.
東京・江戸川区でツイッターで知り合った当時15歳の少女に現金を渡してみだらな行為をしたとして、日本郵便の社員の36歳の男が逮捕されました。
Feb 15
Tokyo Metropolitan Police have apprehended a man who is suspected of slashing another man and a woman at a railway station in Bunkyo ward on Thursday, reports NHK (Feb. 14).
(tokyoreporter.com)
Feb 09
The government confirmed Friday that it will follow the procedures taken to pick the current era name of Heisei in choosing a name for the new era.
(Japan Times)
Feb 09
A developmental carriage from the next-generation bullet train has been shown to the media in western Japan.
(NHK)
Feb 09
A 20-year-old former policeman was sentenced Friday to 22 years in prison for shooting his boss to death at a police box in Hikone, Shiga Prefecture, last April.
(Japan Times)
Feb 08
A 16-year-old female high student has been arrested for extorting a man she met while engaging in papakatsu — the practice of a sugar daddy paying young girls in exchange for having dinner and dates.
(Japan Today)
Feb 08
Rental unit provider Leopalace21 said Thursday that possible construction code violations were found in an additional 1,324 of its apartment buildings, a discovery that will require the relocation of roughly 14,000 tenants.
(Nikkei)
Feb 07
The operator of one of Japan's largest sushi restaurant chains said Wednesday that video footage recently uploaded to the internet showed one of its part-time kitchen workers throwing sliced fish into a trash can and returning it to a cutting board at an outlet in Osaka Prefecture.
(Kyodo)
Feb 06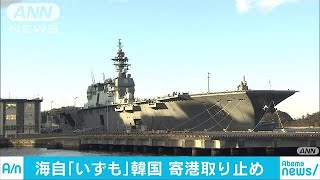 Japan's Defense Ministry has canceled a port call of a Self-Defense Forces vessel in Busan, South Korea, amid soured relations.
(NHK)
Feb 06
The mother of a 10-year-old girl who died last month at their home in Chiba Prefecture has told police that she sometimes gave the girl no food, at her husband's insistence, in the days before her daughter's death, investigative sources said Tuesday.
(Japan Times)
Feb 06
Japan's Foreign Ministry has ordered freelance journalist Kosuke Tsuneoka to hand over his passport as he attempted to travel to Yemen.
(NHK)
---