Etsuko Ichihara, a veteran Japanese actress known for her role in a popular long-running TV drama series, has died of heart failure at a Tokyo hospital, her office said Sunday. She was 82.
The native of Chiba Prefecture was best known for her leading part in the drama series "Kaseifu wa Mita" (It was Witnessed by the Housemaid).
Having joined a theater troop in 1957, she appeared in a number of plays and movies.
She won the Japan Academy Prize for best supporting actress for her role in late director Shohei Imamura's film "Kuroi Ame" (Black Rain) based on the novel of the same name by Masuji Ibuse, which depicted the aftermath of the atomic bombing in Hiroshima.
テレビドラマ「家政婦は見た!」の主役や「まんが日本昔ばなし」でナレーションを務めた女優の市原悦子さんが心不全で亡くなりました。82歳でした。 所属事務所によりますと、市原さんは5日に体調を崩して入院していましたが、12日午後1時31分に心不全のため亡くなったということです。
Nov 14
NHK has learned that a boy who was arrested for allegedly wounding a girl with a knife in northern Japan has suggested he was interested in killing someone.
(NHK)
Nov 12
Six people, including four nursery school children, were injured Monday after a vehicle plowed into them at a pedestrian crossing in Hachioji, in western Tokyo, police said.
(Japan Times)
Nov 12
One month has passed since record rain brought by a strong typhoon caused extensive damage in much of Japan.
(NHK)
Nov 12
Two days after he fled in Osaka Prefecture, prosecutors on Monday caught a man indicted on drug charges who escaped while being transferred to police custody after his bail was revoked.
(Japan Times)
Nov 10
The suspect in a deadly arson attack in July on a Kyoto Animation Co studio has been questioned by police for the first time as he recovers from severe burns, investigative sources said Saturday.
(Japan Today)
Nov 09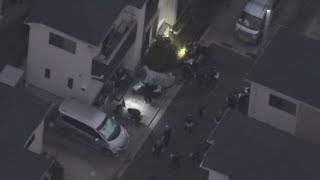 A 55-year-old man was found dead in his home in western Tokyo on Friday with more than 30 stab wounds while the property appeared to have been ransacked, police said.
(Japan Today)
Nov 08
Police officers and volunteers have patrolled a central Tokyo street before Sunday's Imperial procession marking Emperor Naruhito's accession to the throne.
(NHK)
Nov 07
A couple in southwestern Japan were arrested Wednesday for allegedly harming their 1-year-old son last November by firing an air gun at him dozens of times, police said.
(Kyodo)
Nov 07
Hollywood actor Will Smith was in Japan recently to promote his new movie Gemini Man, and in between walking the red carpet for the Tokyo premiere and spending some time at TeamLab Borderless, the 50-year-old actor took some time out to make sushi with Japanese YouTuber Bilingirl Chika.
(soranews24.com)
Nov 06
Tokyo Metropolitan Police used the results of a DNA analysis to arrest a 27-year-old man over the alleged attempted rape of a woman in Suginami Ward three years ago, reports TV Asahi (Nov. 5).
(tokyoreporter.com)
---