Haruhiko Kuroda may rue the day he visited Nagoya. In a Nov. 5 speech to business leaders in the city, the Bank of Japan governor came close to declaring the end of deflation and the dawn of a new era.
The implication was that interest rates may no longer be geared toward combating something that no longer exists. There was a whiff of normalization.
Events have caught up with Kuroda and his upbeat comments look premature, at best, and like a misreading of the economic cycle. He's likely to spend at least part of next week's policy meeting and press conference, the first of the year for the world's major central banks, walking back his Nagoya exuberance.
Kuroda's prospective Houdini act reflects disappointing Japanese data and a changed international landscape. In that sense, the BOJ is emblematic of how the global dynamics have shifted: With the expansion slowing, any central bank that hasn't already begun to tighten can forget it. That was true, even in October as I wrote here, let alone November. Even more so now.
And those that have been tightening or unwinding stimulus are going to find it tough to go much further. The Federal Reserve has signaled loudly it's in pause mode, and European Central Bank President Mario Draghi confirmed the end of quantitative easing through gritted teeth. It should have been Draghi's victory lap.
The People's Bank of China, which isn't independent like its siblings, is nevertheless instructive on this point. Late last year, the PBOC said policy would be "prudent" but dropped the word "neutral" from its verbiage, implying officials are prepared to do more to spur the economy. Growth is cooling and inflation is dissipating, as it is in most major economies.
Japan's plight is far from dire: The jobless rate is 2.5 percent and has been steadily declining for the past decade, reflecting at least in part a dwindling population. Employers and workers don't have the visceral fear of automation and robotics that exists in the West.
Yet while prices are off the floor, they're no longer edging toward the 2 percent target. Though wages are up, household spending fell for eight months last year.
Jun 19
The Japan Meteorological Agency says a magnitude-6.7 quake struck the northern part of the country late Tuesday night. No fatalities have been reported. Tsunami advisories issued along the Sea of Japan coast have been lifted.
(NHK)
Jun 19
Chief Cabinet Secretary Yoshihide Suga says people in the affected areas should remain on the alert.
(NHK)
Jun 19
The Tokyo District Court on Tuesday sentenced Pierre Taki, an actor and member of Japanese techno-pop duo Denki Groove, to 18 months in prison, suspended for three years, for using cocaine.
(Japan Times)
Jun 19
Almost half of singles in Japan who wish to get married are unable to find a suitable partner, with 61.4 percent of the group stating they are not doing anything to change the situation, a government survey showed Tuesday.
(Japan Today)
Jun 19
A 62-year-old man wanted by police on suspicion of stabbing his former wife in Noboribetsu City, Hokkaido, has been found dead in a forest, police said Monday.
(Japan Today)
Jun 19
The Financial Services Agency estimates couples will require up to 30 million yen in retirement savings, far higher than the amount suggested by a panel in a controversial report that questioned the credibility of the public pension system, a document showed Tuesday.
(Kyodo)
Jun 19
Shoplifting has long been an issue in Japan with retail staff going to great lengths to combat it, such as being dragged by cars or covering the entire ceiling with security cameras.
(soranews24.com)
Jun 18
A major renovation project has begun at Itsukushima Shrine, a UNESCO World Heritage Site, in Hiroshima Prefecture, western Japan.
(NHK)
Jun 18
Tokyo Metropolitan Police have arrested a 43-year-old man for allegedly setting fire to a sex business in Shibuya Ward earlier this year, reports TBS News (June 17)
(tokyoreporter.com)
Jun 18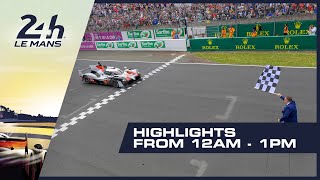 Toyota drivers Kazuki Nakajima, Fernando Alonso and Sebastian Buemi claimed their second consecutive 24 Hours of Le Mans victory Sunday, but only after some bad luck scuttled their sister car's hopes of a win.
(Kyodo)
---