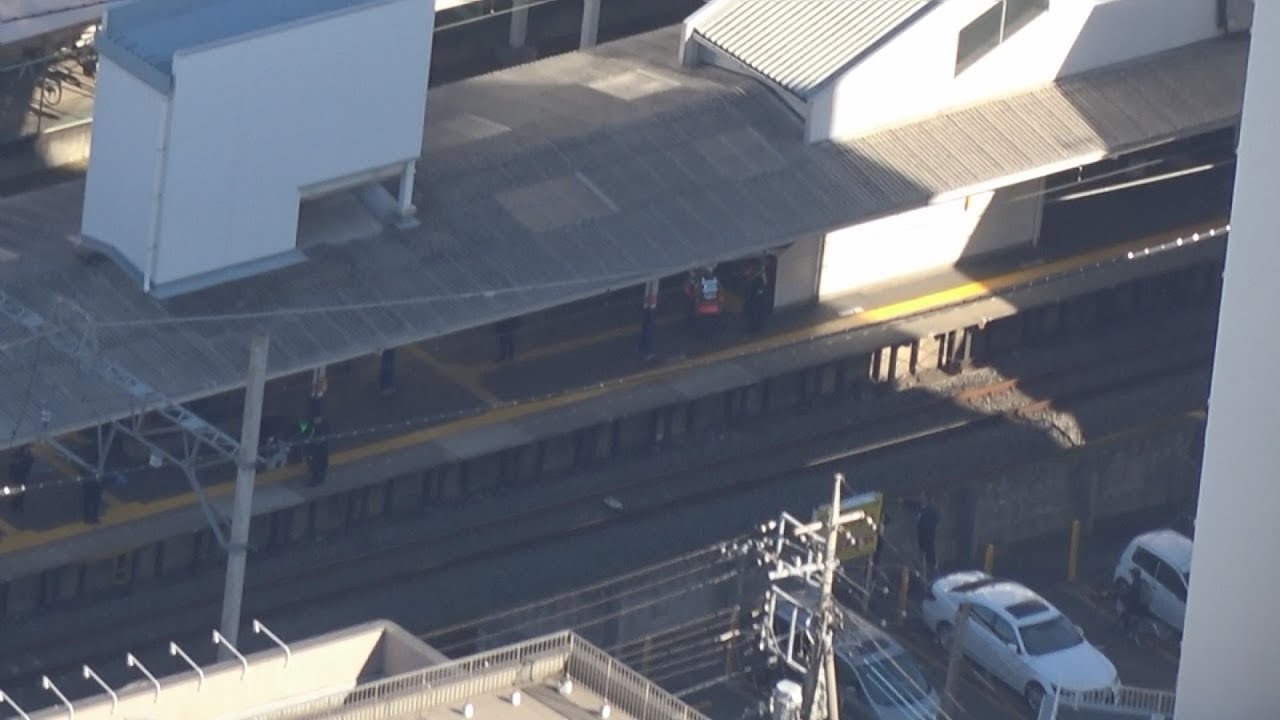 The body of a man struck by an oncoming train at a station in Fujimi City hit and injured two women on the platform, police said on Friday, reports TV Asahi.
At around 10:45 a.m., the Tobu Tojo Line train bound for Shinrin Koen Station struck the man, aged in his 80s, while he was on the platform at Mizuhodai Station. The impact sent his body hurtling across the platform, striking two women, aged in the 80s and 20s.
The man was confirmed dead at the scene. The woman in her 80s suffered a severe blow to the head. Her condition is considered serious. The other victim received a light injury to one of her hands, the Higashi Iruma Police Station said.
Prior to the incident, the man is believed to have peered down at the track from the platform. He was then struck by the oncoming train, causing the glass in the front to crack.
According to Tobu Railway Co., the incident caused 34 trains to be suspended, inconveniencing 14,000 commuters.
埼玉県の東武東上線のみずほ台駅で、電車に接触した男性が跳ね飛ばされてホームにいた女性2人に当たりました。男性は死亡し、女性2人は重軽傷を負いました。 18日午前10時45分ごろ、東武東上線のみずほ台駅のホームで、80代の男性が下りの電車に接触しました。
Apr 20
The world's smallest baby boy, who was born in October in Japan weighing as much as an apple, is now ready for the outside world, his doctor said Friday.
(Japan Today)
Apr 20
A woman and her young daughter have died after being struck by a passenger car driven by an 87-year-old man in downtown Tokyo.
(NHK)
Apr 20
A law recognizing the Ainu ethnic minority as an indigenous people of Japan has been enacted.
(NHK)
Apr 20
An agreement has been reached at an international conference on managing Japanese eel resources to more effectively clarify the distribution routes of young eels.
(NHK)
Apr 19
Those hoping to watch a tennis match featuring No. 1-ranked Naomi Osaka at the 2020 Tokyo Olympics Games will likely face long odds in the upcoming ticket lottery.
(Nikkei)
Apr 18
A pharmaceutical science professor at a university in Shikoku was referred to prosecutors Tuesday for allegedly instructing his students to produce the synthetic drug MDMA without a permit, the university said Tuesday, in an echo of hit TV series "Breaking Bad."
(Japan Times)
Apr 18
Tokyo Metropolitan Police have arrested a pair of hostesses over the alleged theft of the wallet of a drunk pedestrian in the Ueno entertainment area of Taito Ward last year, reports TV Asahi
(tokyoreporter.com)
Apr 18
Emperor Akihito and Empress Michiko are in the city of Ise in central Japan on their last trip to a local region before the Emperor's abdication on April 30.
(NHK)
Apr 18
A senior manager with Japan Airlines Co. was arrested on Wednesday on suspicion of committing an indecent act with a female junior high school student in exchange for money, according to the Metropolitan Police Department.
(Japan Times)
Apr 18
What is believed to be Japan's largest fossilized dinosaur skeleton has been restored as a life-size replica, researchers and officials from the town of Mukawa, in Hokkaido, where the original discovery was made, said Wednesday.
(Japan Times)
---