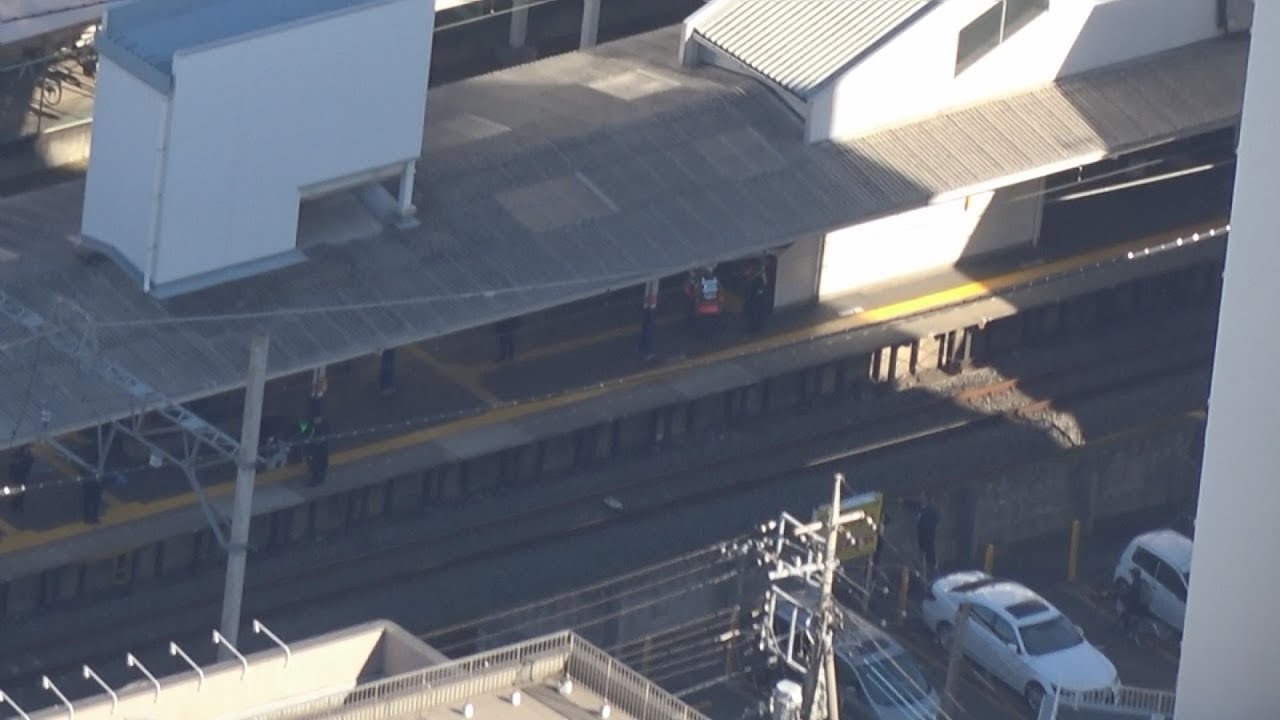 The body of a man struck by an oncoming train at a station in Fujimi City hit and injured two women on the platform, police said on Friday, reports TV Asahi.
At around 10:45 a.m., the Tobu Tojo Line train bound for Shinrin Koen Station struck the man, aged in his 80s, while he was on the platform at Mizuhodai Station. The impact sent his body hurtling across the platform, striking two women, aged in the 80s and 20s.
The man was confirmed dead at the scene. The woman in her 80s suffered a severe blow to the head. Her condition is considered serious. The other victim received a light injury to one of her hands, the Higashi Iruma Police Station said.
Prior to the incident, the man is believed to have peered down at the track from the platform. He was then struck by the oncoming train, causing the glass in the front to crack.
According to Tobu Railway Co., the incident caused 34 trains to be suspended, inconveniencing 14,000 commuters.
埼玉県の東武東上線のみずほ台駅で、電車に接触した男性が跳ね飛ばされてホームにいた女性2人に当たりました。男性は死亡し、女性2人は重軽傷を負いました。 18日午前10時45分ごろ、東武東上線のみずほ台駅のホームで、80代の男性が下りの電車に接触しました。
Sep 18
The mother of Yua Funato was given an eight-year prison term by the Tokyo District Court on Tuesday for parental neglect that led to the death last year of her 5-year-old daughter.
(Japan Times)
Sep 17
A 116-year-old Japanese woman has been celebrated on Respect for the Aged Day in Japan.
(NHK)
Sep 15
Police in Japan have arrested a 40-year-old man suspected of firing an air gun in an apparent road rage incident earlier this month.
(NHK)
Sep 12
More than 340,000 households in Chiba Prefecture near Tokyo are still without power, days after Typhoon Faxai hit the area. Tokyo Electric Power Company says it will take at least until Friday to fully restore electricity in the prefecture.
(NHK)
Sep 11
Prime Minister Shinzo Abe will give Shinjiro Koizumi, a rising political star touted as a future Japanese leader, his first ministerial post in a Cabinet reshuffle on Wednesday, sources familiar with the matter said Tuesday.
(Kyodo)
Sep 10
A 15-year-old boy who had previously complained about being bullied at school has died in an apparent suicide after falling from a building in Saitama Prefecture, investigative sources said Monday.
(Japan Today)
Sep 10
Nissan Chief Executive Hiroto Saikawa tendered his resignation Monday after acknowledging that he had received dubious income and vowed to pass the leadership of the Japanese automaker to a new generation.
(Japan Today)
Sep 10
日本にはラスベガスやマカオにあるような本格的カジノはありませんが、最近では本格的に遊べるオンラインカジノが増えつつあります。
(newsonjapan.com)
Sep 08
A man who was considered abducted by North Korea has been confirmed dead in Japan, police said on Friday, reports TV Asahi (Sept. 7).
(tokyoreporter.com)
Sep 07
Renowned for melding East and West, old and new with its architecture and design, The Okura Tokyo opened its doors to the press for the first time Friday after three years of renovations, ahead of its public opening on Sept. 12.
(Japan Times)
---