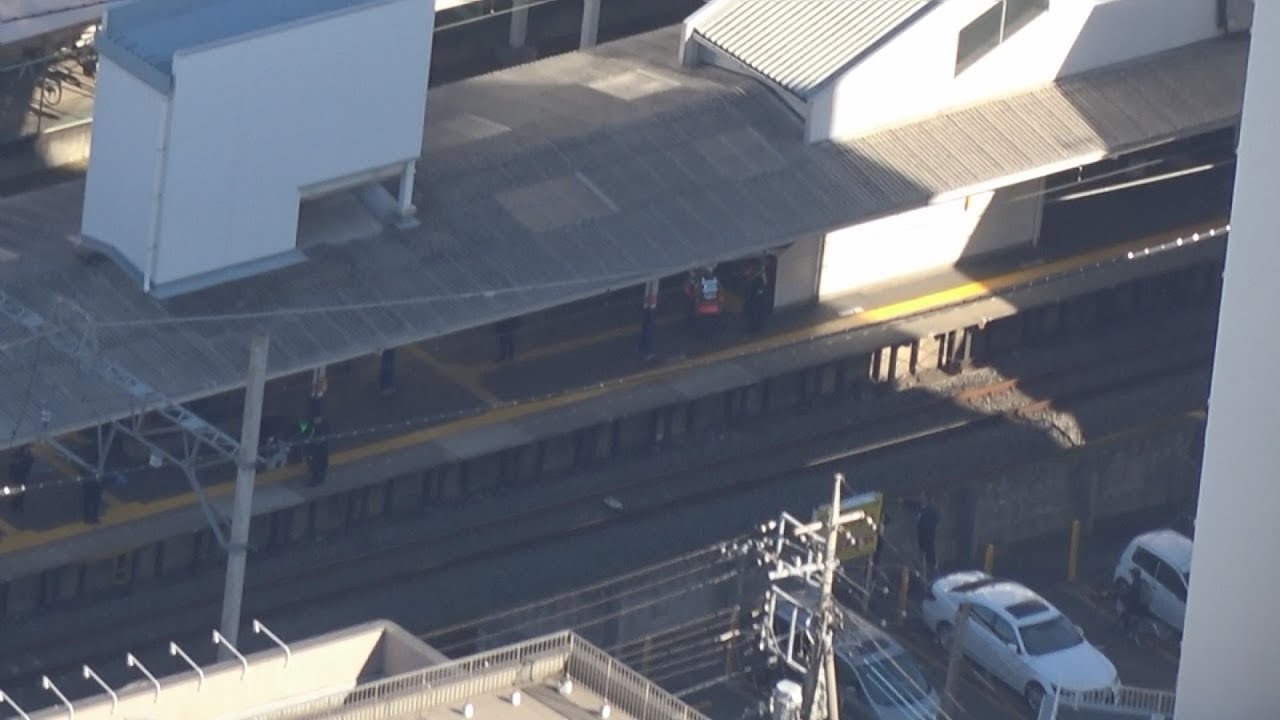 The body of a man struck by an oncoming train at a station in Fujimi City hit and injured two women on the platform, police said on Friday, reports TV Asahi.
At around 10:45 a.m., the Tobu Tojo Line train bound for Shinrin Koen Station struck the man, aged in his 80s, while he was on the platform at Mizuhodai Station. The impact sent his body hurtling across the platform, striking two women, aged in the 80s and 20s.
The man was confirmed dead at the scene. The woman in her 80s suffered a severe blow to the head. Her condition is considered serious. The other victim received a light injury to one of her hands, the Higashi Iruma Police Station said.
Prior to the incident, the man is believed to have peered down at the track from the platform. He was then struck by the oncoming train, causing the glass in the front to crack.
According to Tobu Railway Co., the incident caused 34 trains to be suspended, inconveniencing 14,000 commuters.
埼玉県の東武東上線のみずほ台駅で、電車に接触した男性が跳ね飛ばされてホームにいた女性2人に当たりました。男性は死亡し、女性2人は重軽傷を負いました。 18日午前10時45分ごろ、東武東上線のみずほ台駅のホームで、80代の男性が下りの電車に接触しました。
Jul 18
Ornately decorated floats paraded through Japan's ancient capital Kyoto on Wednesday at the climax of the annual Gion Festival.
(NHK)
Jul 18
A Japanese policeman stabbed another officer by mistake during training when he used a real knife instead of a replica.
(NHK)
Jul 18
Tokyo DisneySea will launch a new flight simulator attraction Tuesday that promises to make visitors feel as if they are soaring over famous landmarks such as the Great Wall of China and the Egyptian pyramids.
(Japan Times)
Jul 16
A couple in Tokyo was arrested Monday on suspicion of pouring scalding water four years ago over an 11-year-old boy who was living with them at the time, police said.
(Japan Today)
Jul 15
Japan's Princess Mako has visited the ancient Inca city of Machu Picchu in Peru and a village that once had a Japanese immigrant as its chief.
(NHK)
Jul 14
Police in Hitachi, Ibaraki Prefecture, said Saturday they have arrested a 20-year-old unemployed man on suspicion of killing his 66-year-old grandfather with whom he lived.
(Japan Today)
Jul 13
Police in Sendai, Miyagi Prefecture, said Friday they have arrested a 27-year-old unemployed man on suspicion of killing his 30-year-old brother in Tahara, Aichi Prefecture, on Thursday.
(Japan Today)
Jul 13
Japanese cryptocurrency exchange operator Bitpoint has lost 3.5 billion yen ($32 million) in a hacking attack, parent company Remixpoint announced on Friday.
(Nikkei)
Jul 12
Japan's national mint has begun making the first coins featuring the new era name Reiwa.
(NHK)
Jul 12
Japan's Hayabusa2 probe made a "perfect" touchdown Thursday on a distant asteroid, collecting samples from beneath the surface in an unprecedented mission that could shed light on the origins of the solar system.
(Japan Today)
---